Kayak Paddle Tales and Birdography
Saturday, July 05, 2014
Lake Chatuge near Hayesville, NC--In Sunshine!
A man of wisdom delights in water.
I guess the third time really is the charm! We attempted once more to visit Lake Chatuge and get in some paddling and this time the weather cooperated!
The drive to this lake is through the mountains and is incredibly scenic. Here's a photo taken during the drive.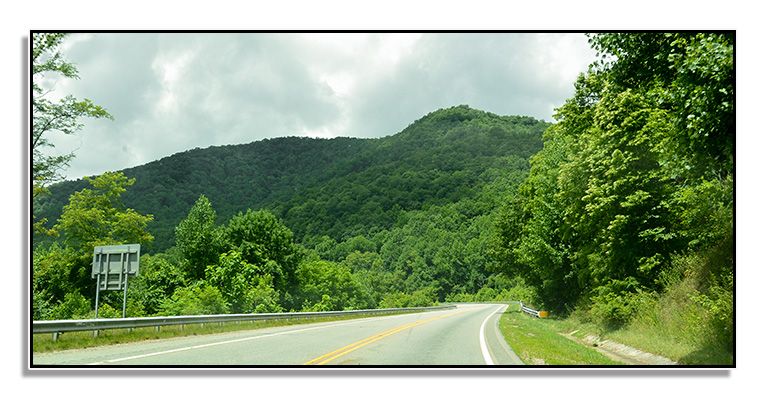 Shortly after taking that one, I got this view out the side window.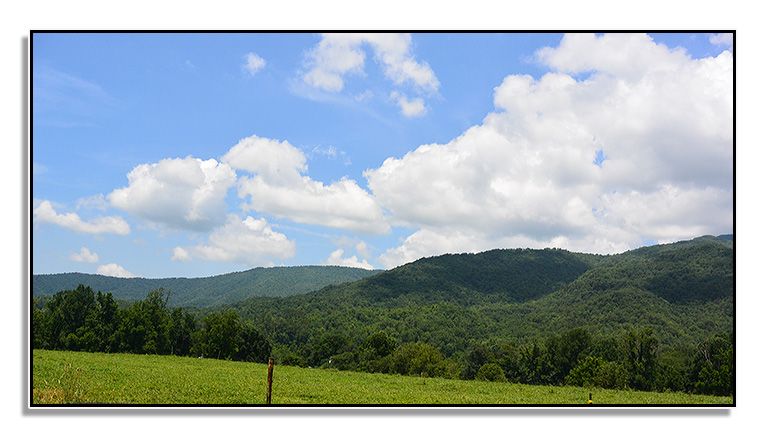 We put in at the same spot as before, described in the previous post. Instead of repeating the cove we explored last time, we went straight across it and then stayed relatively close to the shoreline. We hadn't gone far when we came upon this house, with the resident horse watching us pass: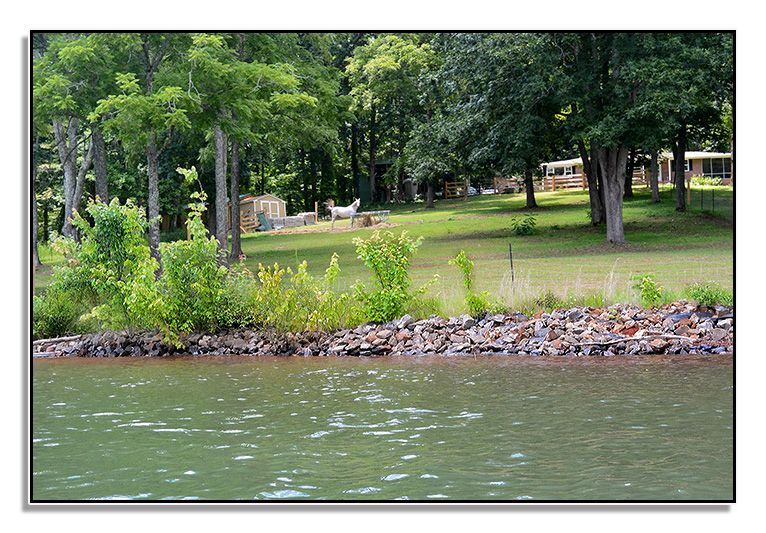 There was a fairly strong breeze as well as several power boats on the lake, and so we spent a lot of time paddling into the wind and across a light chop. I loved it! Since almost all of my paddling in Florida was done on rivers, I haven't spent a lot of time in "textured" water and it was great fun. The water is very warm, almost puzzlingly so.
Again the view no matter where you look is gorgeous. I got this of DH alternating paddling and having one of the sandwiches that we had brought along.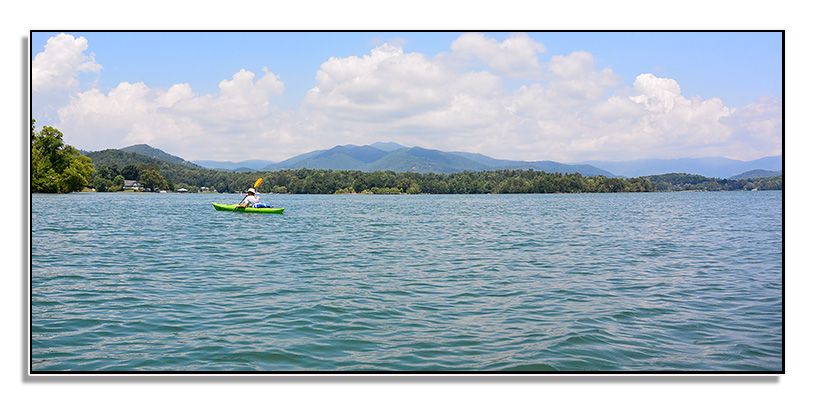 We wanted to see if we could paddle to the Clay Co. Rec Park, where we had visited before. We had found a map of the lake but neglected to take it with us. All of the shoreline homes disappeared, which indicated that we were adjacent to the Nantahala Purchase Unit (which seems to basically mean it's part of the National Forest). We also came to Chatuge Dam. At that point the wind was still blowing, the waves still choppy, and so we decided to turn around and look for the Clay Co. park another day. When we checked the map....it looks like we had been so close! It was not a hard paddle even with the wind, so if we can catch a calm day, it will be easy to go to the park, where we can stop and get out to picnic or swim.
Here's the road leaving the Hayesville area and the boat ramp: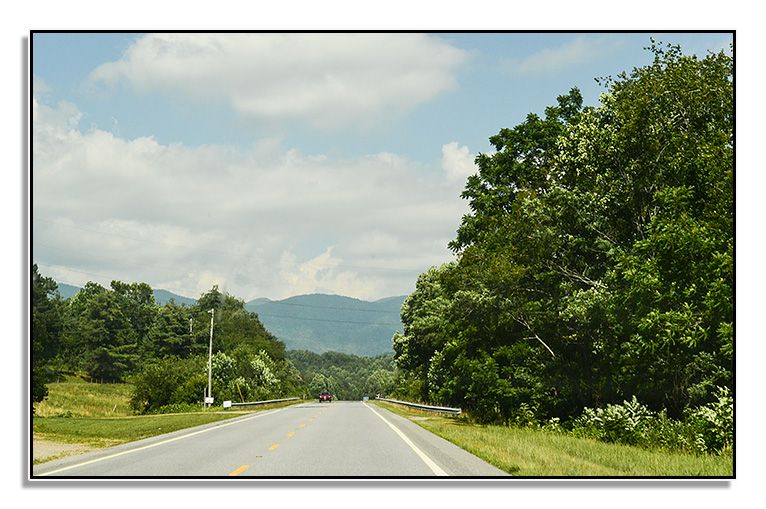 Last time we were driving home it was raining so hard we could not see out the windshield. Scary on narrow mountain roads! We finally came to a scenic overlook and pulled over to wait out the storm. Couldn't look over anything, of course, scenic or otherwise. This time we pulled over and got out to see what we had missed last time.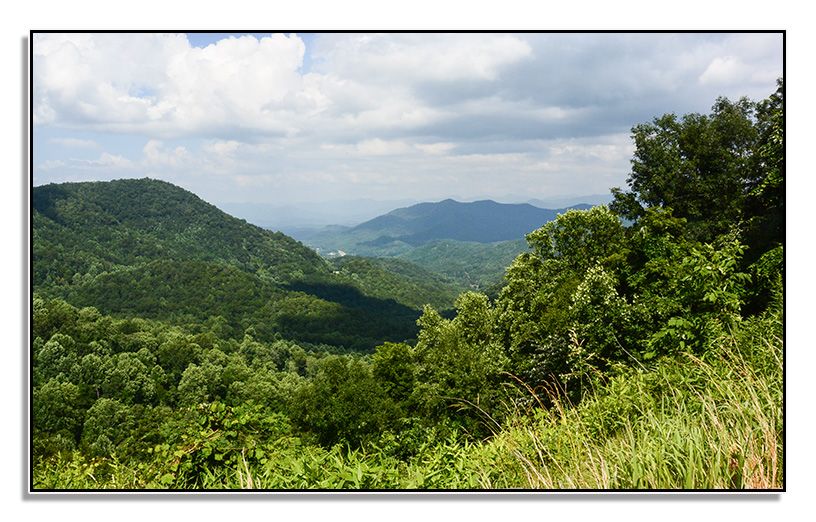 This blog is filled with posts from trips to the Wacissa, but those trips differed from time to time because of the wildlife I was able to photograph. I think I have pretty well covered this lake in the last post and this one, as well as a photo on the Photo Miscellanea blog, so future paddling trips here will probably not be posted unless we see something different to show you. This is only the first paddling spot we have explored in our new home area, there must be many more, so I'll be back when we get to one of those. Stand by.
Monday, June 30, 2014
Paddling Lake Chatuge near Hayesville, NC
I hear lake water lapping with low sounds by the shore...
I hear it in the deep heart's core.
Last time DH and I drove out to this lake to check it out as a possible paddling spot, we arrived during a ferocious thunder storm. We ate our picnic lunch in the center of the covered shelter, just out of reach of the blowing rain.
This time we had a beautiful sunny day so we packed up the kayaks and headed over the mountains back to Lake Chatuge. It's about 30 miles from our home.
When we got there, dark gray clouds filled the sky and thunder rumbled. Argh. So we sat in the truck for a while looking at the lake--so near and yet so far..... After about 30 minutes the thunder was more distant and the sky was of two minds--the left side still gray and threatening, the right blue with white clouds. We decided to join other boaters who had been waiting and we launched, with the plan to stay nearby. It's been so long since I have been paddling, I had to get on the water! This is how it looked from where we launched: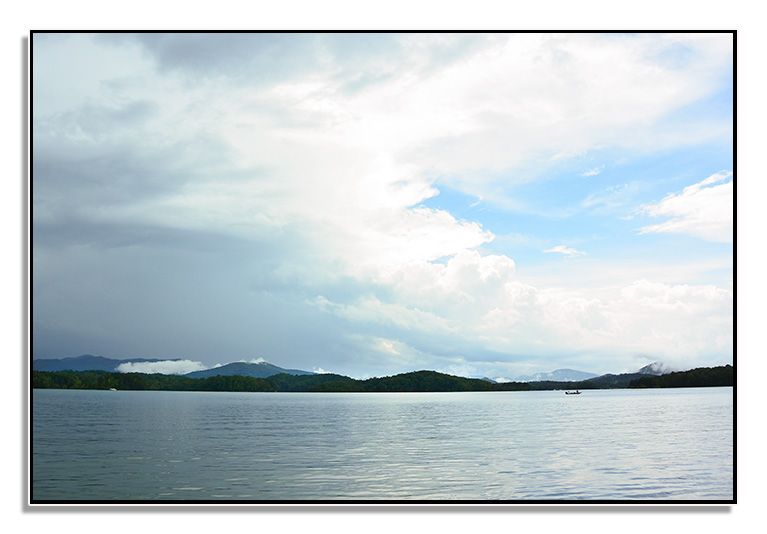 When it rains in the mountains, the clouds settle low, as you can see in the mountains to the left.
We paddled to the right (under the pretty section of sky, of course!). Another lake shot: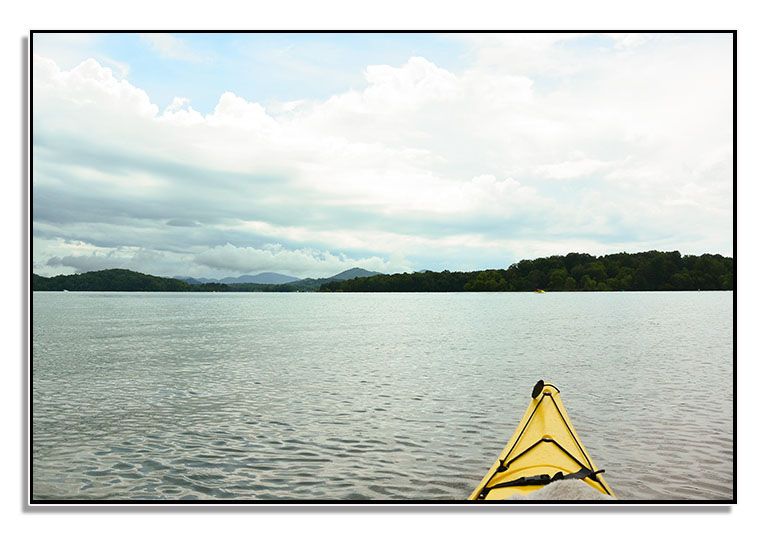 This is a very large lake, with a shoreline that is woodsy in part and lined with houses with docks in the rest. It's a nice combination. The water is clear and on this day was a beautiful green color. It was remarkably warm as well. If not for the distant thunder and our limited time, I would certainly have found a place to get out and go for a swim. Next time.
We paddled into a cove lined with houses and just enjoyed the feeling of being back on the water. However, the dark half of sky was gradually defeating and moving into the cheerful blue half. Here is the look of it as we were leaving the cove: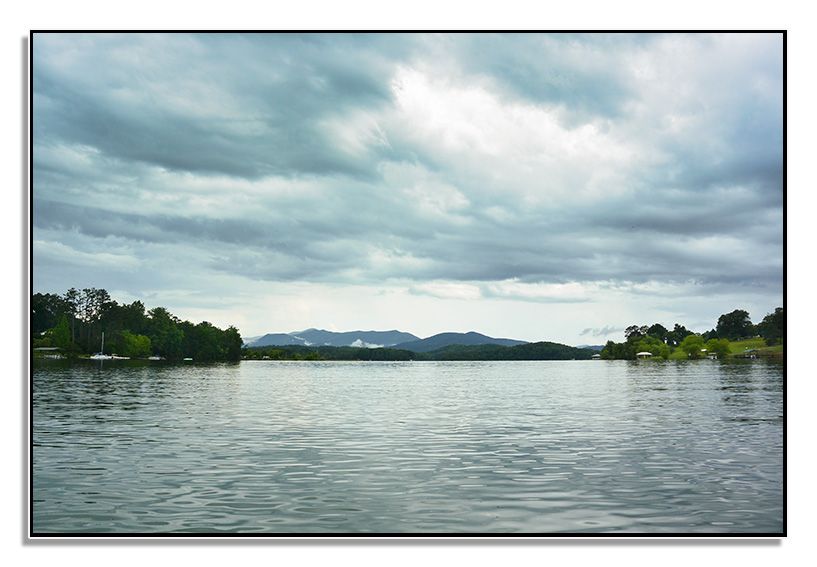 What amazing timing! When we got out of the boats, it started to sprinkle. When they were loaded and we were pulling out of the parking lot, the sky opened up and it was a deluge. The wind blew sheets of rain across the pavement.
Some day we will visit this lake and it will not be storming....
I don't know the name of the boat ramp that we used. We did not have to use the large concrete ramp to launch, the shoreline all around the parking lot is shallow with pebbles or small stones on the bottom. Very easy launching, great spot to start a paddle. We got there by heading west on 64 going from Franklin toward Hayesville. We turned left on Ledford Church Rd and stayed on that until it dead-ended into the boat ramp parking lot. If you get to the Ingles in Hayesville, you went too far and missed Ledford Church Rd. There is a boat ramp sign on 64.
We want to get back to this lake, and will also be exploring Nantahala Lake, which is about the same distance. Stand by.