Welcome to the first post! Inspired by other kayaking blogs (I'll link them later), I've decided to start one of my own.
I live in a small town near Tallahassee, Florida. My primary paddling rivers are the Wakulla and Wacissa, both spring-fed, gin-clear, gorgeous rivers. You really don't need anywhere else to paddle! But I occasionally visit other spots as well. I am almost always alone on these paddles, having not yet met anyone to go with. I am not terribly interested in going with a large group, and while I find one-way floats to be fun once in awhile, I actually enjoy the physical activity of paddling, so I prefer to paddle upstream first on a river, then drift back down.
Taking pictures while on the water is a big part of paddling for me, with my favorite subjects being birds. When you get a big one that holds still long enough to snap the picture, it really adds to the fun. My favorite picture so far is this one that I caught of a wood duck on the Wakulla River. Wood ducks are usually skittish and elusive, so this was pretty exciting: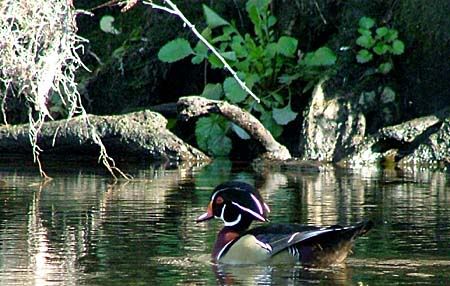 I caught this Great Blue Heron sitting in the horticulture alongside the Wacissa River: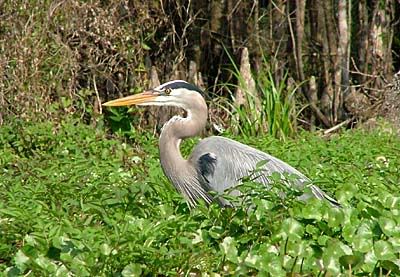 Limpkins reside in this country in Florida and south Georgia, and are active mainly at night. But they can often be spotted (and heard, with their very distinctive call) during a paddle on the Wacissa, which is where I saw this one: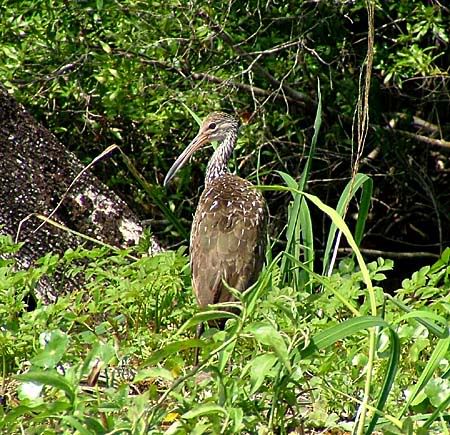 My kayak is an Impex Mystic, which is IMHO simply the best kayak on the water for smaller (i.e. women) paddlers. The boat is a joy and I couldn't recommend it more for anyone who fits the paddler profile. It's very rare for me to encounter another paddler on any river and not get complimented on it. My first kayak was purchased about 5 years ago. It was an ex-rental, a yellow Necky a little under 10' long and quite wide. I paid $100 and an old computer for it. Great learner kayak. Then I bought a Hurricane Aquasports Santee XL. 11'6" long, 28" wide. A bit of a bathtub kayak, but it looks sharp, weighs 36 lbs, and is surprisingly swift for its size. I like this kayak and decided to keep it, but to upgrade to something slimmer in a second kayak. Next was a Sylva by Liquidlogic--14' long, 22.5 wide. I liked the way it looked, and it tracked well, but I really didn't like this boat! I'd had it two months when I bought the Mystic, and later I sold the Sylva. I hope the buyer likes it better than I did. He demoed it and took it anyway. I have no reason or desire to replace the Mystic, it's everything I want in a kayak. I hang on to the Santee because it would be great for long one-way floats--I can sit cross-legged in it, and a huge cooler would fit in the cockpit with me.
I try to get out once or twice a week, weather permitting. This was a very windy spring for us and that caused some problems (or provided really great exercise, depending on how you choose to look at it). And in two days Florida enters hurricane season. Perhaps my twice weekly paddle trips will be reduced for awhile, we'll see. I've noticed that the forecast for this coming week is the same every day--"Chance of showers and thunderstorms." That's a pretty safe bet in its vagueness, I'd say. I think the weather people just slap that forecast on for Florida every day after June 1 and take the summer off (just kidding, weather people!).
I'll be back with a report and pictures after the next river trip. Stand by.