I spent the first 3-1/2 hours today on the Wakulla. Got there about 10 am. The Weather Channel had the rain chance at 40%--on the way there I caught a local forecaster on the radio putting it at 70%. Bit of a difference there...
The Wakulla was serene and sublime, as usual. Quite a few other paddlers out on the water. Blue sky, sunshine, and a few friendly white clouds were all I saw overhead the whole time. Many, many gators in the water, and many manatees as well.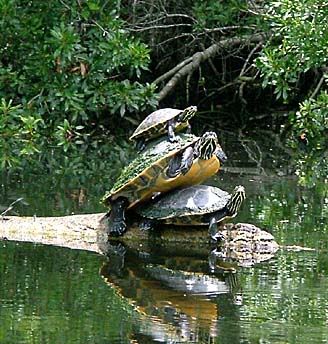 A triple-decker!
When I left there it was still fairly early in the day and there was no sign of rain so I decided to go back to the St. Marks NWR to finally check out access to the pools there (see earlier post). This time I was successful. The boat ramp is off the road, and it turns out that apparently it's ok to park on the berm, so that solved that problem. I unloaded the Mystic on the (very stoney) ramp and parked the car.

I set out paddling to the right. Lots of underwater growth that comes up near the surface but does not hinder paddling. Very nice shoreline. And surprisingly few birds. I was only out about 30 minutes when very dark clouds started to crowd the sky very quickly, so I decided to turn back and leave this for another day.

It started raining before I got to the boat ramp, and I passed through quite a cloudburst on the way home.

So no real report on this pool right now, but I plan to get back there soon. I think a great day trip would include an early start on this pool, which I believe you could circle in no more than 90 minutes, and then maybe crossing the road to explore pool 2. After that, a drive to the lighthouse and a walk on the path that goes along the Gulf, where you can see pelicans roosting on wooden posts in the water, and I'm sure assorted other things. A great paddling/hiking combo.

But that's for another day. Stand by.