If I post the same trip destinations every time I get to them, this will just be a lot of repeats, since I have my favorite spots that I spend the most time on. On the other hand, if I only post trips to places not already described here, this blog will stagnate. So I've decided to add a non-trip post and share a few of my bookmarked paddling sites, many of which are, of course, Florida-based.
Top Florida Canoe Trails
--This has a list of paddling destinations with short descriptions of each.
How Fast Will You Float Down River--Converting cfs to mph
--River current is always measured in cfs (cubic feet per second). How can you use that info to figure out how fast the current is? Well, the short answer is that there are too many other factors for there to be a hard and fast rule. But this page at least offers a way to roughly estimate how fast or slow the current
may
be.
Georgia Boat Ramps
--A handy map of boat ramp locations in Georgia.
Historic Big Bend Saltwater Paddling Trail
-- Map and description of this paddling trail.
Happy paddling and stand by for the next trip report.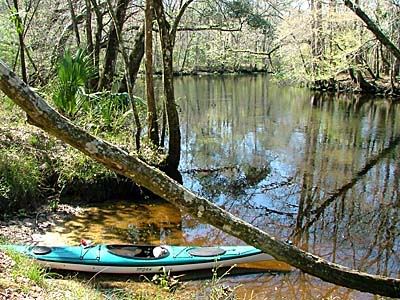 (Pulled over for a rest on the St. Marks River, spring 2005)