Got up this morning and the sun was shining. I didn't have any work here, so I decided to head out to the Wakulla with the new paddle. Chance of rain was 40%, which, as I have mentioned, is pretty low for this time of year.
Well, the paddle (an Aquabound Tsunami) gets two thumbs up! (Of course, they are both
my
thumbs, so does that only cound as one thumb?) It's an excellent paddle, and while the blade is shorter and broader than the Mariner I am used to, it didn't seem to require any extra effort to move it through the water. And yet I felt that I was getting better propulsion from each stroke. So there you go, a hearty endorsement for this particular paddle. I plan to use this one regularly from now on.
The tide was going out for most of the 4 and a half hours that I was on the water; I'm not sure if it was that factor alone or something else, but the current was a little faster than usual today. The water was very clear, with the bottom visible even in the deeper areas, which was a surprise given all the rain we have had lately.
I had the river mostly to myself on the way to the upper bridge, I enountered a couple of fishing boats and 3 other paddlers in that whole distance. Once I got to the end, I walked around in the water for awhile to cool off, and had my usual muffin. Very shortly after launching from there for the drift downstream, I happened to glance over to my right and there were two manatees, just munching on the underwater greenery. I nearly passed right over them, and yet almost missed seeing them.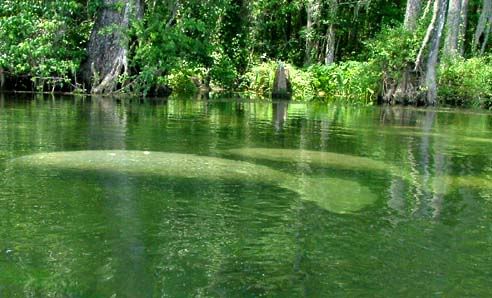 I let the current carry me downstream while I just sat back, dangled my hands in the water, and enjoyed the view. I passed several other paddlers.
About 3/4 of the way downstream I spotted a bird on a log by the side of the river, with several turtles on the same log. I thought that would make an interesting picture. I was moving rather swiftly with the current and so I was next to them by the time I got the camera on and up. It wasn't until I had taken the photo that I realized the bird was a wood duck, apparently a juvenile. I'm always much more excited about seeing a wood duck than I am a manatee (much as I like the manatees), so this was a pretty good day. The picture is not very good, I was moving too fast past it to get proper focus, but it was indeed a wood duck!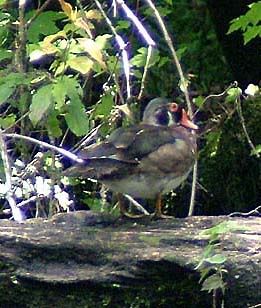 I'm afraid the turtle got cropped out of the pictures, which is no great loss since it was even less in focus...
After I went by the wood duck, I turned around to try taking another pass at him, but he hopped off the log and disappeared into the water deep in the woods, where I couldn't go. I have suspected all along that that is where these guys spend the summer. They are easier to spot in the winter time when they don't have all the foliage to hide in.
Caught these two turtles sunning themselves: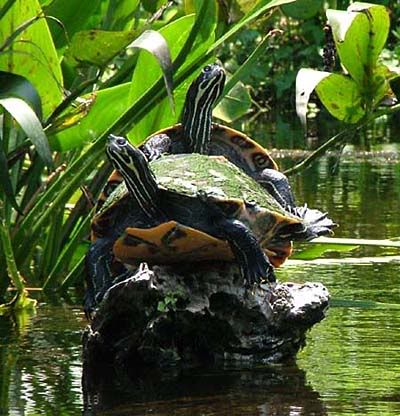 While it looks like they might be making little turtles, they are actually fairly offset, you just can't tell in this picture. I'm sure there's some perfect caption for this picture...
Just as I was leaving the boat ramp after the downstream drift, with the kayak loaded in the car, it started to rain. Pretty good timing. It was a great trip, the Wakulla is always a sure thing.
Meanwhile, as far as other trips, I have decided to hold off on the St. Marks NWR "pool" paddle until I can get back there and check out better access spots than the ones I noted before. I had hoped to get there today to see if I could find a more suitable place to put in, but decided not to drive there in the rain....
I hope to get out again later this week. Stand by.