The bank temperature sign said 96 degrees at 10:30. Kind of hot to go paddling, but I had decided to return to Lake Talquin after a long absence, and lake paddling is generally simple since there is no current to fight. This is an 8800-acre reservoir that is a very popular place for fishing, power boating, water skiing, and jet skis. But on a day this hot?
When I got there a little before noon the parking lot was nearly empty, only about 4 pickup trucks with trailers. I was putting in at Coe's Landing, which is off Hwy 20. It's very clearly marked with signs alerting you to the boat ramp before the turnoff from Hwy 20 onto Coe's Landing Rd. There is a campground with facilities adjacent to the boat ramp.
The lake was mirror-smooth and the prettiest I have ever seen it. So I unloaded and got ready to launch.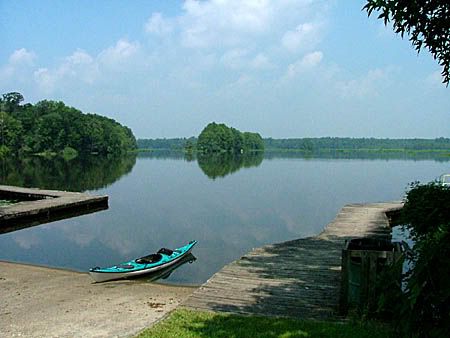 It appeared I had the whole lake to myself, though the boats that went on those trailers had to be someplace. They may have gone up the Ochlockonee River, which feeds into Talquin. I headed that way myself.
I saw a great blue heron, a reddish heron, an egret, and a large bird that may have been some kind of hawk (almost bald eagle-ish looking but not big enough)--but birds on this lake are evidently camera-shy, I couldn't get close enough to any to get a picture.
It was hot. But it was certainly peaceful. The river is completely unpopulated, at least in this area, making for some great scenery. It's very wide near the lake.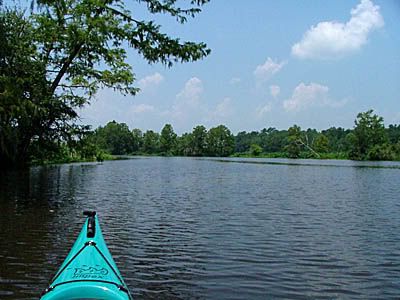 I didn't go far up the river before turning around to return to the lake. I stopped at a place where it was easy to get out and stretched my legs a bit. This end of the lake is a super place to paddle around and explore, with many little islands of vegetation.
I need to make a point of getting back to Talquin when it is a tad cooler and more comfortable out. The water was very warm, which seems strange in comparison to the Wakulla and Wacissa, which are 72 degrees year-round. Much more refreshing...
It seems my paddle destination choices are dwindling right now and the Wacissa is the best place to go. The water is guaranteed clear since the put-in is at the headspring, the water level stays constant, and submerging in that water after the paddling is done is a high point of the trip on days when temps are in the upper 90's!
I'm guessing that will be my next trip out. Stand by.