This is a very, very strange lake. It's long and narrow like a river (and has a current), it was dug out like a trench, and it's known as a lake.
The water is 400 feet deep in the center. The water temperature--in July--is 50-some degrees. This is water that one should not paddle in without some sort of wetsuit ("
dress for the water temperature, not the air temperature
"), but we risked it and stayed very close to the shore.
When we got to Calderwood it was around 11 am. There was so much mist coming off the water you could not see your hand in front of your face. Given this total lack of visibility and the water temperature, we hemmed and hawed awhile at the boat ramp, deciding whether to go out. As we stood there, the mist started to lift somewhat and we decided, somewhat hesitantly, to give it a try. It's a gorgeous lake, with the mountains rising steeply alongside it. Needless to say, there are no signs of civilization once you leave the ramp area, which is also a camping area. So we head out.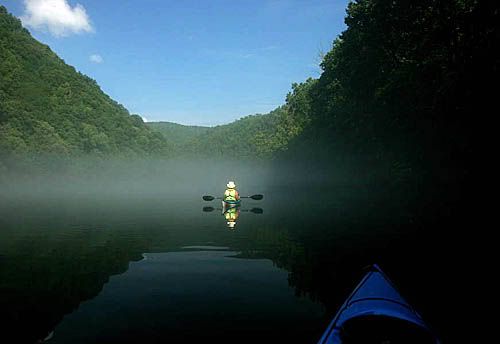 We encountered some people in a canoe, and someone going extremely slowly in a fishing boat. Sound carried remarkably well in the misted air, which made it seem even more eerie. You could hear people talking but could not tell where or how far away they were. Staying close to the shoreline brought the increased risk of being tipped by an unseen underwater obstruction--there were tree branches and logs everywhere.
Finally the mist had totally lifted and we could see the lake. I was paddling barefoot, as usual in the summer, and the cold water was making the bottom of the boat very cold, which made my feet cold. Just strange for July.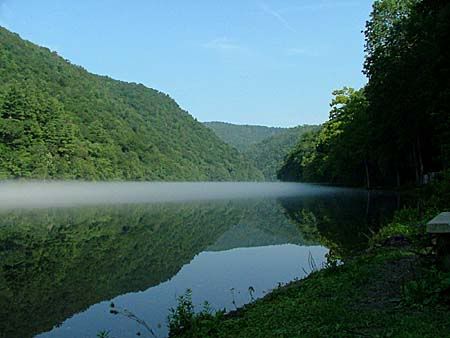 This is a really interesting place to paddle. It can be found along Hwy 129 north of Robbinsville, just past Tapoco Lodge (if you are coming south, just after Tail of the Dragon). If you are going to be heading down (or up) (or over) that way, you may want to take a look at it for a day paddle. Just don't fall in.
Go
here
for more Calderwood Lake pictures from this trip.
NOTE
: I made another trip to Calderwood in July of 2010, five years after this trip. That post can be found
here
.