Spent some time in a nice house on Lake Santeetlah, which is near Robbinsville, NC. My brother Gary came down from Ohio to join me for part of the time, bringing his kayak, of course.
This is a huge lake, but only populated in spots, while much of the shoreline is wooded. The bottom rises gradually, making it easy to step out almost anywhere along the shore. We did our paddling in the morning and early evening, so we were not plagued by the power boats and jet skis that zoomed across the lake in the middle of the day--although the lake is large enough that even at the busiest times it didn't seem overly crowded.
Every morning the clouds would make their way up the mountains.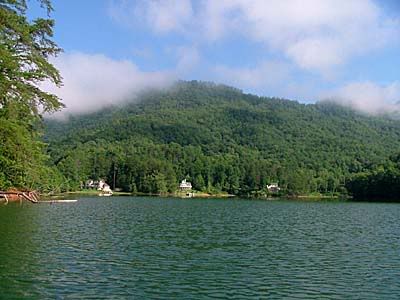 The lake was very still in the early part of the day, making for ideal paddling--and you can't beat the scenery!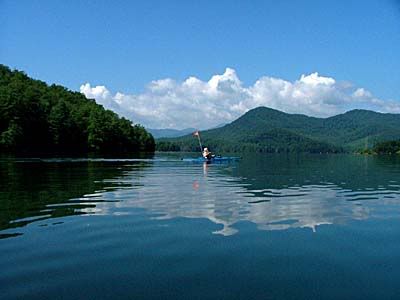 You may note the orange flag. Given that power boaters, if they are looking where they are going at all (Gary got a very telling picture of a boat zooming through the water with
every
occupant, including the person steering the boat, looking out the back of the boat), are looking for other power boat profiles, which means that we kayakers, sitting so low in the water, are usually completely under their radar, we thought we would try to raise our profiles just a bit by sporting 6' orange flags. I don't know if this made a bit of difference with the power boaters, but I do know that when we drifted apart to look at different things, it was easy to spot each other later!
Gary went home a day before I did. I decided to explore a different part of the lake and so I put in at the Cheowah Recreation Area. While there is a concrete boat ramp, and while the swimming area
does
have a No Launching sign, I decided to put in there on the sand rather than subject my hull yet again to hard concrete.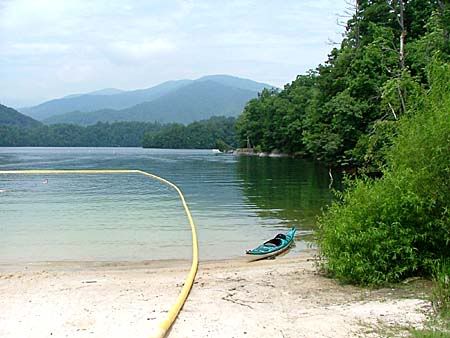 While out on the water, I came across some kids jumping off a rock. Similar to the kids that jump off the bridge on the Wakulla... it's a common theme when I paddle, I guess. Grace, the jumper here, got herself to the top of the rock and then was too scared to climb back down. It took a lot of coaching from her mother, in a boat on the water, but she finally got up her courage and made the jump. Way to go, Grace!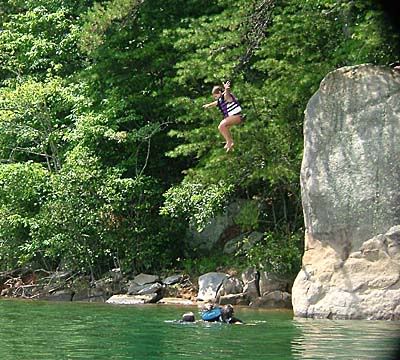 I was out on this lake three times during this trip, and I hope to get back again some time. The water is very clear and clean and the scenery is superb!