I thought I'd go back to the Wakulla this morning. I had plans to meet someone there but she bailed (so to speak) on me.
Dennis, our most recent hurricane, blew through the Wakulla area recently. As a result, the water was very silty.
Very
silty. The current was also the strongest I have ever encountered there, regardless of tide conditions. Normally it takes me from 45 minutes to an hour to reach the dock at Mysterious Waters. Today I had still not reached it after 90 minutes of paddling against the current. (You didn't miss anything, Scott!) I decided that perhaps there were other places to paddle today so I turned around after those 90 minutes. It took me about 30 minutes to drift back to the boat ramp, with little paddling involved. I saw no downed trees, but the rushes that normally line the river had been relocated to assorted docks. In addition, some of those docks had not fared well.
I decided to continue on up Hwy. 98 to investigate Spring Creek, an area someone I had met on the Wakulla had told me would be "perfect" for kayaking. His directions were spot on, but the area had been hit hard by Dennis and there were policemen monitoring traffic in and out. Interestingly, they waved me through. I drove to a logical place for a boat ramp, but found no such thing. A local resident was cleaning her yard and she told me she knew of no public boat ramp in the area. (If you know of one, tell me where it is.) Ok, fine. I thought I might take a look at Shell Point, a Gulf put-in area. Some day I would like to get out into saltwater. Not today, but I thought I would check it out. I asked those same policemen about whether Shell Point was accessible. Turns out that whole area was closed. A few days after a hurricane is just not the best time to be reconning Gulf paddling spots.
My next plan was to return to the St. Marks NWR pools and finally get all the way around at least one, if not both. Guess what? St. Marks NWR was closed today. Not the best day for a paddling trip.
I was still in paddling-time deficit since I had left the Wakulla so soon. I pass the Wacissa River on my way home...might as well see what's up there.
Finally! A paddle spot for the day that worked out well! It looked as good as always.
So off I go. Since the put-in is at the headsprings, the water was its usual crystal clear. While steering around some greenery, I came upon this Reddish Heron, who seemed totally unconcerned with my presence.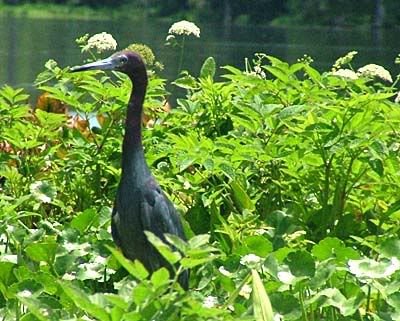 There was little downstream current and so this was a very leisurely paddle. A little farther downstream I spotted a larger heron, my favorite of the big birds (though this wasn't a Great Blue Heron...I was not that lucky today).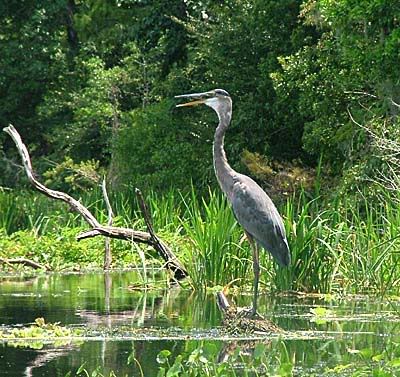 A bit farther on (I only went a couple of miles downriver; the birds were really out today..) I heard a very distinctive
barking
sound from some bird. I steered toward it, searching the ground and trees for the source. It was a limpkin in a tree, really going to town yapping at something on the ground. Very strange birds.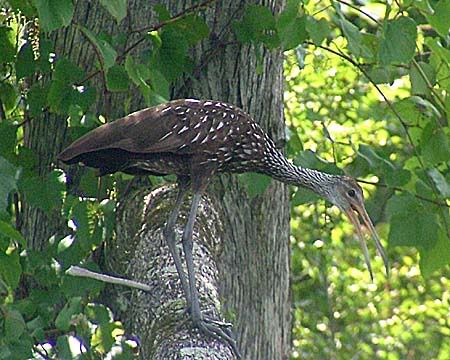 I was on the river a couple of hours, a super paddle to end the day. This was my last paddle before I leave for North Carolina on Monday, where I will be staying for about a week on Lake Santeetlah. Stand by for reports of that trip.