Well, the Wakulla is still as silty as it was last time I was there almost 2 weeks ago. Like paddling the Muddy Mississipp (no "i" on purpose, though I don't know why). The water level was also about 4' lower than I have ever seen it, which the guy at the boat rental place next to the public ramp attributed to tide. The tide had at that time been coming in for 4 hours, and it was only predicted to be a foot-something in height, so I'm not sure if that's the reason for the extremely low water level...but it could be. At any rate, I've never seen it like this. Wide expanses of mud that used to be river bottom stretched out on either side of the river. I thought this might force the wood ducks out into the main part of the river and I kept watch for them. Saw a female from some distance but that's all. Some day I'll get another picture of them.
The current at the top was extremely swift and provided the day's exercise.
I did see this heron on the way downstream, as I went zooming by riding the current.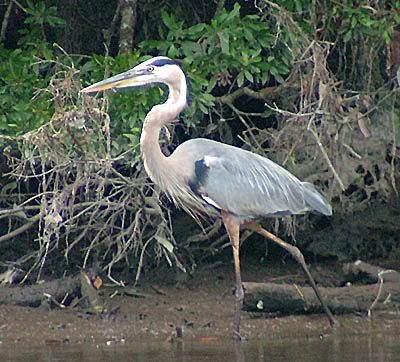 I think I will give this river a few weeks to clear itself up before going back. If you plan a trip here close to today's date, you might want to rethink it and go to the Wacissa or the pools at the St. Marks NWR instead.
Stand by for the next trip report.