Took a drive east to Ocean Pond, just outside Olustee--about 90 minutes away. When I left it was a still day with a cloudless blue sky. On the way there I passed under solid clumps of gray clouds and then blue sky with a few white clouds. Got to the Ocean Pond Recreation Area at around 10:30 and paid my $2 admission fee.
I had been to Ocean Pond once before on a very windy day--far too windy to paddle to I didn't linger. I looked forward to exploring the lake this time.
However, my first glimpse of it through the trees as I approached the boat ramp revealed very choppy water. What? Is this water always choppy? However, when I got out of the car I found that it was, in fact, fairly windy again.
I was in the water all of about 15 minutes. The boat is well up to this kind of chop, but trying to paddle a straight line in wind while the boat is being tossed around on waves and swells is just not my idea of relaxing fun.
Loaded it back up and decided to explore the park, as long as I had paid to get in.
There is a super picnic area with several docks that overlook the lake. One of these had a sign about the lake. It's called Ocean Pond because when the wind rushes across the water it creates large swells that break on the beach like ocean waves. I spoke to one of the park hosts and she told me that people come from Gainesville to wind surf on this lake. I asked her if it was ever flat and she said yes, but that (like all lakes), it goes from glassy to choppy very quickly when wind comes up.
I did get a picture from the picnic area--a somewhat sheltered spot, so the choppiness of the water is not evident (as opposed to me being a complete wimp).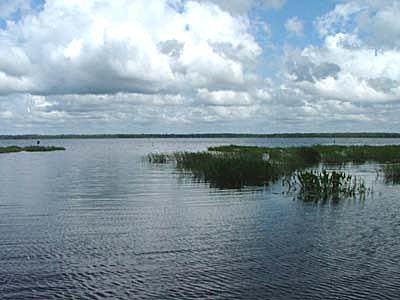 This is a fine park that has several hiking trails. There is a hosted, developed campground across the lake (accessible via the same road as the rec area), and a primitive campground nearby.
Pretty much a failed paddling trip but an enjoyable afternoon nonetheless. Not sure I will make that drive again, though, since I've encountered this choppy water here twice now.
Thanks to Brint for the link on his fine
kayaking site
, as well as on the one he maintains for the
Mobile Bay Canoe & Kayak Club
.
Happy paddling! Stand by for more trip reports.