Back to the Wacissa--it's the only sensible one to go to during this time of year, especially now that the Wakulla is temporarily out of the rotation. The water is so cool (72 degrees year round) there that being low and close to it seems to help counter the 95-degree air, particularly in the morning when one side is shady. It's actually comfortable paddling. For awhile, anyway.
When I got there I was the only car in the parking lot, which is a first, and I had the river totally to myself down and back for my 3-hour paddle.
The main reason I am blogging this trip, since it's hardly a new destination, is to show you the following picture: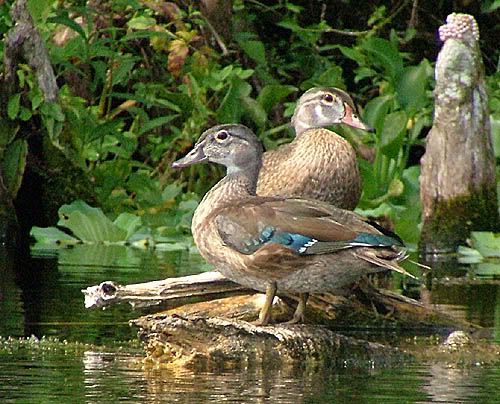 These are female wood ducks. Had they been the more colorful males, this would have been even better, but I like the picture and this is the first wood duck sighting I have had there. Perhaps sometime I'll get a picture of a male there.
Other than that, a very typical trip. Couple of gators, more of the belted kingfisher birds (which is what the ones in a previous post turned out to be), some ibis, and the usual other birds.
A good day.