Each time I go back to this river, I am reminded of how wonderful it is, something I seem to tend to forget between visits. And of course in contrast to my last Wakulla trip (or Back to the Big Muddy, as it should have been called), this river looked even better than usual.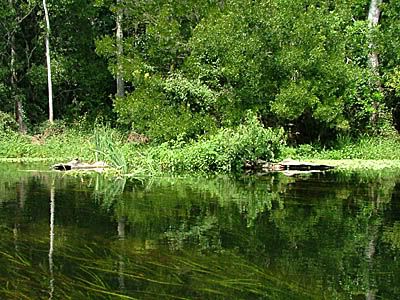 The edges of this river are just beautiful, and they change as you progress along it. For awhile there is a lot of duckweed along the edges, and very few islands of vegetation. The duckweed disappears later (of course, this is seasonal) and the islands appear. Some areas of the bottom are just sandy, some have one kind of plant, others have green reeds that reach up toward the surface. At this time there are red flowers in bloom, which stand out in stark contrast to the almost entirely green backdrop of the banks of this river.
Lots of mullet jumping, which reminded me of the story the guy told in a paddling.net forum about the time a mullet jumped out of the water and hit him on the side of the head. I'm not going to spend a lot of time worrying about this, but it would be a bit troublesome. Those mullet are BIG. They jump quite high. Hopefully they are looking where they are going.
I had intended to stay out my usual 4 hours but I was down to Cedar Island 30 minutes earlier than expected and decided to just turn around there. From the time I left the boat ramp I had not seen another boat. There is only one house on this river between the ramp at the headsprings and Cedar Island, 3 miles downstream, and I don't think anyone lives there permanently. Therefore, you can paddle this river (on a weekday) and hear absolutely no man-made sounds (unless a plane goes over). Only cicadas, songbirds, the chimp-like sounds of the many common moorhens, owls, the squawks of herons and egrets, and barking of limpkins. And if you are going upstream, the water coming off the paddle blades. Utterly peaceful.
Lots of birds today.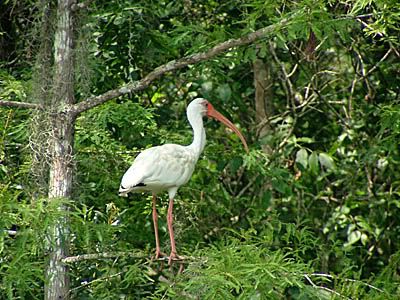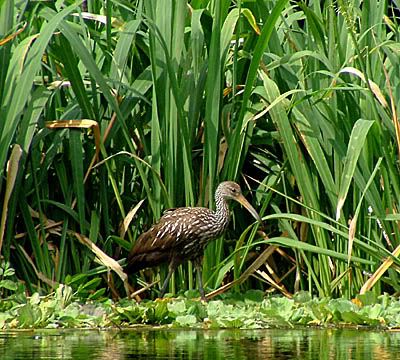 When I first got to the ramp, a guy from the Fish and Wildlife Commission (FWC) was there ("hanging out"). I asked him what it would take to ban air boats on this river. This river is fairly narrow in spots. It's a natural river with a lot of wildlife nesting close to the edge. This river is very popular for paddlers and paddling groups. Air boats are not just a nuisance with their inconceivable decibel level, they are a dangerous menace to other boaters and to indigenous wildlife. The FWC guy told me that on July 4th there was an air boat accident there, in which the operator of the air boat lost control and rammed a tree along the edge, injuring himself and damaging his boat. "Along the edge" is where paddlers go to escape these monstrosities. The FWC guy said that he felt that it would take a concerted effort by a large number of people to have them banned, though. And then he allowed that when a paddler is killed by an air boat accident like the one last month, that would likely hurry things along.
In the meantime, I strongly suggest that paddlers choose another spot on weekends, if at all possible.
Stand by for the next trip.