Well, check this out:
I went three hours without seeing a deer, and then saw several, including the one above. Given the shoreline forest density, I was very fortunate to get that picture. That deer had a younger one following it, so I just hung out motionless in the little cove to take pictures. Here's the younger one:
This was really exciting. I took several more pictures of these two but none came out as clearly.
But I get ahead of myself.
I put in at Pat Thomas park again, in the Montauk, at 10:15. Total time on the lake was five hours and 45 minutes--a new record for me. I did make several stops.
This was a day to see the birds but for the most part not photograph them (they are so shy on this lake!). Today I saw several anhingas, some thrilling bald eagles, many great blue herons, some reddish herons, egrets (of course), belted kingfishers, a pileated woodpecker, common moorhens, and a male and female wood duck pair as they quickly fled my presence. Only one great blue heron held still enough for long enough to snap a picture today.
I started to the left this time after leaving the boat ramp at the park. There was no wind, the water was calm and flat, just perfect for wildlife viewing while paddling. This lake has many different shoreline characteristics. There is the wooded area, where you can see the deer:
Then there are areas with tall grasses, which is where the ducks and duck-like birds hang out: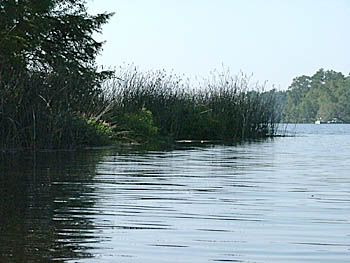 And the marshy areas, where you will see more birds and some gators, along with, today, lots of water lilies:
So I paddled for about 2 hours in that direction. Soon I spotted a marina. What great timing, I was ready to get out for a stretch and a snack and some water. It turned out to be part of Whippoorwill Sportsman's Lodge. I saw some nice-looking townhouses near the boat ramp and so I went into the little shop/restaurant to find out if they were for rent. Not only did the guy say they were for rent, he offered to show me one. How convenient. It's not bad, a little sparse in terms of home-y decor, but the word "sportsman" does appear in their name so that explains that. They are $89 a night. Fairly reasonable. He rents canoes there and came down to the ramp with me to look at the kayak and we discussed his renting kayaks as well as canoes for awhile.
I turned around at that point as I wanted to go back to the area on the other side of Pat Thomas park as well. It was a nice journey out that way, very peaceful. A couple of fishermen were enjoying the day as well, and one of them was protected from the sun.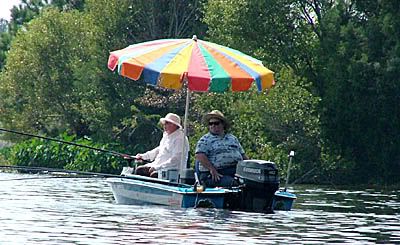 I actually passed them twice, going out and back, about 30-40 minutes apart, and the poor guy at the bow was in the sun both times I saw them. Nice umbrella, though.
This has rapidly become my favorite place to paddle, I suppose in part because of the addition of deer sightings. I wonder if that will be easier when there are no leaves on the trees to obscure them, or will they stay deeper in the woods then?
Big plans to go back to the Suwannee and Withlacoochee early next week, stand by for that.