I decided to check out this access to Lake Talquin. Pat Thomas Park is about 10 miles from the Quincy, FL, exit on I-10. I chose this place since I am going to be taking up tent camping this fall, and so I am now interested in paddling places near campgrounds.
This is a great little park! Nice boat ramp next to the tent areas; RV sites are across the park road. Lake Talquin surrounds this park on three sides, so everyone has a lake view. The boat ramp leads to a small cove, which opens into the 8800-acre lake.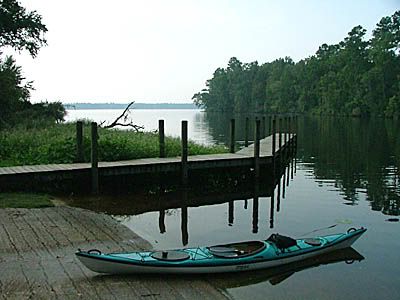 Today turned out to be my best in-Florida paddling trip of the year so far (Lake Santeetlah in NC still tops the list, see an earlier entry in this blog). The lake was flat and remarkably free of power boats. I was on it for 90 minutes before I saw the first one, and only saw three in the 4 hours I was out.
The shoreline is mostly Lake Talquin State Forest land, and so it is very woodsy, with no properties or docks, etc., except a few scattered here and there. When I left the boat ramp I went to the right first. The first thing of note happened as I was going into a very small cove area. Across the way I heard some splashing and I looked over and saw a sandy portion of the edge with something splashing on it. I thought at first it must be a duck or other shore bird bathing. But in fact there was a female deer with a very, very small baby deer with her at the water's edge. This baby was days-old small, and it was running around--no, not "running around," it was
cavorting
--on the water's edge, jumping in and leaping out and running in circles. It looked like a puppy playing in the water. It was having a great time. It was so small! Too far away to photograph, though. I stopped padding and glided in that direction, smiling like an idiot watching this baby deer play in the water. Then the mother saw me. They didn't dart away, she just walked slowly back into the woods, with the baby of course following. It was very cool. I never see deer when I paddle.
So I continued on my way. Nice easy paddle along the shoreline. Then I came to another cove, so of course I went into it. And it went on. And on. And on. It was very pretty in there.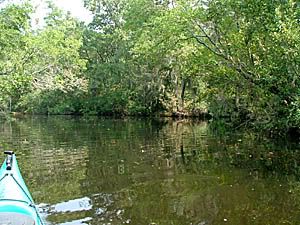 I finally got out of the boat and had a snack along the bank, but I didn't linger. After I came out of the long cove, I got to a totally different shoreline. All of a sudden it was marshy, with moorhens and coots and grasses along the edge--very weird to have it change so abruptly.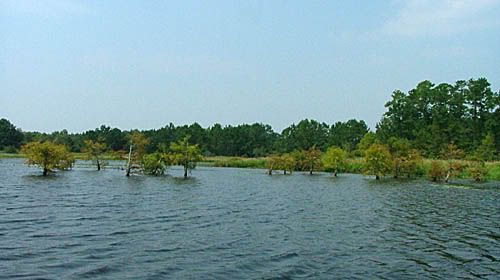 Trees growing up out of the water and a low marshy shoreline with just grass and reeds. I then came to the end of the lake and to continue on I would have to paddle a long time next to a manmade rocky bank supporting a road, very boring. So I turned around.
A great blue heron, or perhaps more than one, kept flying just ahead of me for all of today. I'd get to it, it would squawk and fly a little farther ahead. This was repeated the whole trip.
I reached the park and went on in the other direction for awhile, accompanied by the great blue heron. I came to a bunch of houses and the end of the lake in that direction. Had I started that way first, I could have just gone across and continued in a non-populated area, but I decided to turn around and just head back. It was a tad warm out today.
On the way back I heard something running in the woods. I stopped paddling and just glided silently. I saw--yes--
two
spotted deer running around, apparently playing since they were staying in the same area, just chasing each other in circles. Way too far in to get a picture, but more deer! And this was in the middle of the afternoon! How many must be there first thing in the morning?
A few minutes later I came to a relatively open section, where the great blue heron unexpectedly flew off a tree branch overhanging the river, which caught my eye. And there behind it was....another deer! This one trotted into the woods. I watched it as I glided parallel to it. It was pretty close to the water. This was a full adult female. It was close enough that I turned the camera on and zoomed the lens and held it up so as to minimize the movement if I could get a picture of it. It looked like I might have a chance at a clearing just ahead. But as we both approached the clearing, she saw me and went running into the woods.
As I approached the boat ramp, the ever-present great blue heron flew past me and landed on the pier next to the ramp. It seemed unusually interested in something in the reeds next to the pier. I assumed it was a fish; its interest in that prevented it from noticing how close I was getting. And then a small gator swam out from the reeds and passed under the pier. Ah, that's what it was looking at...
After flying away from me all day, the heron (ok, fine, it was probably a different heron altogether) seemed to not mind my proximity, giving me a chance to get some good pictures of it.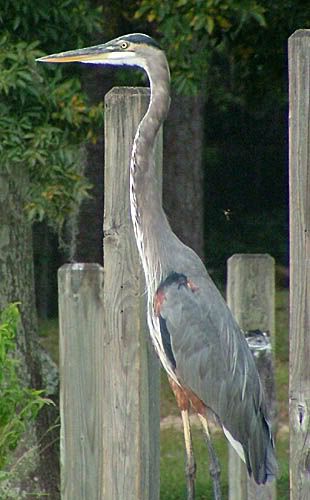 This was an excellent day; I look forward to getting back to this area. When the daytime temps drop to the balmy, comfortable mid-80's (rather than 96, as it was today) or below, it will be even better, and I will pack up the tent and spend the night so I can get out on the lake first thing in the morning. This is a really nice little park, I highly recommend it as a day trip or overnight destination.
Stand by for the next trip.