Ok, fine, maybe it wasn't the official government-sanctioned Limpkin Day...but it could have been. Never saw so many on the river.
Got there at about 10:30. While I was unloading, a woman drove up with a yak on her car (a Wilderness Systems Manteo). We chatted for awhile; I wondered if she would want to paddle together since we were both starting at the same time. However, she mentioned in the course of conversation that it was "cardio day" for her (wouldn't you just know it?
Yesterday
was cardio day for me. Today was "leisure day") so she would be going at a brisk pace. I ended up heading out before she did, and sure enough, she did pass me eventually and vanish into the distance.
Here's one of the many limpkins I saw. I didn't notice it at the time, but I got several pictures of this one and in all of them it appears to only have one leg. Well, there
are
gators on this river...
Cute face, I think (maybe I have been spending too much time around these birds). Later on I got a picture of what I thought was two limpkins--again, it was only when I got it out of the camera and on to the computer screen that I noticed the third one poking up in the middle.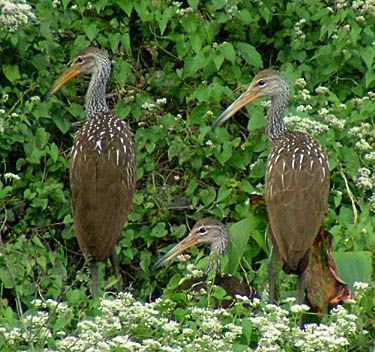 When I got about a half-mile from Cedar Island, I spotted the cardio woman just hanging out in the middle of the river.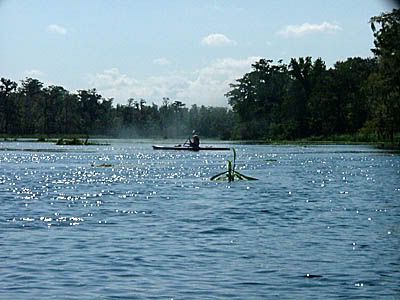 I caught up with her (not too hard since she wasn't moving) and we chatted for awhile about paddles (the lightness of carbon blades vs. their potential fragility) and various paddling conditions. Trying to talk to someone in a kayak while staying in one place when there is current reminds me of when two people on horses in movie westerns try to talk and the horses are turning in circles and walking around and the people end up talking over their shoulders and always trying to get back into normal conversation positions. After awhile she headed back to the boat ramp (evidently that was enough cardio) and I went on to the island.
I got out at the island and walked around the open area. Apparently someone had been camping there recently; citronella candle cans (bug repellents) were on the ground at even intervals around the center of the clearing, and there was a battered frying pan on the ground. There were also several palm fronds stacked neatly in a pile near the entrance from the river. I wonder why.
At any rate, I left there to circle the island in a clockwise direction. The river narrows considerably to the left of the island and is very scenic. Lots of birds.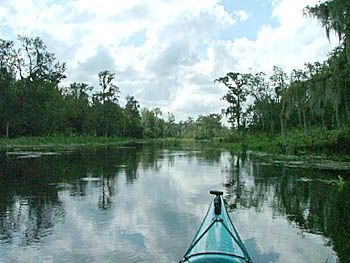 There seemed to be less current today than on other trips to this part of the river, so paddling back upstream was simple (this river is downstream-first since you put in at the headspring).
About halfway back I saw an ibis tree!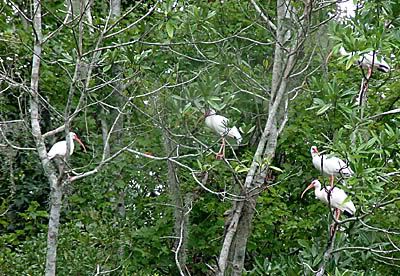 And look, these two look like they are just about ripe: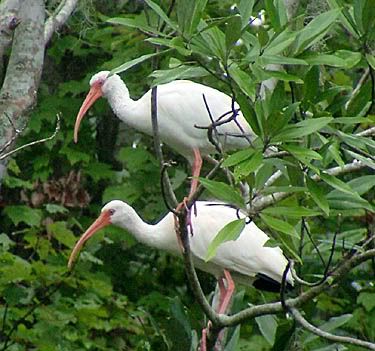 And then gray clouds came in. It started to rain, just a light sprinkle while the sun was still out. It didn't last long, but the clouds stayed overhead and more were gathering.
Saw this heron on the way back--very striking bird, nice colors.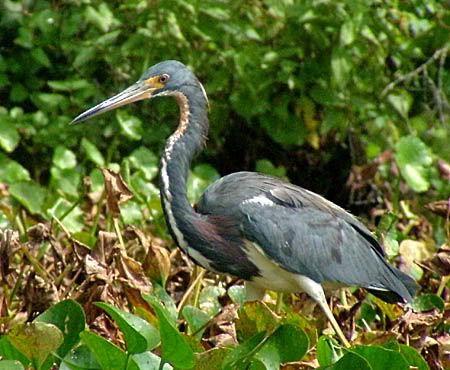 About a mile from the boat ramp, the rain came back with much more vigor and zest. Your basic downpour, luckily without any thunder and therefore, hopefully, no lightning. I can now confirm that Tilley hats do indeed maintain their shape when they get wet; the brim does not get floppy but stays rigid to keep the rain out of your face. I can also attest to the fact that raindrops falling on the brim make a very pleasing pitter-patter sound. I found paddling in this kind of rain shower not at all unpleasant. It had been a warm day and it was very refreshing. As long as there is no threat of lightning...
Got back to the boat ramp after being out for a total of 4 hours and 45 minutes. A super day of paddling. The weather doesn't look promising enough to make the long drive out to Talquin again till sometime next week, when the 10-day forecast shows little smiley sunshine faces for our area. With gas prices where they are, I need to see a little smiley sunshine face before taking on that many miles.
Stand by for the next padding day.