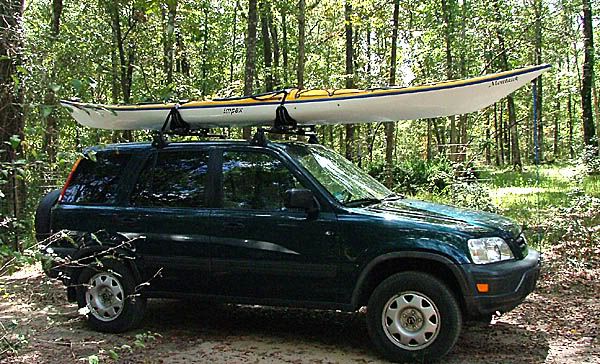 The Impex Montauk is now off the car, having arrived home from Carolina Beach, NC, where it was purchased yesterday. The foot pegs are set, the
Pegpads
are on (I highly recommend these to barefoot paddlers), it's ready to go.....as soon as Hurricane Rita stops dumping rain on us. I had to wait for Hurricane Ophelia to clear out of the Carolina Beach area before I could drive up to get the Montauk, and now Rita is going to stall me on putting this baby in the water! Ah well, our poor trees were looking pretty droopy from our recent lack of rain, so I guess I can wait a few days.
I enjoyed Pat Thomas park (see report below) so much that I am thinking of taking the Montauk there for its maiden voyage. It's a gorgeous boat--seems to go on forever, though it's only two feet longer than my 14' Mystic (which will always be #1 boat here).
Stand by for Rita to pass and the Montauk to show me what it can do.