Back to the Wacissa after being away awhile due to work and the rising price of gas. But it was time to get back out and do some paddling!
This time I went around Cedar Island, which added enough distance to the trip to make this a 4-hour day instead of my usual 3 on this river. I didn't get out on the island, I had gotten out at the ramp ahead of it and stretched my legs. It's so pretty around this island that it's worth the extra distance and the stronger current.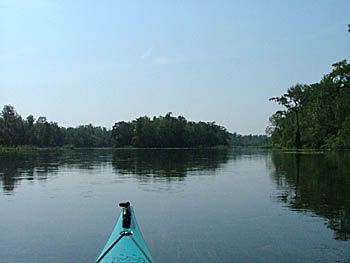 Pretty hard to tell what you're looking at, but that's the island straight ahead. I went around to the left.
On the way back upriver I came to more female wood ducks. In fact, over the course of today, I saw about 15 females and not one male.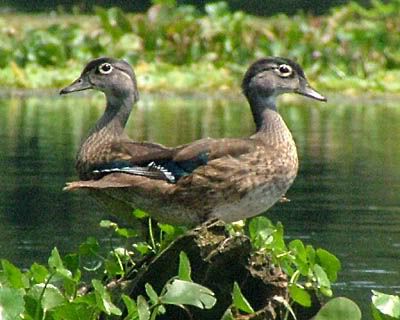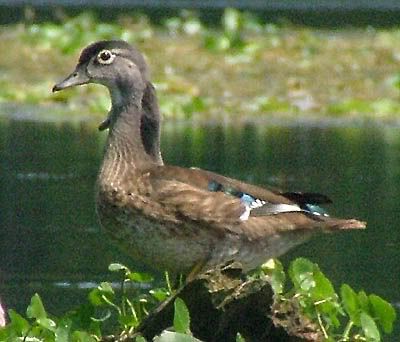 Two powerboats were on the river and 4 other paddlers--otherwise it was very quiet. The current was strong down around Cedar Island, but minimal closer to the ramp at the headspring, as is usually the case.
Saw the usual herons and egrets and limpkins, and several very small, young gators. And an ibis.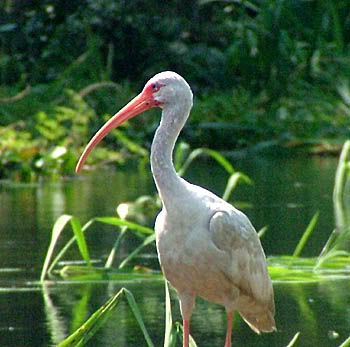 Got back to the ramp at about 2 pm. Two women paddlers arrived from the river shortly afterwards and we started talking. One of them was from
Wilderness Way
, a kayak sales and rental place in Tallahassee. She admired my Mystic--always nice to hear from someone in the business! We talked about camping matters and boats for a short time and then loaded up and left.
Thanks to Ed Pope for linking to this blog on his
book site
as well as their
gift site
! I appreciate it.
Oh--I have a Wakulla River update. I spoke with someone at TnT Hideaway, the canoe and kayak rental place on the river at the Hwy. 98 bridge. It seems that Dennis took out all the underwater grasses from the river, which acted as natural filters for the water. As a result, the bottom got all stirred up (and the current increased with nothing to stop it). Without any grasses, the tide just keeps stirring and stirring the muddy water as it comes in and goes out. The guy at the rental place said he thought it would likely be next summer some time before it got anywhere near back to normal--the grasses have to grow back. Great. I'll miss it this winter--the best birds hang out there in winter. Of course, it still can be paddled, but it's just not the same with the water so muddy and the current so fast.
Trips are getting fewer and farther between these days but stand by for the next one, whenever and wherever that may be.