It was finally time to take the tent for a test drive, and there seemed no better place than Three Rivers State Park near Sneads, Florida (see earlier post).
I got there at about 1:00 pm, and got set up in a campsite. This time I was in site #6--
very
nice! In fact, as it turned out, I had the entire right side of the campground to myself--clearly the camping gods were smiling on me for this first trip.
So off I go, on Lake Seminole. Every time I have visited this lake to check out this area, the lake has been far too choppy, due to wind, to paddle. On this first day, it was mirror-flat. So there I am, happily paddling away and enjoying the day. I see something odd ahead. At first I thought it was just an oddly-shaped limb extending out from the water (there are portions that have many such protuberances). Well, then it seemed to look like a bird...but not
exactly
. As I approached, I decided that perhaps this was a heron standing in front of some kind of "underwater hazards" sign that had been put out for powerboaters.
No...this was a heron apparently flashing me as I went by...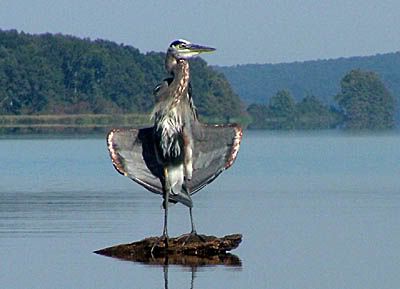 (
Hey Lady, check this out
!) Very strange. Incidentally, this bird struck this same pose again further along on my trip. I chose to see it as a curtsy.
After this particular display, and after I passed by, he (okay, or she) flew ahead of me to the shoreline. He/she tried to look normal over there.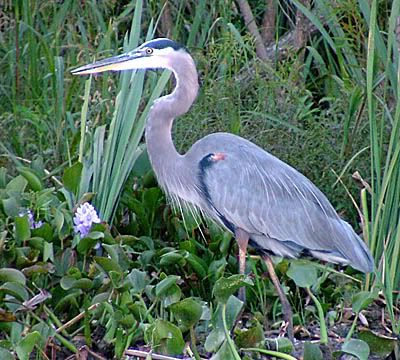 I paddled for a little over an hour, as the sun started to sink lower ("in the west"--how poetic!). This lake does have gators, though I never saw any on any logs or any of the small sandy beaches that I passed on this trip. I did, however, see this one cut in front of me. It then submerged (I hate it when they do that), and I waited to see where it would reappear. Sure enough, there it was, making its way parallel to the shore.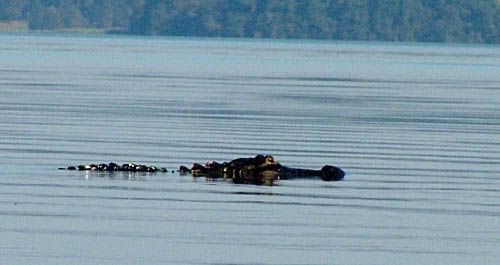 I turned around eventually and headed back to the campground. Here is Part One of the arty photos of this set--one of the growing tree stumps that protrude from the water.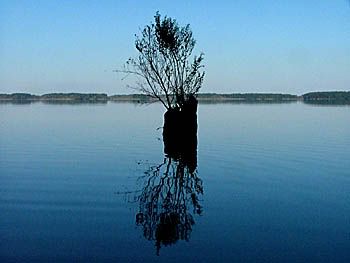 (Actually, the full-size version of that makes nice computer wallpaper...) I also caught up with my heron buddy (or another; they tend to look generally alike):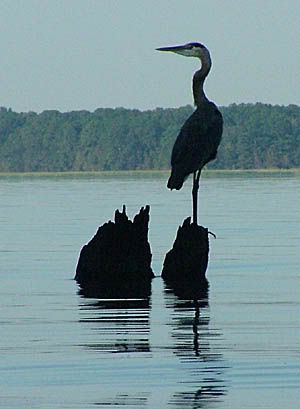 Back to the campground for dinner. As the sun was setting (see above for poetry), I went for a walk around the area. This is a popular fishing lake, as evidenced by the following snapshots.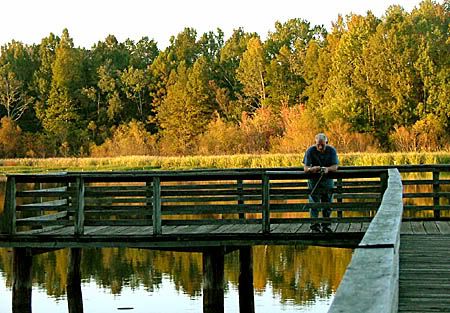 and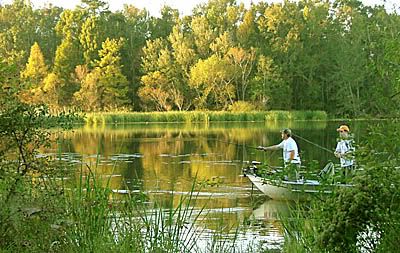 This is Florida; we don't get fall colors. The gold in those shots is coming only from the sun being so low in the sky. It was very, very vivid.
A great night in my tent. I have never had moorhens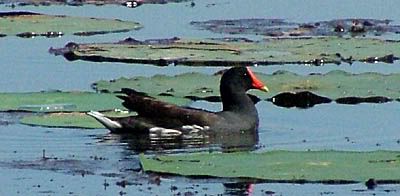 and herons sounding off in the background while I fall asleep, so this was a wonderful novel experience for me. (I took that picture this morning--the moon was full last night but not quite
that
bright.)
The next morning was the start of another perfect day--cool weather and a calm lake.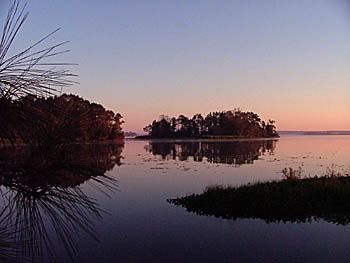 I set out from the campground boat ramp. The sun wasn't quite fully up yet and so the pictures showed more shadows and different lighting than usual. At the risk of boring you, another heron shot from early this morning:

I was out for about 4 hours. What a great time, it was cool out (finally!) and I saw a fox squirrel along the bank (it left before I could get a picture). A bald eagle flew out from a tree. Lots of kingfishers chittering away and flitting around.
And of course, I spotted a cardinal, one of Florida's most prominent shorebirds.

Ok, fine, not a "prominent" shorebird. It was probably here on vacation from Ohio. Perhaps it skipped the part in the tour book about alligators. Or it's one of those thrill-seeking cardinals you hear so much about.
It was a great two days. This park is really nice. Unfortunately, this park's campground will be closed from October 21 until November 24th while they upgrade their plumbing and electrical provisions. Hurray for the improvements, but I'm not thrilled about having to wait another month to get back there.
I have a few other places in mind to camp, and several day trips planned. Stand by for those.