Back to Merritt Mill Pond, one of my favorite places to paddle. It's a 2-hour drive from me, though, which is just outside my limit for a day trip. Therefore, I made arrangements to stay in a "camping cabin" in a campground on the lake (it's still just a tad too warm here to take the tent; I would also like to wait for one good cold night to kill off the mosquitoes!).
I can't recommend that particular campground to anyone, tenter or RVer. But it was nice to be so close to the lake! So off I go.
The lake is 4.35 miles long, and fairly narrow (for a lake). Portions of it are populated, and you can't paddle too close to shore anywhere on it because of the many cypress trees that line the edges, as well as a lot of what looked like algae growth but might have actually just been duckweed. The water is crystal clear, clearer even than the Wacissa or Wakulla (when it is normal). There is a lot of standing timber on the bottom that you have to watch out for. The lake varies in depth but never seems to be over about 8' deep (that could be an illusion brought on by the water clarity, though!). It runs from a headspring and empties into a river, so there is a current on it, but it's very mild.
Here's what it looks like for essentially all 4.35 miles: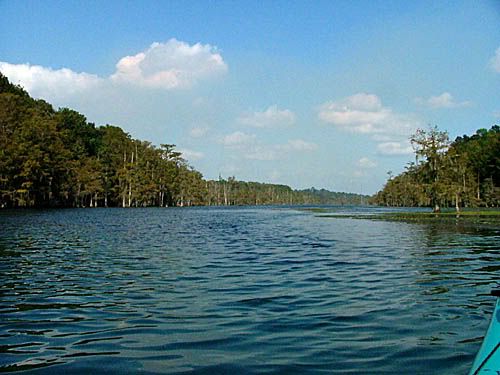 I saw only one fishing boat the entire time I was on the water, which was about 3 hours. I did, however, see a beautiful great blue heron: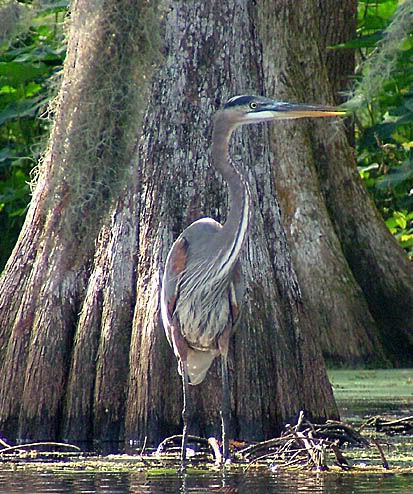 For those of you who are reading this from anywhere other than the South, that curly gray stuff hanging down to the left of the bird and slanting in from the upper right corner is Spanish moss.
I haven't taken a turtle picture for awhile; they are so plentiful everywhere that I paddle that I tend to overlook them, so I decided to capture these two.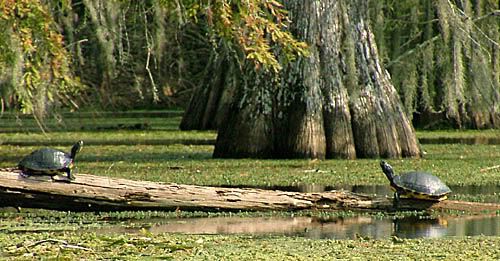 That green stuff you see is what prevents you from paddling near the edges.
I got up to the park at the top, where the spring is. I had been shown on an earlier trip, during which I launched from the park, where I could put the kayak in--a kind of unofficial launch point (they don't have a boat ramp). The park was evidently closed today and so I was the only one there. It occurred to me that if I wanted to go over to the swimming area at the spring, I would have it all to myself... but it was getting late and it gets dark earlier these days so I just stretched my legs a bit and then headed back to the campground.
This morning it was cool and very calm out. My cabin overlooked the lake and I thought about going back out after having my coffee. But then I decided that with Merritt so calm and flat, Lake Seminole, only about 30 minutes away, a lake I haven't been on for a long time, would also be calm and flat. So I packed up, said goodbye to the people who had been staying in the site next to the cabin (who had with them 3 horses, 2 dogs, 3 cats, 1 parrot, and 2 hamsters), and headed out.
And it got very windy and very overcast very quickly. Shoulda gone on Merritt while I had the chance.
I decided to go ahead and go to Three Rivers State Park anyway to check out their campground. It's really, really nice, and definitely on the The List. It's small, but feels very safe and it's very pretty there. I checked out the different sites. #8 is right at the boat ramp--easy to just walk the boat between the site and the ramp. And great view of the lake. But it's wide open with no privacy at all. Meanwhile, #18 and #20 are both very closed in and private and cozy--but require driving the boat to the ramp and then taking the car back to the site (they won't let you park at the ramp). I peeked into the bath house--it was sparkling clean and spacious. There is a host camper there now but the ranger told me they would be leaving at the end of the month, with no replacement in line.
Of course the lake was way too choppy in that wind to bother even attempting to paddle it.
My next option was the Lake Talquin park I like so well, the exit for which I would pass on the way home.
When I got to that exit, the wind was whipping the trees around, so I did not exit.
I had some errands to run in Tallahassee so I did exit there and got those done. Next--and last--possible paddling spot would be the Wacissa, on the way home from Tallahassee. By now there were large patches of blue sky and the wind had died down.
I put in at about 1:30. I decided to only paddle for an hour downstream and then turn around, I was starting to feel the effects of yesterday's paddling and wandering around the campground as well as a somewhat sleepless night.
Saw this egret there, in addition to the usual limpkins and a small blue heron.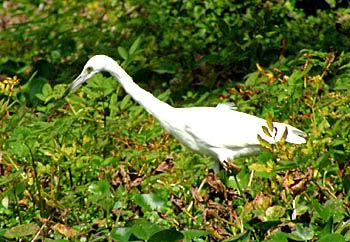 When I turned around, the wind came back with a vengeance. Glad I only went an hour downstream. It let up a bit after about 30 minutes. I passed two other kayaks and a guy fishing (who said "I have never seen water this clear!").
This was a good trip--although I wish I could have gotten out on Lake Seminole. Ah well, next time. Stand by.