I met a friend who came up from the Orlando area to paddle the Withlacoochee and Suwannee Rivers. We stayed overnight in a cabin at Suwannee River State Park between Live Oak and Lee (Florida), where the Withlacoochee joins the Suwannee.
We started with the Withlacoochee on Monday afternoon. No sturgeons were spotted this time, but the water was clear and the current relatively mild. We paddled upstream for about two hours, maybe a bit more. In the course of that time we paddled over 3 small shoal areas that didn't present too large a problem. A light rain fell on us at one point but quickly moved past. We ultimately reached an area that did stop us in our tracks.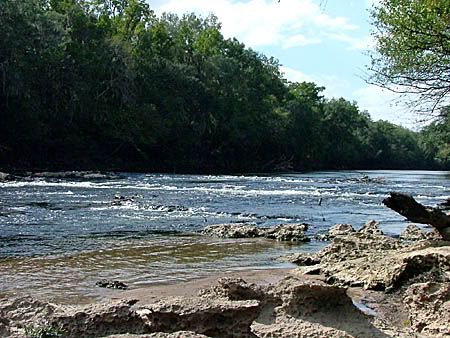 This was making a lot of wonderful water-rushing noise and was a very pretty spot. The area to the right appeared to present a portaging path, but it was a long way and we decided to just turn back at this point. We walked around for a little while and enjoyed the view and then headed downstream. A female belted kingfisher accompanied us for a large part of the way, landing on a tree branch ahead of us and then flying away just as I got almost close enough for a clear picture, only to land on a branch farther downstream to wait for us.
The next morning was overcast and breezy. After breakfast the sun appeared to be trying to break through and so we set off upstream.
This river has high banks and many interesting rock formations, as well as several sandy beach areas (see earlier post).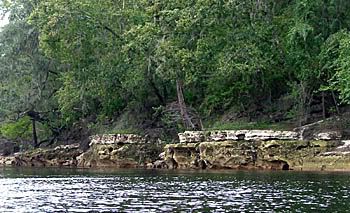 The current varied again today. We passed over only one shoal area about 3 hours upstream, where I found myself above a bunch of rocks that were low enough for the kayak to pass over but I kept bashing them with my paddle, making forward progress a little difficult. While working my way over those, I noticed that the water on the other side of the river seemed to be running flat and calm. I went that way coming back and there was no problem at all.
It turned out to be a nice sunny day.
The arrow is pointing to the friend I was paddling with (so to speak! In that current, every picture set me back downstream a ways, and as usual I was snapping away). As I mentioned before about this river, while the scenery is very interesting and makes for interesting pictures, there is a remarkable lack of wildlife. We stopped at a sandy bank a little past the shoals to have lunch, and then headed downstream. As usual, it took considerably less time to drift downstream with the current than to paddle upstream. The wind was blowing quite strongly in gusts as we approached the ramp--luckily it was coming at our backs so it hastened us along.
The cabins at this park are very nice, though there are only 5 of them. We were originally in #4 but a plumbing problem presented itself early on and we were moved to #3. No one else was in any of the other cabins. We took a walk through the campground. While my friend did not care for it, I found it to be very tent-friendly and picturesque. The forest floor is a blanket of pine needles (easy on the tent floor!), with many tall pine trees scattered throughout. Each site had water and power, we saw several picnic tables, I didn't notice if there was one on every site. The bath house was in good, clean condition. There are 30 sites; we saw about 4 or 5 RVs and one tent set up. It's at the boat ramp end of the park, with a parking lot separating it from the row of cabins.
We have rain in the forecast for the rest of the week and part of the weekend. I hope to get back to the Wakulla soon to see if it is any less muddy and murky yet. Stand by for that.