Back to the Ochlockonee River State Park for another camping night and paddle time on the water.
But first, a note
: It's camping season now, and while I don't always camp when I go paddling, I do generally paddle when I go camping. This blog is already pretty graphic-intensive; if I add photos of campgrounds and wildlife spotted on hiking trails, it's going to not only dilute it as a paddling site, but it will have too many images on each page. So I have started a companion blog to cover the camping and hiking aspects of the trips that aren't just paddling days. It's called
Camping Tent Tales
. In the future I will link to it at the end of entries on this blog that have accompanying camping photos and stories.
Okay! So! I got there about 1 pm, as I did last week. I decided to spend the first day hiking and then devote the second day to paddling. Every time I saw the river I wondered if this was wise...it sure looked great, so calm, and the tide was in. I walked down some steps from the campground to the water and saw a kayak tied up. Later I met the woman who owns it--she had conveniently left it there so she could come and go from the campground to the water without having to drive to the boat ramp. I considered doing the same but I just don't see myself leaving the Mystic out of my sight overnight. It probably would have been fine, though.
The woman took her boat out at about 4:30--a very pretty time on the water. I took her picture as she paddled away.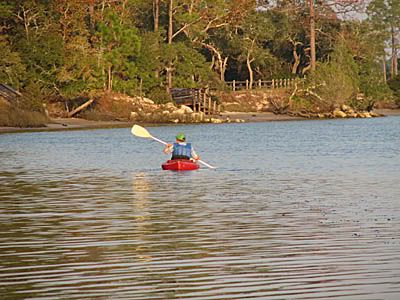 Interestingly, the only paddlers I saw during my two days in the area were both women. The one pictured above on both days, and a woman struggling with a park rental canoe on the second day. As I approached her from the opposite direction I waved. She just looked at me. As I got closer, I waved again and said hi. She just looked at me. Then I remembered that I had heard a woman talking at length at the campground--either on a cell phone or to someone either very soft-spoken or possibly mute, I only heard one woman's voice--in what sounded like German. So perhaps she didn't respond to my greetings in order to prevent further conversation. She was having a hard time with the canoe, much banging of the paddle on the hull. But she kept at it. Good for her. She pulled over to a sandy area and got out and spread a towel out to do some sunbathing. The current was strong between where she was and the park, and the wind was coming up. I hope she got back ok.
It turns out that the river that I paddled a little way up last time is the Dead River (far as I can tell from a map at the picnic area), which runs off the Ochlockonee. I paddled up it again this time. It starts out with piney flatwoods on one side and grass on the other, as pictured in the report below this one. But after awhile it becomes grassy on both sides. This is very pretty but a little goes a long way, particularly when there are few birds.
I was surprised and happy to spot and photograph a heron on the way back downstream.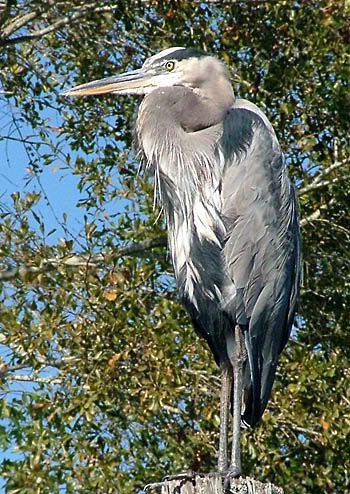 That and what looked like a plover were the only shore birds I saw on this trip.
I stopped at the picnic area to get out and walk around.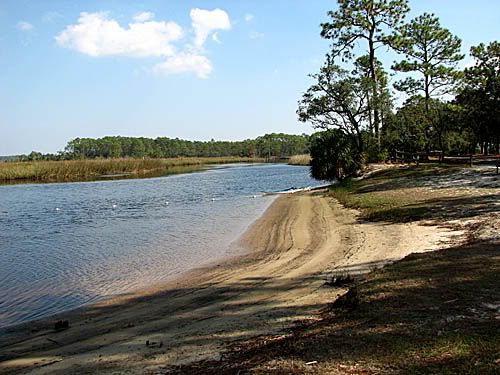 When I left Dead River, I was back on the Ochlockonee proper, and I continued on that for awhile, which was when I encountered the canoe woman. I paddled for a bit but, as I mentioned, not only was the outgoing tide creating a strong current, the wind was also increasing. So I turned around. The wind was much less a problem close to shore at the park, so I took my time getting back. As I was rounding the point to get to the boat ramp, where there is once again only grass along the edge, I spotted two raccoons coming in and out of the grass at intervals. I positioned myself along the edge and waited, and was lucky enough to be in place when one of them came out to the water.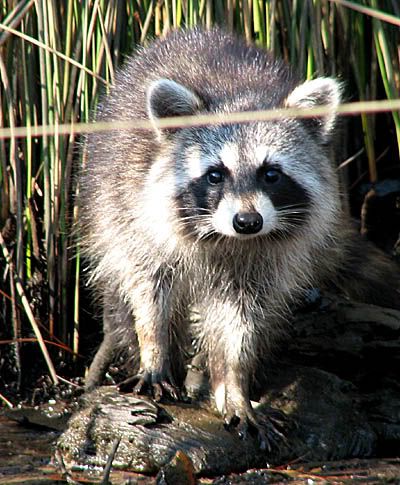 As with the last raccoon picture, they don't seem particularly alarmed when you paddle near them. Yet they quickly run into the shelter of grass or shrubbery if you come upon them in the woods. Perhaps it's a height thing.
There's still a lot of water to explore from this park, so I'm sure I'll be going back again. Meanwhile, I have plans for a new destination next week, and hopefully will get back to the Wacissa before that--seems like I haven't been there for a while.
The website address for this park is
http://www.floridastateparks.org/ochlockoneeriver/default.cfm
And hop over to the camping blog for more wildlife pictures and park information!
http://tent-tales.blogspot.com
.
Stand by for the next trip report.