Another camping/paddling trip, this time to Paynes Prairie State Park near Gainesville.
Shortly after arriving at the park and setting up the campground, I decided to take the kayak to Lake Wauberg, which is right at the park. I was looking forward to this paddle--it's a small lake, only about 300 acres, but the park website and printed info stress that no motors are allowed on this lake except electric ones. This is quite a rarity, given the fondness that the good ol' boys in Florida have for their air boats and speed boats.
So imagine my surprise to arrive at the boat ramp to see a large speedboat towing a water skier back and forth across the small lake, churning up waves that broke against the ramp area. Since there's cell service at this park (another rarity!), I unloaded the kayak and parked and called the ranger station to see what the story was on the motor boat policy. Well, it turns out that while the
park
does not allow any motor boats on the lake, they share the lake with a University of Florida landing directly across from the park, and the university has no such limitations. Well, that's kind of misleading, but it was early, I was there, and I'm certainly used to the peace and quiet being disrupted by the sound of boat motors. The boat and skier were there circling and crossing the lake for the entire 90 minutes that it took me to paddle around it, creating, at times, some pretty substantial waves. Keep this in mind if you are traveling to this lake to get in some paddling time--this was on a Tuesday in November. I can only imagine what it is like on the weekends.
Nonetheless, it's a pretty lake.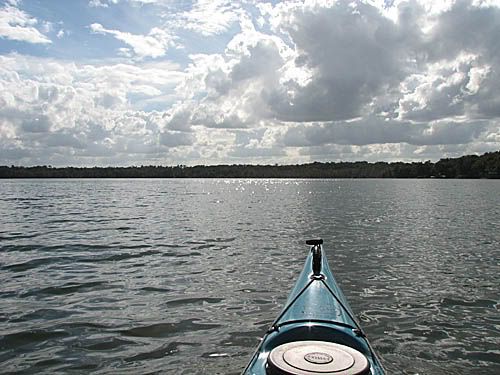 And I have never seen so many cormorants in one place! At one end of it, the trees were all loaded with them!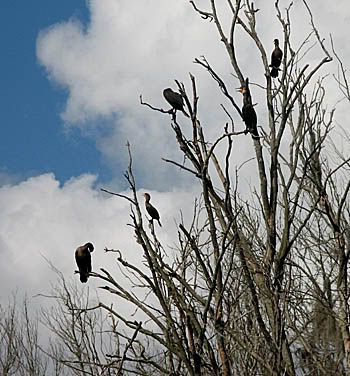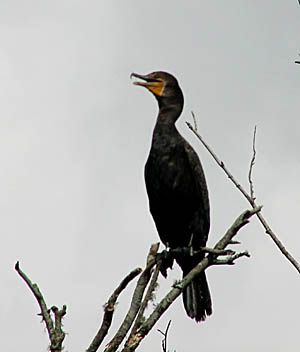 There were a few anhingas here and there as well (easily distinguished from cormorants by the beak shape). Some egrets and a couple of herons flew off from the edges as I approached. And two very large, fat gators slid into the water and submerged as I passed.
The next day, after packing up the tent and gear (see Tent Tales, linked below, for the on-land doings), I headed out for Cross Creek and Orange Lake, about 10 miles away. I had excellent directions and found the boat ramp, at Marjorie Kinnan Rawlings Park, easily.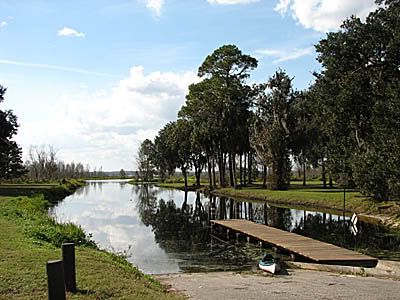 There was no map posted and I had never been here before so I wasn't real clear on whether Cross Creek is the body of water that links Orange Lake and Lake Lochloosa, or if it is only the community, and that water has no name... At any rate, as far as I could tell, taking the first right after leaving the ramp, and then turning right where that empties into a river-like area most likely would lead to Lake Lochloosa. However, I turned left at that river area and out into the larger lake.
It's
so
pretty there! This is the kind of lake that I could paddle every week and never tire of it. In many ways the shoreline reminds me of the Wacissa River. Lots of coots and moorhens, some herons, lush greenery, and the same yellow wildflowers. There are a lot of vegetation islands to paddle around, and as far as I can tell, the fishing boats never come close to the shore, so I had it all to myself. It was extremely peaceful and I wish I had had more time there. I could only stay on the water about 2 hours before I had to head home. Here are some pictures I took while paddling.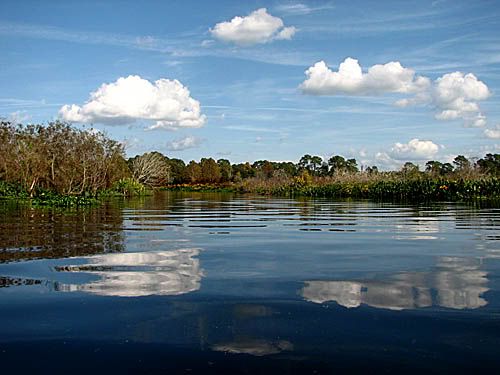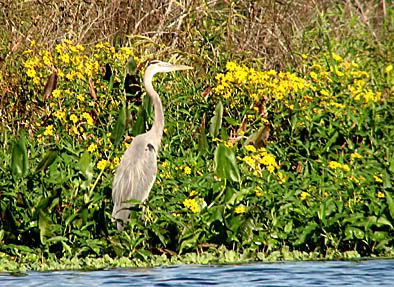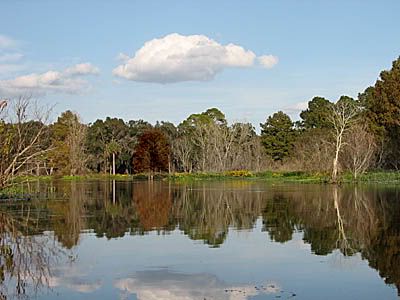 There are many, many inlets along the shoreline and they all look alike when you view them from on the lake. In fact, I got a bit lost on the way back to the boat ramp--not seriously so, since I knew I was headed in the right general direction, I was just too far into the perimeter and ended up at a dead end. The local boaters have found a solution to this problem. The inlet that leads to the park boat ramp is marked by several objects (a large yellow jug, a red jug, and some sort of buoy) that have been hung from branches of a tree at the inlet opening. The inlet that leads to the channel between the lakes is marked by a large flag on a pole that sticks far up into the air. Very clever, and very helpful to the first-time visitor!
As much as I don't particularly recommend making a special trip to Lake Wauberg to paddle, I do suggest that if you are going to be in the Gainesville/Micanopy/Cross Creek area, this is a lake worth seeing.
For more area photos and info on Paynes Prairie State Park, visit the companion piece to this at
Camping Tent Tales
.
Stand by for the next trip report.