Another fantastic camping night at Ochlockonee River State Park near Sopchoppy (how's that for a town name?). I got there early, of course, as this is less than 2 hours from home. I had reserved a tent site but there were much better ones so I switched to #22, which was absolutely perfect.
There are white squirrels (not albino, just white) in this park, along with the standard type. The white ones really stand out. Here's one on a tree limb in my campsite: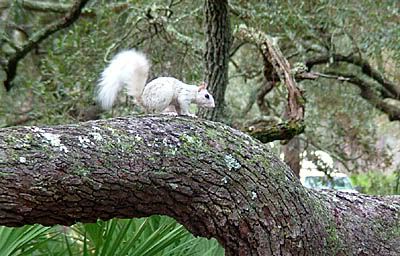 I took the kayak out shortly after arriving--they want you to register between 4 and 5, so I had to come back for that. When I left the boat ramp this time I went left. After a short time in a narrow part of the river, I emerged into a very wide area. I followed the shoreline, which took me alongside the campground and later the picnic and day use area. At that point I turned left and was paddling in a wonderful part of the river. Piney flatwoods on the left, grassy marshland on the right.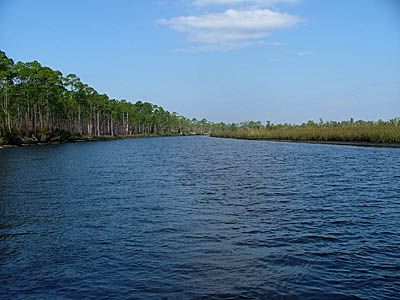 Aside from a few coots, there was a curious lack of birds. Still, wonderfully peaceful.
When I got back, I registered and decided to explore the hiking trails. There's one that goes along the river and meanders into the woods in places.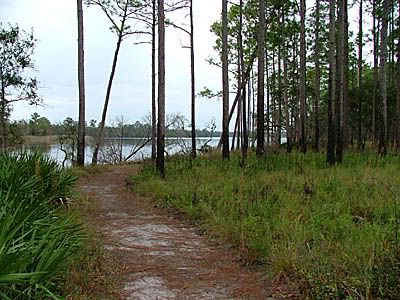 If you follow this blog, you know that I am always on the lookout for deer to photograph. I was very happy to spot these two in the tall grass off the trail: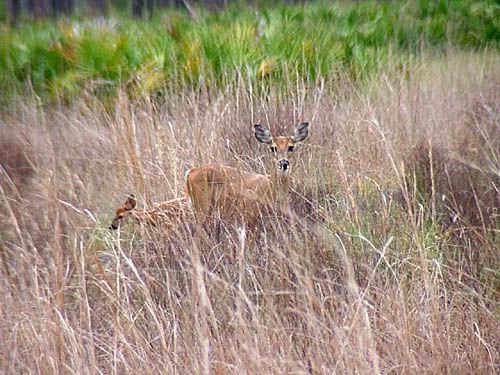 They were making their way toward me. Every time the mother would put her head down to graze, I would move a step. I was there a long time watching them. The mother passed by me, but she was fairly obscured by the brush. I was able to watch one of the two fawns with her try to get up its courage to also pass by me.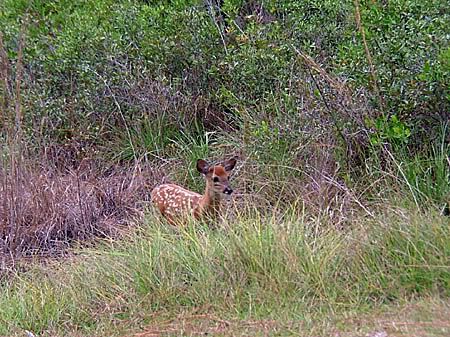 It finally did and for a moment I had a clear view of it as it hesitated.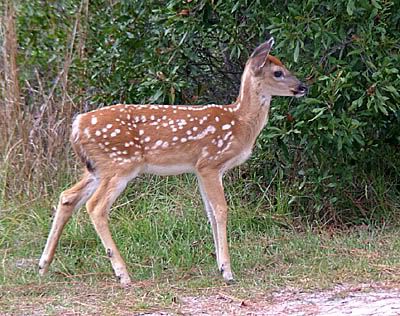 They were so small, only about 18-20" tall. Very delicate looking.
They went their way and I continued on the path for awhile. It started looking a bit rainy so I headed back to the campsite and made dinner. And it did rain for several hours in the evening. And I learned that my tent is, indeed, waterproof.
The next day I packed everything up and then headed back to the boat ramp, this time to see what is to the right of the ramp. The river is narrower here and I would be going downstream first when going this direction.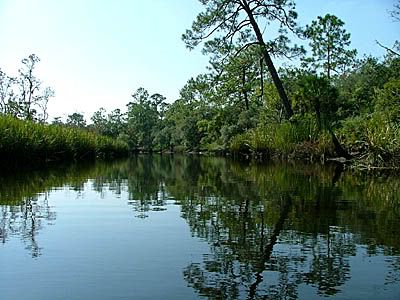 I wasn't out 5 minutes when I caught some movement in a tree to my right. After making a hasty U-turn and getting the camera on and ready, I was able to get some photos of this critter in the tree as I drifted past.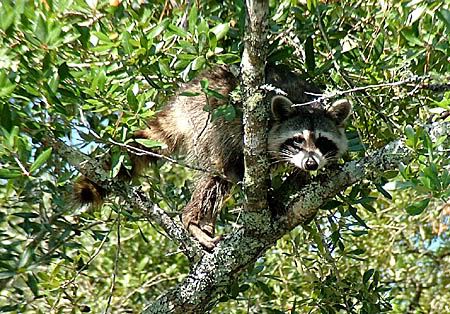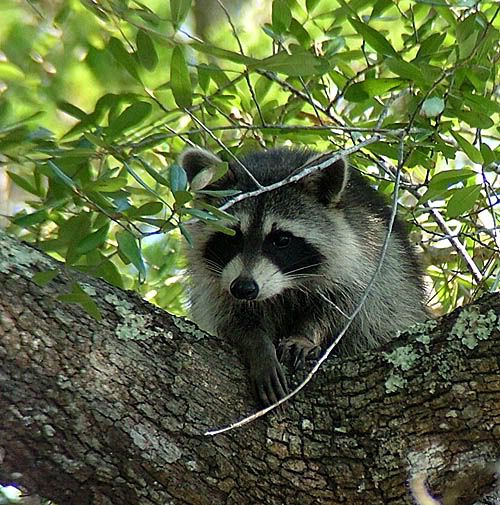 I drifted downstream for awhile. This river is very tidal, and I had noticed when I launched that the tide was out. But I wasn't sure how far out, and whether it was still going out. I noticed that in places it was only about a foot or so deep. I could just imagine getting an hour downstream and having it turn out that this section turns into a mudflat during low tide, and there I would be in my kayak, totally surrounded by no water. So I turned around and headed back. Next time I'll look up the tide schedule before I go! (As it turned out, the tide was coming in, so I could have continued downstream for a while.)
I'm looking forward to getting back to this park to explore the river in both directions.
Stand by for the next trip report.