I had planned to go to the Wacissa today, but I got inspired by another local blogger,
pineyflatwoodsgirl
, to give Lake Munson a try. She had been out there on Sunday and had seen a variety of birds, including wood storks. I've never seen a wood stork.
I got there at about 2:30. All the website directions said to turn right on Munson Landing Road, which deadends at the boat ramp. And indeed, before you get to Munson Landing Road, you see one of those brown boat ramp signs. So I did that.
Here are the features of the boat ramp:
There is only enough parking for 4 cars, if they are very close together.
There are no facilities.
There is only a concrete ramp with no soft launching area.
There is a great deal of thick bright-green stuff at the edge that you must step in to launch. If this were in a movie, it would be toxic.
But these are the things that you encounter and learn about when you go someplace for the first time. I was wearing my SealSkinz waterproof socks with a liner and I had them pulled up high so hopefully I won't become radioactive or anything. The story on this lake is that evidently in the 1990's it was Florida's most polluted lake, as it received all the wastewater runoff from TLH. Then a few years ago the city remedied the runoff problem and drained the lake and scraped all the foul stuff off the bottom and then refilled it. And so it is now a fishing lake, and the wildlife have returned (I gather they didn't so much leave as die off when they lived on the polluted version). It's a nice size for paddling, 255 acres
The water is still a long way from looking pristine, but in fact it doesn't look much different than Lake Talquin; it's just not the Wacissa. But I digress. I launched and paddled out of the green gunk. After I cleared the trees at the ramp, I saw a wonderfully wide boat ramp to my left a little way around the curve of the inlet, with grass on either side and what appeared to be a spacious parking area at the top, along with a small building. A truck was parked there with some men walking around it. I paddled over there. It was a Leon County (Tallahassee) truck. I pulled up to the nice (non-green) sandy area next to the concrete part of the ramp and got out. The little building was restrooms. I walked up the ramp to the guys and I said "I just put in at the really scuzzy ramp over there--what is this place? Is this public?" They said yes, it was a public park. I said
great
(file under Things I Would Have Liked to Have Known An Hour Ago), and asked how to get there, and they said it was the road
after
Munson Landing and that it had a park sign at the corner. Ok, good to know for the future. Too far for me to get out there and walk back to the car, but I'll know for next time.
It is SO peaceful on this lake! I was the only boater on the water. I saw kingfishers, great blue herons, egrets, limpkins, ibis, cormorants, anhingas, and wood storks. I did not get pictures of all or even most of them--those birds are shy! There are houses lining the side for awhile if you turn right coming out of the boat ramp (either one), but then you get to an unpopulated area, which is where all the birds are.
First one I saw was a limpkin in a cypress tree (the cypress trees are a neat orange color right now). So I put the paddles down and picked up the camera and got this.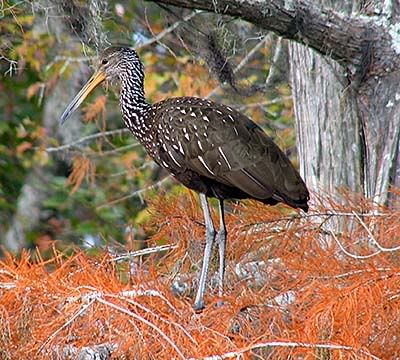 Well, then I kept on drifting slowly, waiting for it to fly off, but it didn't. I ended up drifting right underneath it, while it just watched me (ok, not all the birds are shy there).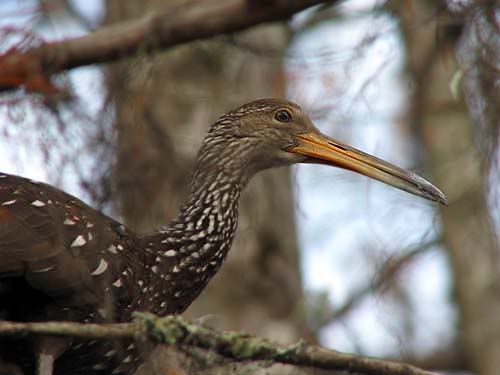 So then a little later I saw two ibis along the shoreline. I snuck in between cypress trees to take their picture, but they kept ducking behind trees--these birds are good at that! I'll catch up with the ibis on the next trip.
The edges of this lake are very pretty. I think it would be possible to get out if necessary.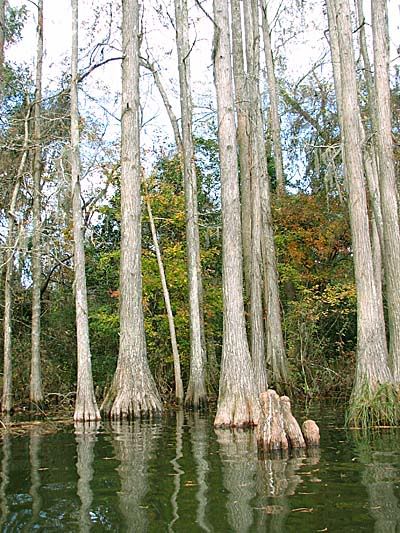 And then I saw them--the reason I had gone in the first place. Wood storks! Two, in a tree. They have a very distinctive profile when sitting in a tree, I noticed, and so that makes them easy to spot and distinguish from egrets. Just as I got the camera up, they flew away. They are beautiful when they fly. They are big, and they have black at the edges of their wings, which is just striking when seen from beneath. It's too bad their heads are so ugly (IMHO). I figured that getting a picture of a wood stork was going to be my new challenge.
So I'm paddling along, deciding whether to return to the sunny side of the lake--it's still a bit nippy here, particularly out of the sun in the afternoon. Tried to get another limpkin picture but it wasn't cooperating, kept hiding behind cypress trees. I looked up in a tree and lo and behold, another stork. I got two pictures before it flew off, one isn't too bad: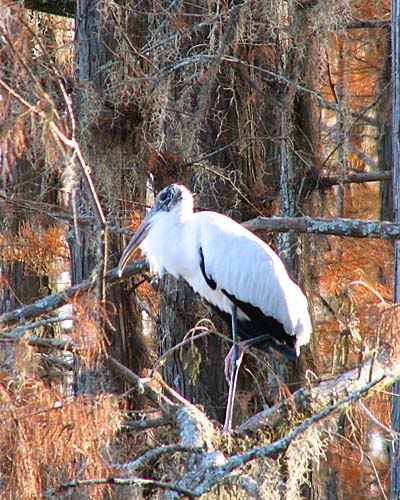 Strange bird. Gorgeous body, bizarre head.
It was about 4:30 then so I headed toward the green boat ramp. There were more cormorants and anhingas on this lake than anything else; this little guy was all by himself on a log in the middle of the lake.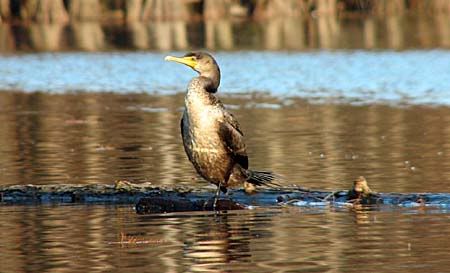 I took this one after I was all loaded up, from the boat ramp that I won't be using again.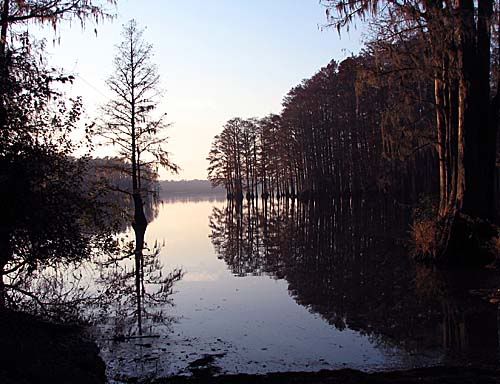 I only covered half of the lake. I'll be going back again soon--I'd like to get there earlier and wouldn't mind if it was just a bit warmer--surely our little rainy cold spell we are having will pass eventually. This is a really super paddling lake.
Still planning to get to the Wacissa again soon. Stand by.