Two paddling trips in as many days--doesn't get better than that! And what a great paddling day! I almost didn't go out for a paddle today, I was going to go shopping for thoughtful gifts for others for Christmas (can you imagine?
What was I thinking
?) (just kidding, I will devote all day tomorrow to purchasing thoughtful gifts for others).
I got to the parking lot at about 1:30. There was a truck with a boat trailer there and an SUV with a kayak carrier on top. The power boat passed me within 5 minutes of my leaving the ramp, and I passed the paddler about 30 minutes later, and that left just me on the river.
Me and the birds.
I don't always go into the inlet that leads to "Big Blue," a large springs there, but I decided to today. It's very pretty in there.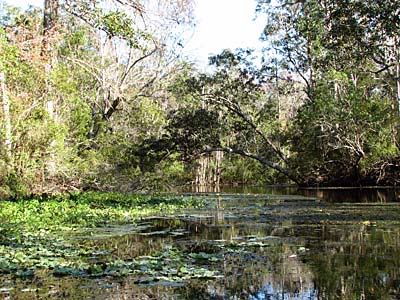 There is a huge American flag that hangs down about halfway in. I don't know who put it there--it's been there as long as I have been going to this river--but they might want to know that it is all wound around the rope that supports it. Someone had put a Confederate flag below it, and that has been completely torn off. To be perfectly honest, while I am as patriotic as the next person, I did not miss the giant flag hanging down, all but obscuring the view of the tree tops and upper half of the inlet... It's so high up I'm not sure how they (whoever they are) are going to fix it.
A tricolored heron was sitting on a branch close to the entrance to this inlet.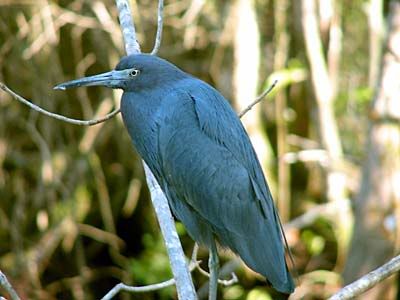 He just watched me go by. Birds on this river are not nearly as shy as birds elsewhere often are.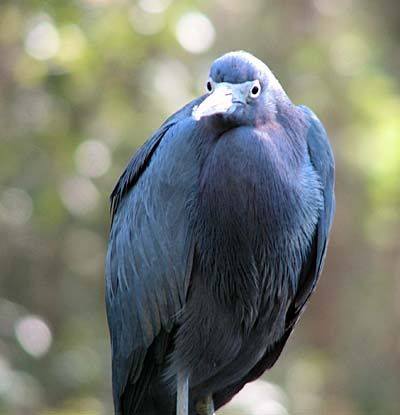 The current is very slow near the headsprings so it is easy to just drift along and watch the banks. One of my favorite features of this river is that you can let yourself become completely absorbed in watching the shoreline or looking into the trees without having to worry about encountering an underwater obstacle that will unbalance you. At least not for about 2 miles, anyway. There are a few rocks on the right side past the two-mile mark.
I saw two otters! This was really exciting and a first for this river. I paddled over to the edge where they were, through overhanging tree branches, but the one on the bank had left. A small one poked its head out under a log lying nearly on top of the water and made otter sounds at me. No luck getting a picture, but it was great fun to see them.
Shortly after seeing them, I passed the paddler. We said hi and nice day and then I mentioned that I had just seen two otters. He said he had seen four of them farther downstream. I hoped to catch sight of those, but no such luck.
I passed another of those sandpiper birds that I spotted recently on Lake Talquin. This is new for the Wacissa, I've never seen them here before.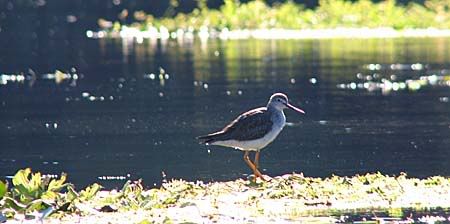 The current was getting swifter as I went and I prefer a lighter current so I decided to turn around. There weren't as many common moorhens out today as usual. Even though these birds can be seen everywhere, I really like them. Since this one was right in front of me when I made my U-turn, I decided to take its picture.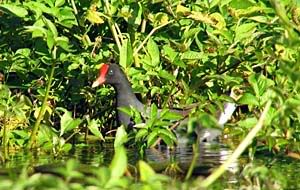 Fairly uneventful paddle back upstream through the current. There were lots of egrets out today, more than usual. This one kept flying just ahead of me and perching in the water till I got near, then it would take off again. I guess it got tired of this, or just decided to finally let me get a picture of it. Pretty bird.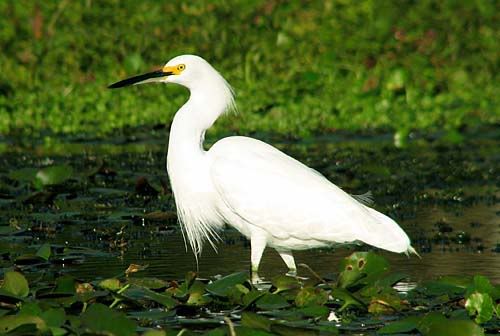 A little while later I passed another tri-color heron fishing in the horticulture: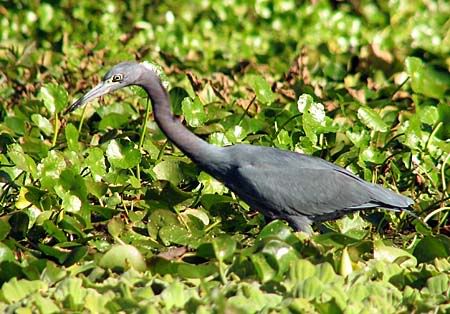 And finally, before getting to the boat ramp after being out about three hours, I saw a turtle over to my right. I've seen a
lot
of turtles on logs before but I think this might be the only time I've seen a turtle on a
tree
.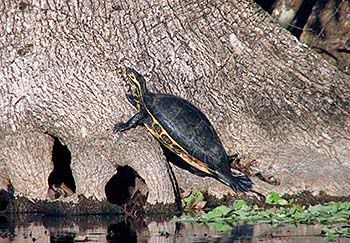 It had been awhile since I last paddled this river. It's the closest paddling place for me, and I will be going back again soon. Stand by.