I decided to get out for one more paddling trip on this beautiful balmy day before the predicted rain and cooler temps settle in for several days. The Wacissa is closest so I headed back there.
Lots of sandpipers along the edges, as pictured in an earlier post. I drifted downstream at a very slow pace, just enjoying the scenery. I decided to check on Bob, the Tame Limpkin, to see if he was still in his usual spot.
He wasn't precisely where he has been on numerous previous paddling trips, but there was a limpkin fairly nearby. While it let me get somewhat close, I don't think it was Bob (they all pretty much look alike to me). I watched it look around for snails underwater.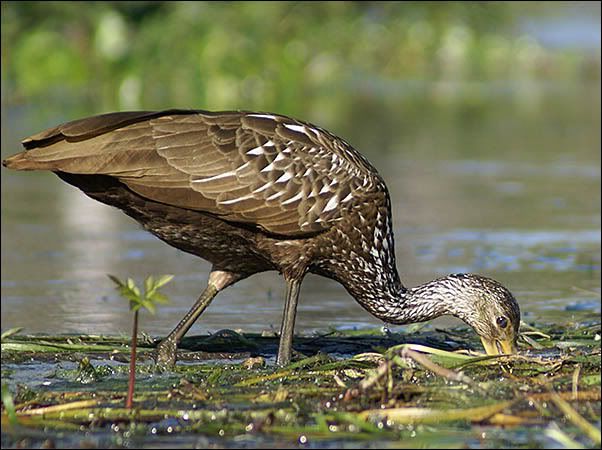 No luck.
In fact, it didn't find any the whole time I was there. Bob probably got them all.
I turned around at about that point and started a slow paddle upstream. This time I followed the east edge of the river. I don't usually hang out on that side—it's mostly all tall reedy plants, and power boaters like to zoom through there, even though they can't see anything in front of them through all the reeds. Not a good situation for a paddler. But there were very few boats on the river this day and so I would have heard any power boater approaching in enough time to get out of the way.
The egrets hang out in the greenery on this side.
Belted kingfishers were busy divebombing into the water and swooping back to trees. I told them I was not going to take any more belted kingfisher photos since I had plenty of them already, so they could stop taunting me. Of course they kept getting closer and closer so I finally caved and took a picture of this one in a tree
and this one perched on a limb sticking up out of the water.
It was another 4-hour paddling trip at an extremely leisurely pace. As I got near the boat ramp, I spotted this red-shouldered hawk high up in a tree looking over the river.
Happy holidays to everyone! I'm not sure when or where the next trip will be. My husband's vacation starts Saturday and he is off work until January 2nd. We have a lot of stuff planned, none of which includes paddling, though I might duck out for a quick trip at some point. Stand by.