Do you ever just smile while you are out paddling? Do you ever just smile when you are out paddling...
alone
? I do. And this was one of those days to be smiling.
I haven't had a warm, comfortable day to paddle on this river for a very long time. And the river really hasn't been itself for a long time. When Hurricane Dennis swept through last spring, it hit the Wakulla very hard. It tore out all the underwater vegetation and all the shoreline greenery. Without the vegetation to act as a filter, the normally crystal-clear spring water became brown with mud and silt. Without the underwater vegetation to slow it down, the tide strongly affected the current. This used to be my main paddling hangout, I was on it about once a week, year round.
Well, it's coming back. Slowly, yes--now you might see two little underwater reeds sprouting from the bottom where there used to be a huge clump reaching for the surface. But it's a start! The edges are lined in places with new growth, both tall plants and short ground cover. I think it's possible that by June or July there will be enough vegetation to draw the manatees back, and the shoreline won't be just mud anymore. As for the water, it's back to being perfectly clear all the way to the upper bridge. This is something to smile at.
I got there shortly after high tide, the best time to paddle to avoid the strong current. Now that there is new growth in the water, I will have to see what it's like at other times. I noted that
T-n-T Hideaway
, the canoe/kayak rental place adjacent to the public boat ramp off Hwy 98, was closed today. I suspect they are on a seasonal schedule and are likely open on weekends, but if you are thinking of visiting this river and renting a boat there, be sure to call first.
Lots of new trees have fallen into the water since my last trip here, most notably a really big cypress in the wide area near the boat ramp.
I passed a female red-breasted merganser shortly after leaving the boat ramp. I've never seen these here before. I saw three of them in different spots on the river--or the same one three times. This one was just drifting downstream nearby, pretty much ignoring me. This bird made me smile again--what a face it has!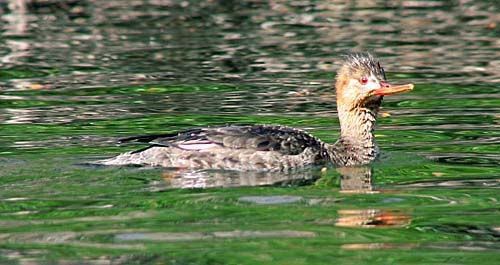 Not many people on the river today. Only one truck in the parking lot with a boat trailer. I passed a guy paddling solo in a canoe early on. Saw one guy fishing out of a power boat. And I passed an amusing couple going downstream in a canoe (amusing in the banter we exchanged as we passed, not in appearance).
Lots of egrets on the river, and one great blue heron that simply would not let me get close. Of course many, many cormorants. And ibis (talk about faces...). First this one: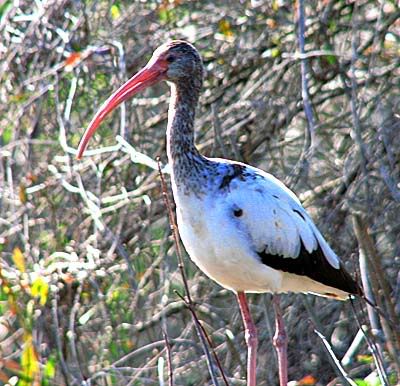 and then later this one. Not sure why the one foot is held up.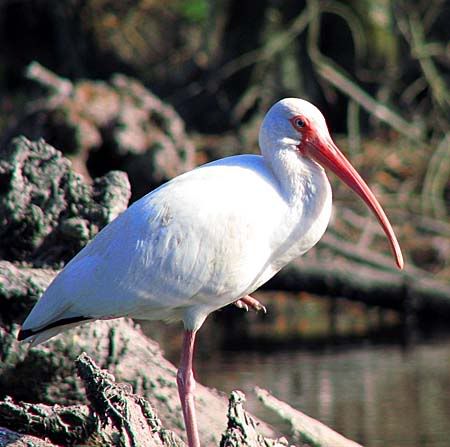 It was a day to paddle barefoot and enjoy the warm sunshine. And what would a paddling trip report from a leisurely day on a Florida river be without a picture of a turtle sunning on a log?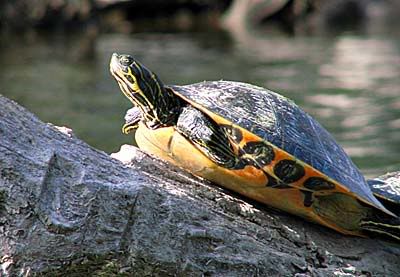 This was an extremely quiet and peaceful paddling day. Even with most of the trees bare and gray, this is a beautiful river. It's so nice to be getting it back.
I'm planning to get out again on another day trip later this week, stand by for the next report.