Finally got back out for a camping/paddling trip, and back to Three Rivers, one of my favorite spots!
The lake near the campground was filled with coots--more than I have ever seen in one place, well over a hundred, extending out into the lake. When they decided to move to another area, the great splashing and swooping sound was pretty impressive. I like coots--they aren't very showy, but they're cute.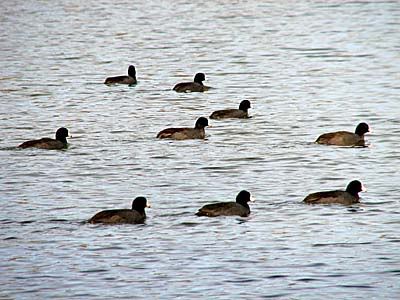 I was out paddling for 2 hours the first day and 4 hours the second day. I lucked out with the weather--beautiful blue sky both days and temps in the 70's. On the first day I saw a heron that consistently flew ahead of me as I approached it. No pictures that day, but a wonderfully peaceful paddling time.
I sat down by the water near my campsite to watch the sun go down.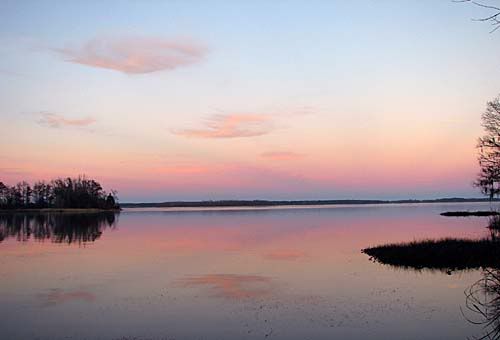 The next morning I headed out after breakfast. The coots were back and it was a splendid morning to be paddling.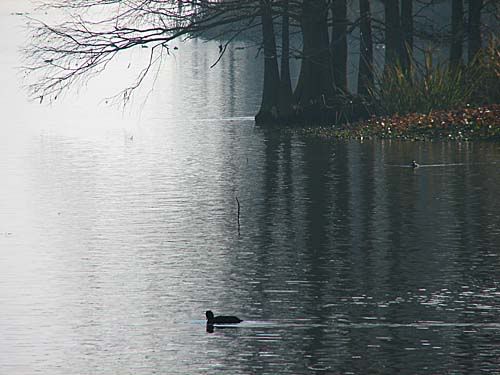 There were a few other boats on the lake, all of them still in the water while the occupant(s) fished.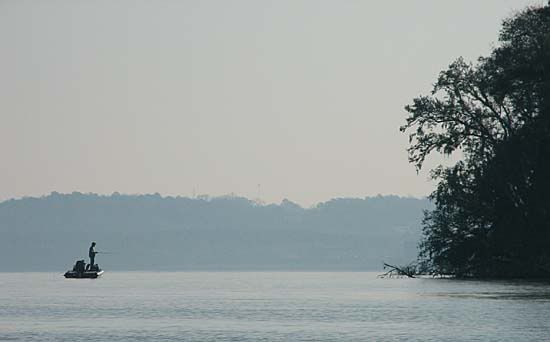 I paddled along the park property, which extends at least two miles along the shoreline (according to the ranger). Aside from the park's second boat ramp and picnic area, there are no signs of civilization till you get to Sneads Landing, a small park. Just lots and lots of woods. I have had great luck getting pictures of deer during hikes, but I haven't seen one from the kayak for a long time. So I was very pleased to come upon three of them grazing near the lake. Only one picture came out okay, a very wary deer peering at me through the trees.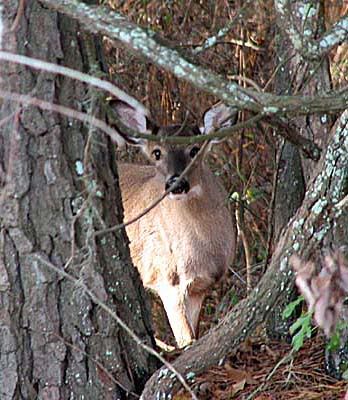 They have reason to be wary. It's duck-hunting season in this area and the sound of gunshots exploded through the stillness now and then. There is no hunting on park property, of course, and the ranger told me that while doe season starts soon, the deer-hunting areas are far from park property, so these deer should be ok, as should paddlers cruising near the shoreline (good to know!). On my way back to the campground I spotted two more, but they also spotted me so no pictures of them.
The heron was back again the second day, still staying just far enough away from me as I went away from the campground that I couldn't take a picture. However, when I turned around to go back, he/she was a little more gracious about it, and in fact seemed to be posing for me.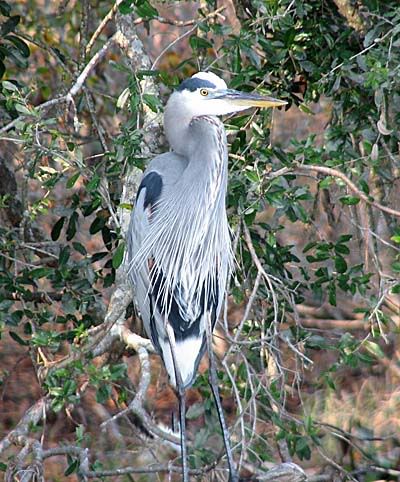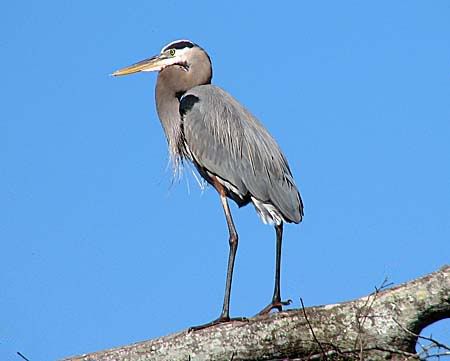 This is such a wonderful place to camp and paddle; I will be going back again soon (particularly if this balmy weather holds). And meanwhile this next week's forecast is pretty good, so I hope to get back out to my regular local places for some day trips.
A quick note: I had a major computer crash yesterday and lost a lot of data, including my email address book. Some of my addresses are also stored elsewhere, but if Margaret, Francis, Joanne, and Abby happen to read this, please drop me an email at the address you have for me or the one posted over on the right side of this blog so I can get you back in my address book!
Stand by for the next paddling report. The camping report from this trip and more pictures will be posted shortly (i.e., after I write it, which I will be doing next) on
Tent Tales
.
The website for Three Rivers State Park is
http://www.floridastateparks.org/threerivers/default.cfm