I had planned to go to Lake Munson today to look for more wood storks. But by mid-morning it had become a warm and windless day, and Lake Talquin is much better when there is no wind--at least to me. The combination of waves and half-an-inch-below-the-surface tree stumps do not make for a relaxing paddling experience, I find.
The weather varied from complete overcast to blue sky and sunshine this afternoon. The water stayed wonderfully smooth.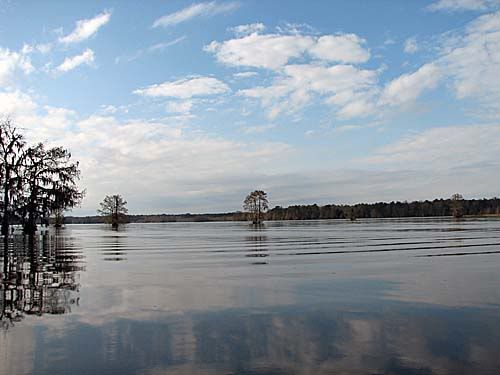 This is one of the most tranquil paddling days I have had since Lake Seminole from Three Rivers SP.
I started out going left from the boat ramp at Coe Landing, which is a wide, paved boat ramp off Hwy. 20 west of Tallahassee. The shoreline is woodsy (
I should have seen deer today!
) and wholly unpopulated, at least as far as I went. I wasn't out long before I heard the distinctive call of a bald eagle. These guys always roost
wa-a-a-ay
up in trees, and this one was no exception. I've never seen one closer to the ground than the top of a tree, so I decided I might as well photograph it--no point in waiting for one to come closer.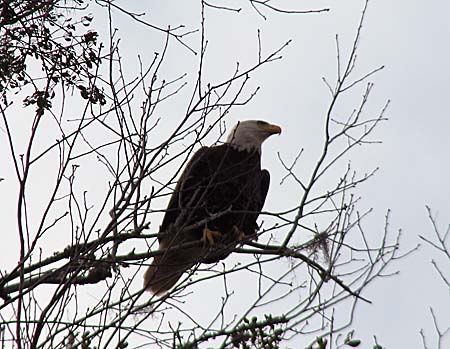 I paddled for awhile in that direction and then decided to turn around and investigate the shoreline to the right of the boat ramp. I saw a few anhingas, and a duck that I have never seen before and could not find in any of my bird i.d. books. I took two pictures, both came out fuzzy (water can play havoc with focus). Other than the eagle, the anhingas, and the mystery duck, there were no shorebirds or other wildlife. When I got to the boat ramp to head in the other direction from it, there was a large egret posing nicely on the dock for me.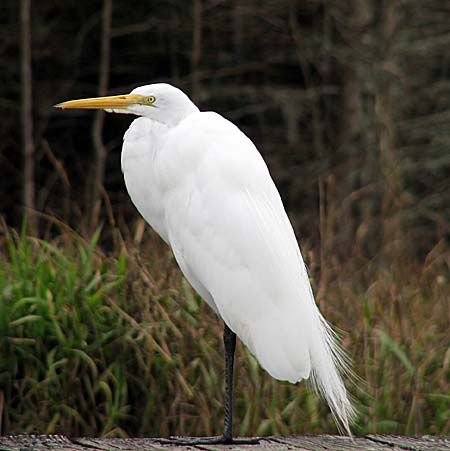 The shoreline to the right of the ramp is interesting. First you pass the RV-only campground, and then several houses. After that, though, it opens up considerably. More water plants, which means moorhens, and many more egrets. Lots of turtles sunning.
The Ochlockonee River flows into Lake Talquin at this end, but I bypassed the entrance to that. It was getting late by the time I got to that point and I had to turn around to head back.
I need to get back to this lake again and spend more time at this end of it exploring the shoreline and all the inlets. All I need is another day like today!
And I need to get back to Lake Munson soon.
Stand by for the next trip report.