I spent the night at St. Joseph Peninsula State Park, which is located on a spit of land that extends into the Gulf of Mexico east of Apalachicola, near Port Saint Joe. The plan was to paddle in St. Joseph's Bay, on the other side of the peninsula.
After arriving and setting up my campsite, I took a drive over to the boat ramp to check out the water conditions.
It was very windy out; the water was choppy with small waves and whitecaps. Not my favorite conditions so I decided to go hiking instead. I got on the nature trail that leaves from Bayview Picnic Area. I was out about 90 minutes walking on the sandy trail that goes alongside the bay. I got some pictures of deer (see camping blog, linked below) and enjoyed the scenery. Before getting in the car to go back to the campsite, I wandered over to the water's edge, just to see what was there (sand crabs, turtles, etc.). Well,
great
. Turns out that the water there was much calmer than at the boat ramp (where I could see waves hitting the beach) and I could have easily launched the boat from there. High tide wasn't until 7:30 or so that evening, so no worries about that, but it was already 4:15 and I still had to prepare and eat dinner and get out to the beach for the sunset. Ok,
fine
, I'll come back to this spot the next day and put in there.
After dinner I walked over to the Gulf side to watch the sunset (you can easily walk back and forth from the bay to the Gulf in this park). Got some bird pictures while I was waiting for the sun to go down.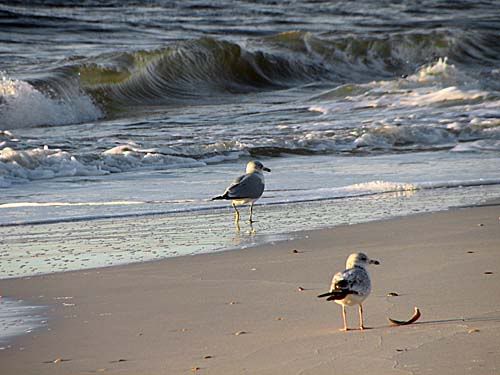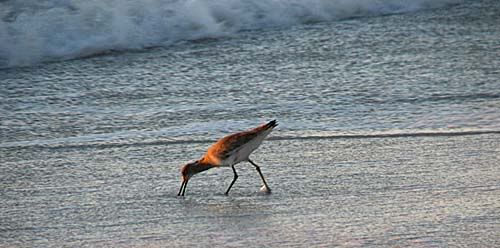 After I had breakfast I took down the tent and checked out of the campsite so that would be done and I could get on with the day. That gave it time to warm up a bit outside as well. While the forecast had predicted "breezy" for this day, it was very calm. Back to the picnic area for some paddling!
Or not. Low tide had been at about 5:30 that morning, but the tide moves slowly here. I walked to the edge of the water and looked back at the car, indicated by an arrow. That is where I would have to unload the boat.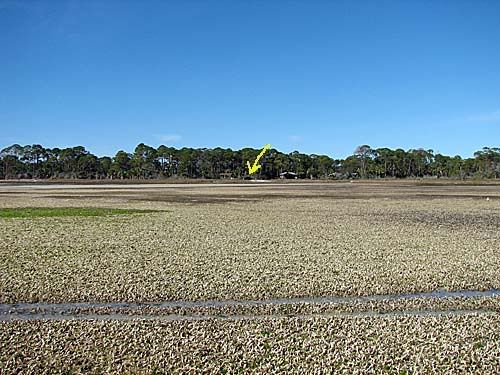 So I went hiking on a different trail. When I got back, the tide had come in considerably and padding was possible! But I decided to put in at the boat ramp after all, since I figured the water might be deeper there. It was, at least at the ramp and a little beyond.
Pelicans on a jetty watched me go by.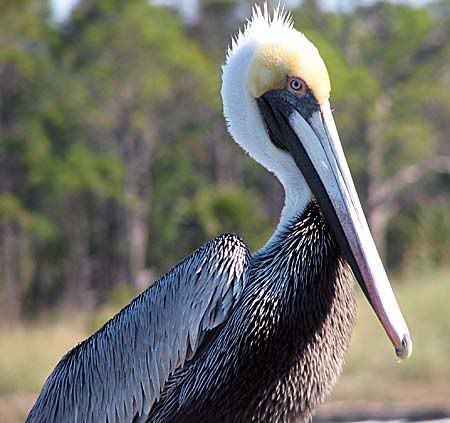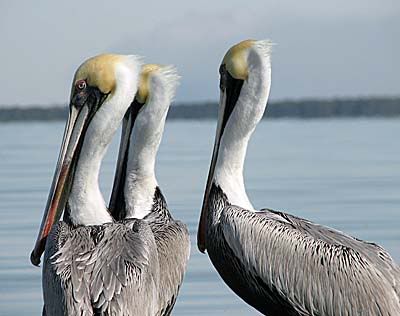 I knew ahead of time that this bay was shallow—but it was even more shallow given the tide status. I had to go some distance from land to get into water even two feet deep, as you can tell from this picture looking back at the boat ramp.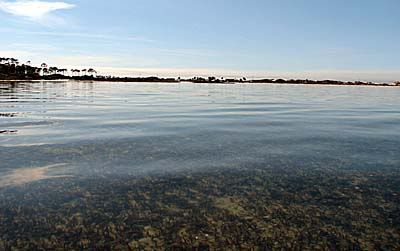 I stayed out about an hour and then had to go in and load the boat and head for home.
I'll be returning to this park again. This is another park that is best seen over at least two days. Between the hiking and paddling and beach time, one day is too short.
For campground info and beach and deer and sunset pictures, visit the camping blog at
Camping Tent Tales
(I'll be writing that post next).
The website for this park can be found at
http://www.floridastateparks.org/stjoseph/default.cfm
This was a little short on paddling time--I hope to get out again next week. Stand by.