I got kind of curious recently about bent-shaft paddles. I have an ergonomic keyboard, I wonder what an ergonomic paddle would be like? I have two expensive Aquabound paddles and I didn't really want to invest a lot in this bent-shaft experiment, so I got an Infusion Dream by Bending Branches. It's extremely economical in terms of a bent-shaft paddle and relatively inexpensive compared to other paddles.
It's very different from my other paddles. At 36 ounces, it's 7 ounces heavier, but I did not notice that in the three hours I was out today. I spend a large part of most paddling trips either gliding or drifting downstream, rather than paddling all day, so weight is not a problem.
The most telling thing about it was this: Next time you are out paddling with a straight-shaft paddle, look down at your wrist at the end of a stroke, when your hand is in the vicinity of your hip. I can tell you that with the bent-shaft paddle, my hand is directly in line with my forearm, which just
has
to be better. This paddle has a round shaft (rather than oval, as my others), which was fine. It has padding in the bent part; I was concerned about this adding even more to the diameter of the shaft, creating a problem since my hands are somewhat small. I didn't notice it at all. I did, however, find myself bumping the shaft against the side of the Mystic now and then, since it is larger than what I am used to. I bought the 220 cm size--my Aquabounds are 230. I didn't notice any difference. The blade of this paddle has a definite scoop shape to it, which is very different from my others. Reviews of this paddle on paddling.net are favorable, though one person said he would prefer a less curved blade. The only difference I noticed was that the effect of ruddering was not as sharp and well-defined--but it turned the boat just fine.
I'll just use this paddle exclusively for a month or so and then switch back and see what I think of the comparison. After one trip on one river, I don't think I have enough experience with it to give a hearty yay or nay to it, but if the idea appeals to you and you don't want to fork over a lot of money to see if you are the bent-shaft type--check this paddle out. I got mine at
NRS
--they also have them at
REI
. If blade color matters to you, shop around as different places offer different colors.
What a great day on the river! When I got there a woman was in a bathing suit in the water at the boat ramp. It's great to be in Florida in January. Sometimes, anyway.
A power boat passed me shortly after I left the boat ramp and that was the only boat I saw for a little over 2 hours. I wasn't out too long before I got what is my favorite picture of the day:
Pretty classic pose but I like the colors.
I meandered downstream for about 90 minutes, heading into a wind. Not a bad situation, I figured it would push me back upstream when I was done. As it turned out, there was no wind when I turned around. The current seemed very light (ah, or was that the new scoopy paddle?). I noticed all the cypress knees sticking out of the water at my turnaround spot, so I got a picture of them.
Nearby, I passed two young ibises. They were very shy and kept flying ahead of me to the next little vegetation island. I finally got a picture of one from a slight distance.
Directly across from the ibis, I had spotted a green heron. They are usually pretty unconcerned with a kayaker's presence so I took the ibis picture and then headed for the heron.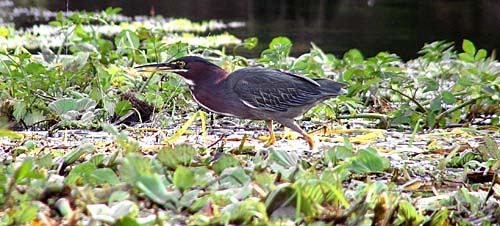 For quite awhile after that I just enjoyed the scenery and the scent of greenery that this river puts out, regardless of the season.
There were, as always, a lot of coots and moorhens on this river--the moorhens in particular making a lot of noise. I like the way they sound. And if they are going to pass right by the boat, of course I have to take a picture...
It's always amazing to me how sound travels over water. I was going very slowly by the shoreline looking into the woods (I don't understand why I never see deer near this river) when I heard the sound of voices, and man's and a woman's. Didn't see anyone, but I could clearly hear and understand them. Then I realized I was near the inlet that leads to Blue Spring, and that they must be in there. I heard the man say, "It doesn't matter what kind of mood you are in when you start out, after a short time you pick up the rhythm of the river." I couldn't agree with him more! And the rhythm of this particular river is slow and tranquil. After awhile they emerged from the inlet in two red kayaks. That's less than a mile from the boat ramp and I was in no hurry to be leaving yet so I headed over that way to see if the blue heron was there (it wasn't). I passed them and we chatted briefly.
And then it was time to head back toward the ramp. I had to work this morning and so I hadn't put in till 2 and the sun's still going down early these days. On the way back I passed a lot of what I think are juvenile spotted sandpipers--they are so cute!
It's odd to be on this river and not see limpkins. There must not be any apple snails there this time of year so they have gone elsewhere.
No more paddling till sometime next week. Stand by.