Another camping trip to Three Rivers, this one for two nights, which should have left me lots of time to paddle on the lake. Unfortunately, it wasn't until the day I was leaving that the wind died down enough to make for a nice easy paddling experience (another case of waves or swells tossing the boat into just-under-the-surface tree stumps). But that last morning was ideal, so it made up for the rest of the time.
This heron was in the grass at the shoreline just off the boat ramp when I first set out.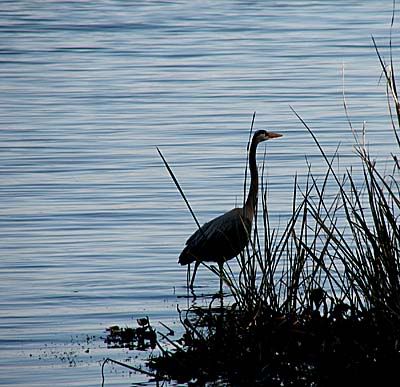 Both ospreys and bald eagles were swooping over the water for much of the time I was out. I've noticed that my photo opportunities seem to come in pairs—first I had luck with two bald eagle pictures within a few paddling trips. This time it's osprey. The first picture I was ever able to get of one is in the report below this one. On this day I was able to get a couple more.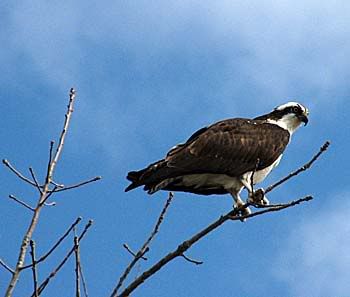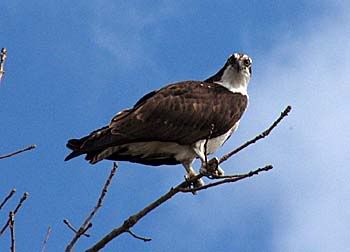 It was a wonderful spring-like day with temps in the 70's and calm water. While deer are plentiful in this park, they were conspicuous in their absence on this trip, both on several trail walks and while looking into the woods from the kayak (though I have spotted them along this shoreline on previous trips).
There were coots on the water near the campground, as there were on my last trip to this park, though not as many this time. Several little ducks were mingling among them, looking very cute in the water.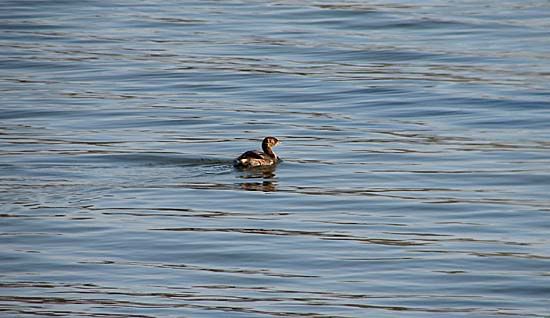 I wish I had taken down the tent and vacated the campsite before heading out in the kayak, so that I would not have the time constraint of having to be out of the site by 1 pm. I ended up cutting the paddling time short—in fact, I made it out to pretty much as far as I went last time I camped here, and no farther. Next time I need to see what's beyond that point!
The great blue heron was only a little farther along the shoreline when I was returning to the campground. This was a fairly small one.
When I got back to the boat ramp I started taking down the campsite. A couple from Ontario were staying in the campground for a few days and had brought their kayaks with them. They were heading out into the lake in their very sharp-looking Wilderness Systems Tsunami yaks.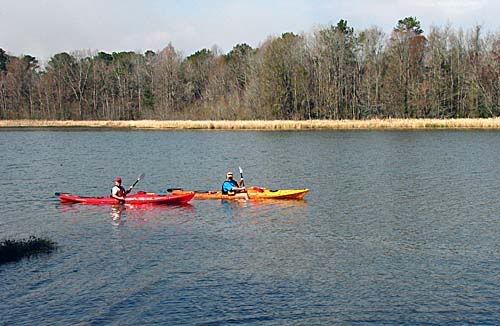 And off they go!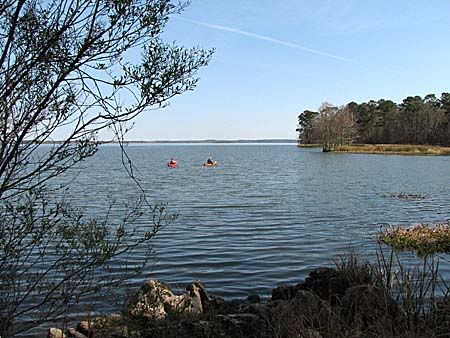 I hope they enjoyed their time on the lake. They sure lucked out with weather! Shortly after they left the boat ramp, another couple rented one of the canoes that the park has available to visitors, and off they went as well. I was
seriously
wishing I had packed up first. I have never encountered another paddler in this section of the lake, it would have been a pleasant surprise to be sharing it with three others on such a glorious day.
For more info on the park, campground, and more pictures from this trip, visit
Camping Tent Tales
.
With luck our weather will continue to provide such perfect paddling days. Stand by for the next one.