I was thinking I might not post this trip here because this blog is in danger of becoming a Paddling on the Wacissa blog, given how much time I spend on this river. What can I say—at 40 minutes away, it's the closest paddling place and so it's my go-to water on days when time is short or mornings are just too cold.
I took a few pictures I like so I decided to post after all.
It was a wonderful 3 hours on the river—very peaceful, as always. I spotted two single otters in two different places, one a little short of Cedar Island and the other in a small pool behind the main channel going into Blue Spring. I would not have seen that second one if I hadn't been pursuing a great egret (almost to the point of stalking it) that kept flying away just when I got close. I saw it fly into that channel area and thought perhaps I could get a picture of it there. While I was watching it fish in the little pool and trying to decide whether to just give up or stick around to see if it would come out into the open, I saw the otter swimming around.
I never did get the egret picture. Or either of the otters. Maybe next time.
I did, however, spot another bald eagle wa-a-a-ay up in a tree and so, even though I knew the picture would be nearly identical to an earlier one, except with better color, I just had to snap it.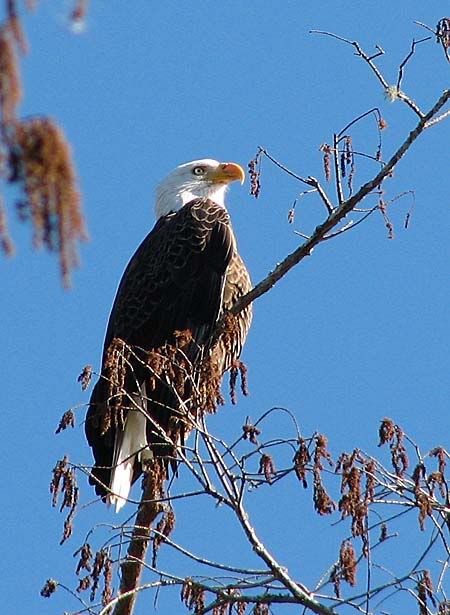 A little while later I could hear a power boat roaring toward me from the boat ramp direction so I tucked in to the horticulture on the side to let it go by. I was not alone.
The rest of the afternoon was just quiet paddling and enjoying the sunshine. I did get one more picture, an immature little blue heron that was also soaking up the warmth.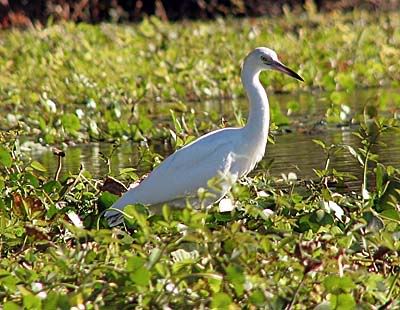 We have rain and wind in the forecast for several days, but next week looks promising—certainly for paddling and hopefully for camping as well. Stand by.