"It's too cold!" "It's too windy!"
My husband told me not to fall in.
But this was going to be the warmest day this week, so I decided to go back to the Wakulla. I bundled myself up in the fleece that I bought to go paddling last April in northern Ohio and headed out a little before noon.
And what great news about the river—the underwater reeds are coming back in a big way! In fact, in some places they now reach the surface. If this river doesn't take another big hit from a hurricane, I'm thinking it will be back to normal 'round about July. I hope so. I missed it last summer.
It was pretty today. I was the only car in the parking area when I arrived, and while on the river I only encountered one other craft, a small power boat.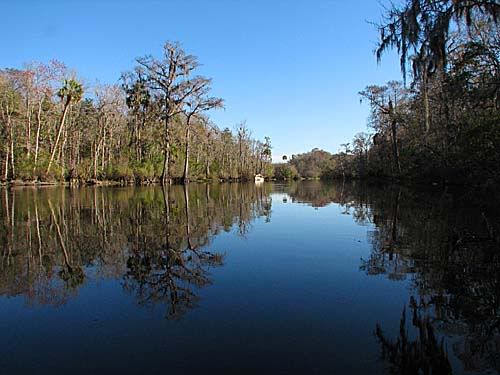 And this is where the great blue herons are! Lots of them out there, and they are not too shy.
Later that one, or another with an equally impressive chest, posed for me. But, as often happens on this blog, I have no explanation for the foot action.
I got there a little before high tide but I found myself in the middle of a strong current as well as a bit of headwind. Great exercise, and the fleece served me well, I was not cold.
This egret watched me go by early on in the paddle.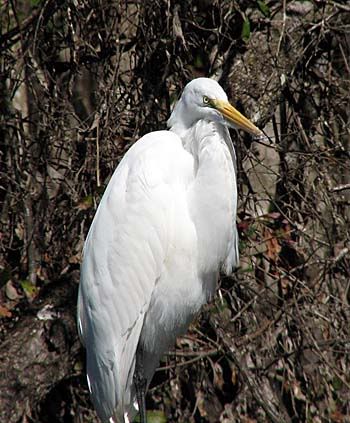 Almost looks a tad hostile, doesn't it? But what beautiful birds they are.
A little farther upstream I came to some ibis on a tree.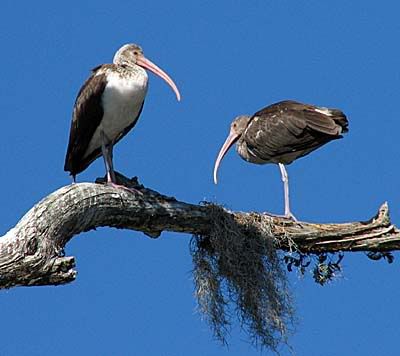 I didn't quite make it all the way to the upper bridge, the current got the best of me and I turned back only a short distance before reaching it.
A bird with a white head and chest—or several such birds (how can you ever tell if it's the same one?)—had been perching high up in trees just ahead of me during the entire afternoon. I finally was able to position myself below it. It looked a bit like an eagle…but too small, and without the yellow beak. I believe it was an osprey—a new photo subject for me!
I realized once I turned around just how strong the current actually was—I went zooming downstream. It let up a bit around the Mysterious Waters dock. The sun was warm—in fact, warm enough that at around 3:00 I was able to shed the fleece sweatshirt and I was comfy in just a black long-sleeved shirt, which absorbed a lot of the sun's heat (and pants, of course...). The egrets were out in numbers today, also enjoying the sun.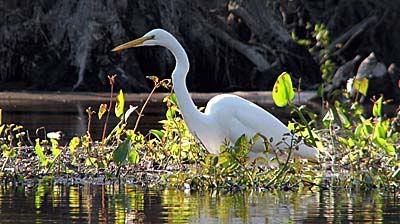 As usual, I went to the right when I got to the little island near the power lines. I had been surprised that on a day like today when the sun had such a warming effect despite the cold air that I had not seen any gators. Until I came to this guy.
It was lying there so still with its mouth open, I wondered if it had left the Land of the Living. I didn't feel inclined to venture too close to check for signs of life. It did, however, seem to exhale audibly at me as I drifted by, so I think it was indeed still alive.
Less than a minute after passing the gator, I saw an otter on the other side of the river. It poked its head out of the water and just peered at me. For a moment I just stared at it—I was still laughing to myself at the gator faking death, and I was also a bit taken aback to see an otter. I have spent a great deal of time on the Wakulla and I have
never
seen an otter anywhere on this river. Well, this one just kept looking at me, so of course I turned the camera on and lifted it up to focus and get a picture. And of course it then dove underwater. I'll be a little more ready for it next time.
I was on the water much longer than I intended to be—a little over 4 hours in all. This was another super paddling day—so many birds, so much peace and quiet, and it is just wonderful to see this river coming back to where it was before the hurricanes did so much damage. I used to get out here about once a week—maybe this summer I can get back to that schedule.
I have read that our February will be colder than usual this year. Needless to say, I will be getting out to paddle as often as possible…but that might not be that often this month. I guess we'll just see. Stand by.