I wasn't going to go out today. All morning we had heavy gray overcast skies. But then around 12:30 I saw the sun peek through. The temps are warm enough, so the sun brought the urge to paddle! I quickly wrapped up the job I was doing and tossed the Mystic in the car (figuratively speaking). When I left, it was under blue skies with only a few clouds.
When I arrived at the Wakulla, it was under heavy gray overcast skies. Ah well, that's the way it goes during springtime in Florida. It was still warm and did not seem like rain was imminent. A couple from Pennsylvania was launching their canoe (a Wenonah) from the boat ramp. We chatted briefly; they were staying at Ochlockonee River State Park, one of my favorite camping spots. They launched before I did.
Paddling was quiet and easy. There were few birds besides cormorants in the first half of the river. Several of them were settled in a tree, including this one.
And then at 3:30 the sun came back out. Shortly after that, I reached the upper bridge. Two kayakers were just leaving the area to go downstream. I got out at the boat ramp and stretched my legs a bit before starting my downstream float.
I saw several egrets on my way downstream.
After awhile I caught up with the two kayakers, a woman from St. Marks (a town near the river) and a man from Illinois. We paddled together for a fair distance, chatting about this and that. When we came to the island, they went to the left to check on a gator they had seen coming upstream (I saw that gator today while paddling upstream; its open mouth made me suspect it was the same one pictured in a previous post here. They wanted to see if the open mouth was an indication of a problem. They later reported that its mouth was closed) and I went to the right to see if by any chance that otter I spotted last time would be still in the area (I admit I don't know if they are territorial at all). No sign of the otter but I did spot some turtles enjoying the afternoon sunshine.
When I rejoined the main river, the two kayakers were some distance ahead of me and paddling faster than I do (as almost everyone does), so I continued downstream at my own pace. As ever, I was watching for male wood ducks. No luck there, but I did spot a great blue heron, my favorite bird, on the bank.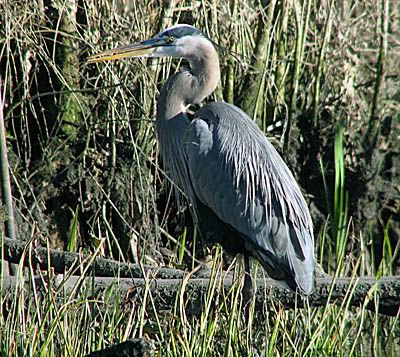 The sun disappeared again around 5 behind more solid overcast, shortly before I reached the boat ramp, and the air got cooler.. When I got there, the kayakers had recently pulled off the river. I joined them and we talked some more about local padding areas. And then we parted to head home.
The rest of this week is forecast as rainy—it's our springtime rainy season here now (which is bad for paddling but great for bringing out greenery and flowers). I hope to get out for another paddling/camping trip next week—or at least more paddling day-trips.
Stand by.