Another two-night camping trip to Three Rivers. I spent some time paddling the first day I got there. This heron was fishing in the horticulture just beyond the campground boat ramp.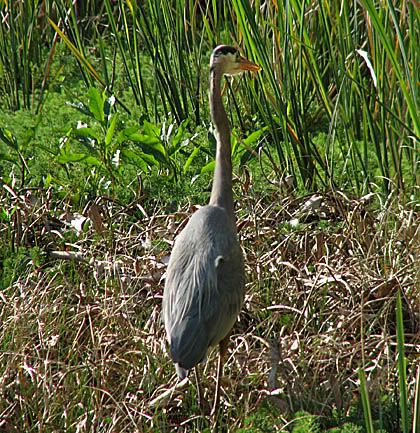 I took my Hurricane Aquasports Santee XL on this trip. I have not been in this kayak for over a year, since I got the Mystic in December of 2004. The Santee is a handsome boat but very wide at 28". In current or windy conditions, this is less than ideal. However, on a calm lake that was dredged and created by damming a river, a lake that has a lot of underwater timber that is just below the surface and can create a tipping problem for a 21" wide kayak, the Santee is, in fact, ideal. It's a fine boat. It's a bit of a sacrifice when it comes to the distance each paddle stroke yields, and glide, but it more than compensates with its stability in these conditions. So I enjoyed it and we got to know each other again.
I passed an egret that posed nicely on the shoreline.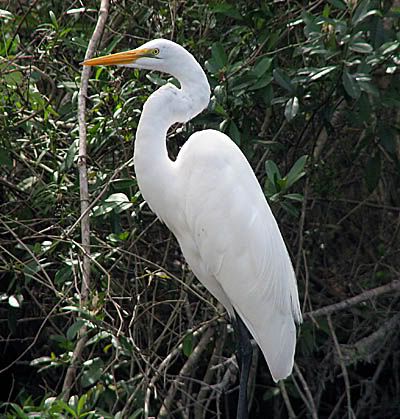 I was out about 3 hours on this trip. As I was approaching the boat ramp, a hawk flew overhead and landed nearby. A lucky photo opportunity!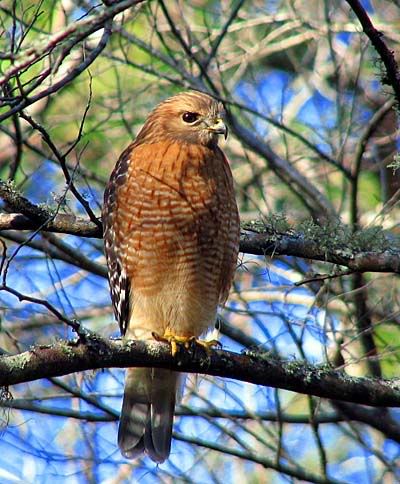 The next day I drove a short distance to Merritt Mill Pond. This is one of my favorite paddling spots, but it's too far away for a day trip. However, it's right down the road from Three Rivers. So off I went with the Santee.
This is such a super paddling area. This water is clearer than the Wakulla or Wacissa. The shoreline is somewhat populated with houses, but there are also natural areas. It's a nice 1-hour paddle from the boat ramp on Hunter Fish Camp Road to the Blue Springs Recreational Area.
On the way back downstream, I got out to stretch my legs (I like the Santee, but the fact is that I can paddle for 4+ hours in the Mystic with no discomfort and I get kayak butt within the first hour in the Santee. Could be a seat problem; I understand they have a new seat in the newer models). Nice view from the shoreline.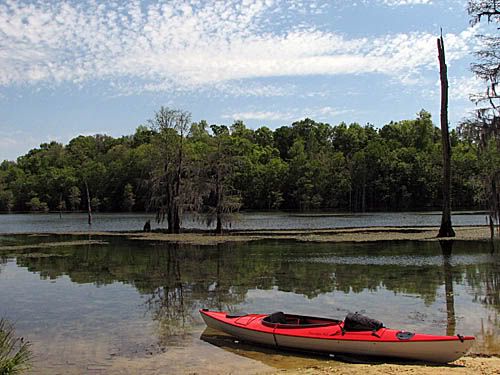 If I were a fishing person, I would go fishing at Merritt Mill Pond. While I was drifting downstream, I saw a fish THIS big (hold your hands out in front of you, about three feet apart) swim by my kayak. I have seen longer gar on the Wakulla, but overall, this was the biggest fish I have seen for a long time (gar are long, but skinny).
Great paddling on this trip. I had hoped to spend my last day, Friday, on the lake, but it was very windy, so instead I packed up my campsite and headed to Torreya State Park to check out their campground and trails. That story is on
Camping Tent Tales
.
I'll be getting out again soon. Stand by.