Well, actually, today it was just
a
manatee. Perhaps it was a scout. Or an adventurer. But I get ahead of myself.
What an ideal paddling day—in fact, the best paddling day so far in 2006. I'm sure it will be surpassed before long, but for now this was
the best
. Bright sunshine and just warm enough.
I launched at about 1:00, shortly after low tide. The canoe/kayak rental place adjacent to the boat ramp had a lot of cars in its lot, so I knew there would be other paddlers, which is fun from a novelty standpoint. And there were quite a few, mostly in canoes, with a few rental kayaks as well. Saw a small great blue heron before I had gone too far upriver.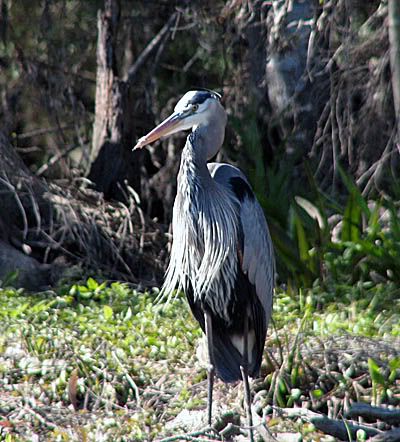 Very spring-like scenery up and down the river.
There is a paddling behavior that you can observe now and then on this river from about now till late October. It consists of paddlers either parked in the middle of the river, if there's no significant current, or circling a small area. This is "manatee-spotting behavior." As I paddled upstream, nearing the Mysterious Waters dock, I was following (from some distance) a canoe with three people in it. They then started crossing back and forth from side to side. At first I wondered what they were doing, and then it came to me that that resembled manatee-spotting behavior. This is about the time they start to show up, so I figured I would be able to get a few pictures of one. And right about that time, I heard the distinctive
pffffffffft-tah
sound of a manatee surfacing to exhale and inhale—about six feet to my left. Yikes! Just one, and not overly large, maybe12' long or so. Probably fairly young since it didn't have any of the distinctive scars from boat propellers on its back, only a small one on its tail. I had it all to myself, and it was, as they tend to be, completely unconcerned with my proximity.
Photos are a little difficult because of their size and water reflection, but I was able to get these, while at the same time paddling to keep the current from causing a collision between us.
(Its head is facing away, tail in the foreground.)
(Again, tail in the foreground.)
And just in case you have always wondered, here's what a manatee's nose looks like as it breaks the surface to breathe:
I have discovered over time that the trick to spotting manatees is to listen for them. Given their grayish color, they tend to resemble underwater logs or sandy areas of the river bottom, so it's easy to be fooled when looking for them, particularly if they are not moving. But they have to surface periodically to breathe, and that sound can be heard over the water for some distance.
The water was the clearest I have seen it, and more turtles were visible swimming underwater than usual. In fact, while I was drifting very slowly downstream later, two of them swam directly to the kayak about 6" beneath the surface—I suspect they were mistaking me for a log and intended to climb on board. I tried to get a picture of them but the movement of raising the camera alerted them to my non-log status and they darted away. I did capture these two catching some rays.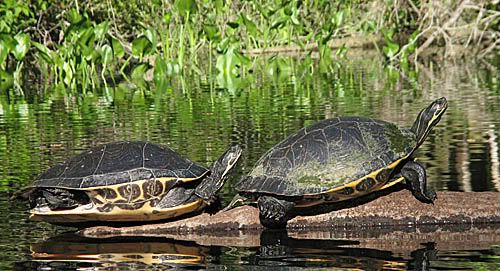 Gators were out enjoying the day as well, several on the banks as well as crossing from one side to the other. As usual, they were small ones.
No sign of my merganser from the last trip, and, much to my regret, no sign of any male wood ducks. It was last March that I got my first picture of one, on this river. There were, however, several ospreys swooping around and diving into the water from great heights, splashing loudly on impact. And the usual contingent of cormorants, some less shy than others.
I stopped and turned around just short of the upper bridge. When the tide is out and the water is shallow, the current can be a challenge in that part, so I decided to head back to the boat ramp. I passed the manatee again—it had made some progress moving upriver. Two women in kayaks passed by while I was hovering around it. They had never seen one before—it's always fun to be able to witness someone seeing these giant creatures for the first time, particularly when they are in a kayak several feet shorter than the manatee! There's always that combination of wonder and hesitancy to get too close…
I drifted downstream on the outside channel that passes the small island near the power lines. I was the only person in the area. It looked fake; like a ride at Disney, where the vivid yellow wildflowers and the bright green ferns growing out of holes in the driftwood-like dead logs along the bank just somehow appear to have been purposely landscaped to such perfection that it just doesn't seem real. All that was missing was an animatronic alligator slowly moving its head to follow my progress, maybe with an accompanying roar for the little kids.
I got back to the boat ramp a little after 5:00. I need to get back here again soon. We've got some brisk and breezy days coming up. Stand by.