This was another 2-night camping trip to Ochlockonee River State Park near Sopchoppy, Florida. I have in the past disparaged the paddling around this park. There are three directions you can go from the boat ramp. I had tried two of them, both of which were ultimately somewhat boring as far as scenery and bereft of wildlife. I took option #3 this time, which was to turn left out of the boat ramp and right when I got to the Ochlockonee River. A couple from Vermont who were staying in the campground launched their canoe shortly before I set out, and I followed them for the early part of the paddling trip.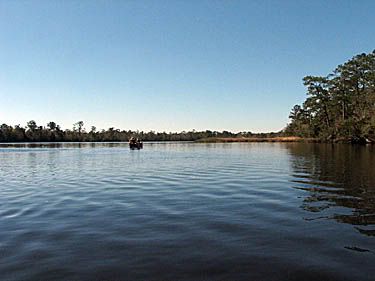 While the water looks quite calm in that picture, the wind kicked up a bit shortly after I took that, and reached about 8 mph. A bit brisk, and we were paddling against the tide as well. It was fine; great exercise.
However, shortly after rounding that point of grass that is just ahead in the photo, I came to what appeared to be an inlet going off to the right. The water looked calmer in it and I decided to explore it. It looks peaceful, doesn't it?
There was no wind, it was pretty and green and utterly, utterly still. I learned later that (as far as I can tell), this was actually the Sopchoppy River (hey Scott, I got on it after all!). It was serene, although it had elements of if-something-happens-to-me-in-here-they-will-
never
-find-me to it as well. The couple in the canoe had not taken that right turn.
It went on forever, seemingly—given that I thought at the time it was an inlet. And then I saw a large alligator slide into the water from a bank just ahead of me. I find the gators at the Wakulla and Wacissa to be preferable for not just their size but their tendency to stay in sight as you go by. I paddled on, a tad nervous but also enjoying it too much to turn around just yet. Another gator had been sunning on the water's surface and it slowly sank out of sight. Boy, I hate it when they do that.
After about an hour I decided that if this was an inlet, or a side channel that might connect back to the Ochlockonee, it wasn't ending or connecting soon enough. So I turned around.
Shortly after turning around I saw the
BIGGEST
alligator I have ever seen—possibly including the monster ones at Okefenokee. It was half out of the water on an inclined bank so I could only see from its nose to about its armpits (whatever those are called on gators). In fact, I would not have seen it had I not noticed the smaller gator in the water next to it sink below the surface, which caused the big one to move its head. I'm sure my mouth dropped open. Its shoulders were at least two feet across, if not more. I've always taken a lot of security from the information that gators tend to not want to bother anything larger than they are, and my 14' long kayak, with my torso height added and paddles for width, has always made me bigger than any gator I have encountered. Not this one. It slid down the bank and then made a great show of splashing when it turned around to face me. Meanwhile, I was trying to remember whether there were any underwater limbs or obstructions in this area that could tip me over. It was not that much fun right then.
But I moseyed along unmolested. Another alligator acted as escort for awhile. Then an otter went running from far up the left bank toward the water and dived in and submerged.
I was still somewhat glad to get out of there. I'd like to go back again, but not alone.
On the way home the next day I passed over the Wakulla River at about 1 pm. The tide was fairly far in, it was a very warm day with sunshine and white clouds, so of course I decided to unload the boat and get in more paddling time.
It was
perfect
. If not for the lack of leaves on the trees, it could have been a warm June day. I passed under a bald eagle, who watched me from his high perch draped with Spanish moss.
Great egrets were perched here and there in the shoreline greenery (which is coming back in a big way!). This ibis was all alone, fishing among the leaves.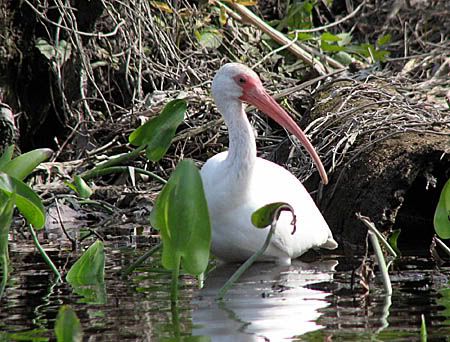 I saw a normal-sized alligator sunning along the bank, and this little one (no perspective here, but it was probably not even four feet long) just watched me go by.
And then I saw it
. Let me give you a little background on this duck--a male red-breasted merganser. Two Wakulla trips ago I saw this duck (or one like it)—never seen one like it on the Wakulla. I could not get a picture of it as it kept swimming into the shoreline horticulture. Last time I went I was able to get a picture, but it was swimming so fast that I had to anticipate it to get any focus, and ended up with only the front 2/3 of the thing in the picture, which just doesn't count. Well, here it was again. It was swimming upstream in the same direction I was going. It was diving underwater a lot—the water is so clear that I could watch it swim around before it emerged. I stayed with it, at a distance. At first it kept looking over at me and putting more lateral distance between us. But after about 10 minutes of moving side-by-side, it must have decided I was not a threat. It got very close to the boat when it surfaced a few times. I took a
lot
of pictures before finally deciding to move on and let it dine in peace. Here are three of them that I like.
Very, very neat duck
.
I didn't go all the way to the upper bridge, though I got close. On the way back I passed this dock with these three chairs on it. These chairs are always on this dock, and they have always reminded me of Papa Bear, Mama Bear, and Baby Bear's chairs—I thought maybe when the trees greened up a bit I might get a picture of them. Well, it appears that the Bears have a pet egret. So I took the picture now.
It was a nice, quiet float downstream. I saw two people in a canoe and otherwise it was just me and the birds. Fairly close to the boat ramp I saw a small duck swimming around, diving underwater and coming right back up. It was not particularly shy. It was a very cute pied-billed grebe (thanks, Kim, for the i.d.). So of course I took some pictures of it.
Land-based pictures—deer, songbirds (unusual for me), and a scenic shot—and an accounting of the camping portion of this trip are posted on
Camping Tent Tales
.
I want to thank Chris of the
Sea Paddler
website for the link to this blog. They have a wealth of information over there related to kayaking, so if you are surfing for some great paddling sites, drop in on them!
Our weather is turning perfect again and I plan to spend as much time as possible on the water! Stand by for the next report.