I was suffering from some serious paddling withdrawal—too long between paddling trips! This was a beautiful spring day here in north Florida and a perfect time to go back to the Wacissa River.
When I got there, I found that there were three people about to launch in a three-person SOT boat. I've never seen a 3-person kayak before. I went over to them and commented that it was a great day to go paddling. They said that they had just rented the boat, and had never paddled before. We talked briefly about the river—they were not aware of the Blue Springs inlet, and they wanted to know if there was any place to get out and picnic on Cedar Island. They set out a little before I did, and for a short time I was following them.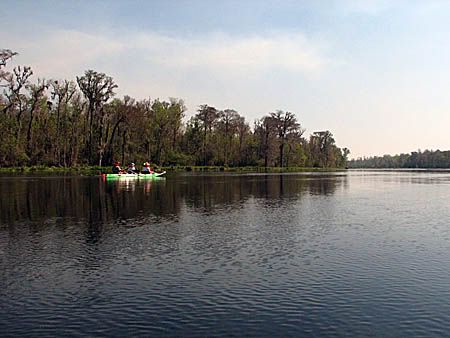 However, between their having three people paddling one boat, and my slow progress in order to not startle birds, they soon pulled ahead and out of sight.
There were some young blue herons (still white) not too far from the boat ramp. These little birds are so impressive.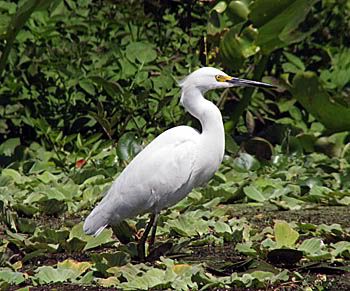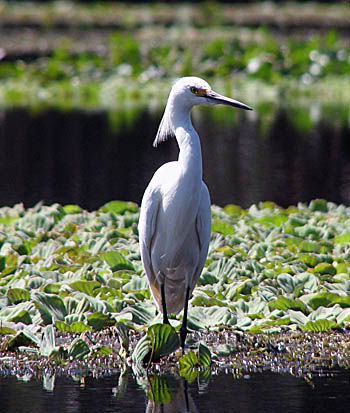 It was a very peaceful day on the river. There was a bit of a wind blowing upstream, and the usual current. I wondered how the other kayakers would do paddling upstream against the wind on their way back to the boat ramp.
I drifted downstream and decided to see if they found the place on Cedar Island, which is 3 miles downstream of the boat ramp, to get out for their picnic. As I approached the island, I spotted their bright green kayak at the little place where you can get out. I decided that since I also had to paddle upstream against the wind, I would skip going around the island and just head back.
A short time later I saw the first limpkin I have seen here in 2006! These birds are all over this river in summer, both in the shoreline greenery and in the trees, but they have been totally absent all winter. So seeing this one (and only this one) was fun.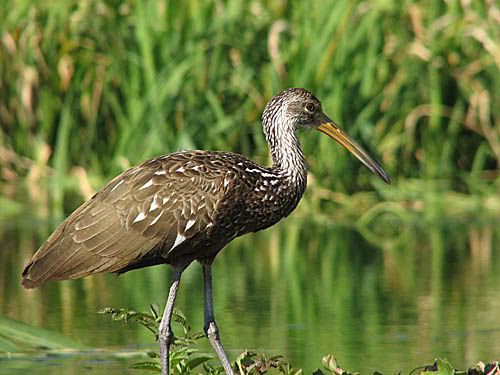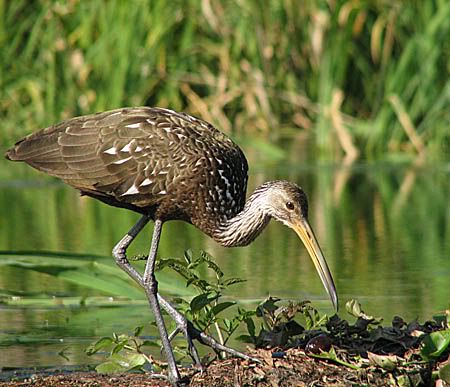 I went into the Blue Spring inlet on the way back. For the first time ever on this river, I saw a deer run from the river's edge into the woods—that was pretty cool! A little further in, I saw two otters dart along the shoreline, making a lot of noise in the leaves. And yet, no birds in there. Strange. This river is different every time.
My #1 photographic goal on every paddling trip is to see (and, ideally, get a picture of) a male wood duck. I gather they are common in some places, but not the waters I frequent—so I don't get to meet this goal very often. I was very close to the boat ramp when I saw some duck-like birds in the surface-level greenery. They weren't moorhens, there was none of the characteristic head-bobbing motion of those birds. I turned the camera on and paddled closer.
It was a male and female wood duck pair, much to my utter amazement. Only got one picture of them before they flew off (these are some very shy ducks).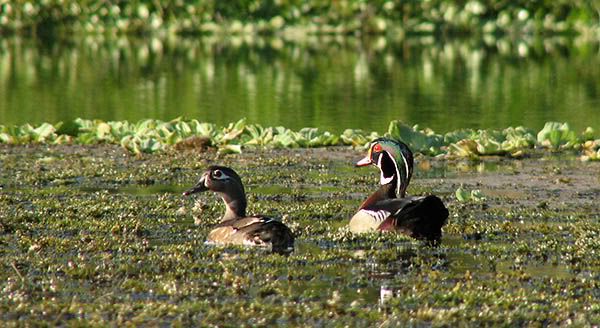 It was a great day on the river today.
Before I close this post, I have another book recommendation. I have been reading
The River of Doubt
by Candice Millard. This is (to quote the jacket) "the true story of Theodore Roosevelt's harrowing exploration of one of the most dangerous rivers on earth." It's pretty much a paddling adventure. It's very well-written and reads like a novel, but is all the more interesting because it is true. If you are a paddler (as I assume most readers of this blog are), this is a book you might really enjoy. Check it out.
Meanwhile, our rainy forecast has cleared somewhat and so I hope to not have to go so long between paddling trips. Stand by for the next report.