My new paddle (more on that later) was delivered at 10 am, much earlier than expected, so I wrapped up a job I was working on and set out for the Wacissa to try it out. We have been unseasonably warm lately (record-breaking 93 degrees the other day, or so I heard) and today was no exception. But more importantly—no wind!
Lots of trucks with trailers in the parking lot, and some people swimming in the spring at the boat ramp.
I haven't been close enough to a great blue heron on this river to get a picture for a long time, so I was glad to see this only a few minutes after launching.
I drifted on downstream. With no wind, the current is minimal.
Water lilies are blooming here, as they were on Lake Seminole—only these are yellow.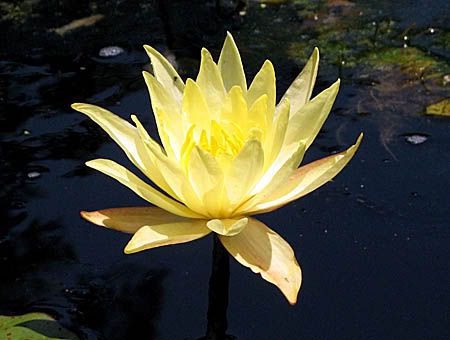 Tri-colored herons are back—I haven't seen them here for awhile. This one stood quite tall to have his (her?) picture taken.
There was another one fishing nearby along the edge.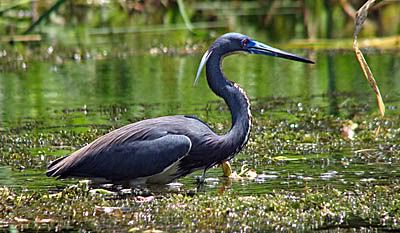 I had gotten there early enough to not have to worry about time, so I decided to paddle down to Cedar Island, circle it, and then paddle back. This is what the island looks like as you approach it. I like to go to the left and circle clockwise—it's prettier on the left and easier to look around when drifting with the current instead of paddling against it.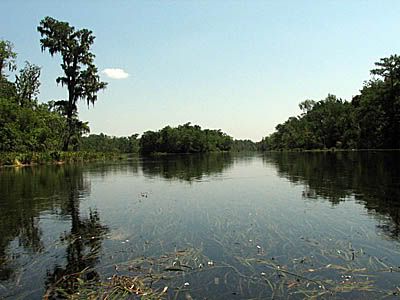 I stopped at the little boat ramp area near the island (not the clearing on the island itself) to get out and stretch on the way back upstream. While I was there, a young couple in a tandem kayak came by and asked if I knew where Blue Spring was. They were a little dismayed to hear that it was about 2 miles upstream, that they had passed it that long ago.
On the way back upstream I passed this turtle on a log near this tree, which is more or less in the middle of the river. This turtle is
always
here, you could practically give directions based on it ("Ok, when you pass the turtle by the tree, watch to your right for an opening…").
The moorhens were making a lot of noise, as always. I like these birds. They are like a paddling trip soundtrack that's always playing.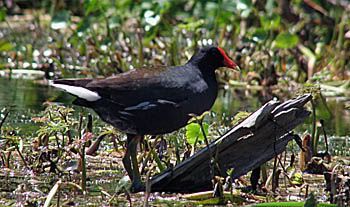 I went into the Blue Spring inlet; I had skipped going in on the way downstream. This little egret was perched in the Spanish moss in a tree at the entrance.
It was a family swimming day at the spring—the kids were having a great time jumping off the raft into that cold water! I realized about then that I would also be spending some time in the water, only I'd wait till I got back to the boat ramp. Very hot day.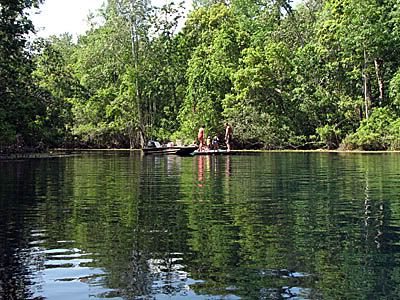 I passed this little blue heron as I got near the boat ramp. I think it had just eaten a fish. Looks a little goofy in this picture.
I got back to the boat ramp after just under 4 hours of paddling. Even though I had to make a grocery store stop on the way home, and did not have a change of clothes, there was no way I was
not
getting into that water! The water is so cold that wandering in to about waist-deep or so (the likelihood of my doing this is why I always wear simple cotton shorts to paddle in the summer—they dry fast) is sufficient to cool your whole body. There was a guy picking stuff up off the bottom so we chatted briefly about just what there was to be found there.
About the paddle. I've been through a lot of paddles in the last year. Each one had some great features and always one fatal flaw (or more than one) that made it just not quite right. I spent a lot of time researching paddles before this purchase. My experience with the Bending Branches Fusion paddle, which was a bent-shaft paddle, had taught me that I greatly prefer a bent shaft to a straight one. So that limited my choices somewhat. I read an interesting comment in a paddling.net forum thread in which a guy said that people spend a lot of time trying to figure out what's the best boat for them, and almost no time on the paddle, which is
at least
as important. I wholeheartedly agree. I had the boat down pat—the Mystic is the ideal boat for me, so I'm done kayak shopping. Now to find the right paddle. I ordered one by AT. It came and I immediately saw that it was not right. (There are no local stores that stock a wide selection of paddles, never mind bent-shaft style, so ordering online is my only option.) So that went right back in the box and was returned. My next choice was a Werner. I have been a faithful Aquabound customer for a long time, but they don't make what I want in a bent-shaft paddle. Werner does. I ordered the Camano. Pricey…good thing I just had a birthday and could convince my husband that this was his gift to me.
This paddle is perfect, so I am finally also done paddle shopping. It has all the best features of all the other paddles and none of the drawbacks. My graphite Aquabound Tsunami paddle is presently for sale on padding.net, FYI if you are in the market for a super-lightweight paddle. I'll probably keep one of my other ones and sell the rest either there or on Ebay. I don't see any reason to ever look for another paddle now that I have tried this Camano. I sound like an ad but it really is
just that good
.
I'm off to Ohio for the rest of April to tend to some family stuff; kayaks are staying here. Stand by for more trips when I return.