Another camping trip to Three Rivers State Park on Lake Seminole. The day I arrived was far too windy for paddling (we have been in Wind Mode lately!)—I even had to take down my wind chimes, they were making so much noise. So I hiked that day.
The next day was much, much less windy so I headed out at about 11:00. Beautiful day. When I got a short distance past Sneads Park, I came upon a flock of Canada geese, which was quite a surprise! I don't think I have ever seen Canada geese on any of the waters I paddle that have not been located there on purpose, either as decoration or pets by owners of large houses by the shore. These were not on park property and were just hanging out.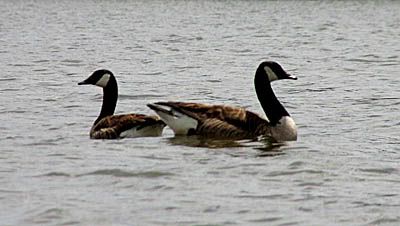 They were wary of me and did not fly off, but they swam on into the lake and so I went on. I got farther than I have ever paddled on this lake, although not quite to the dam. I decided to stop at a beachy area to get out and stretch a bit (I was in the Santee again) before heading back. There are some wonderful places to stop on this lake.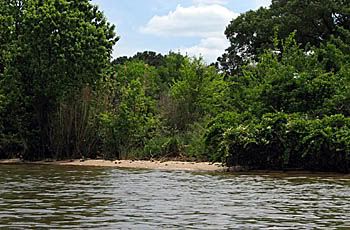 I took my time paddling back. For a short time on the way out, the wind had come up and the lake had had some texture, as they say. But on the way back, it calmed down again.
Somewhere between Sneads Park and the picnic area of Three Rivers, I came upon this guy, who was walking along the rocky shoreline looking for anything that might be interesting.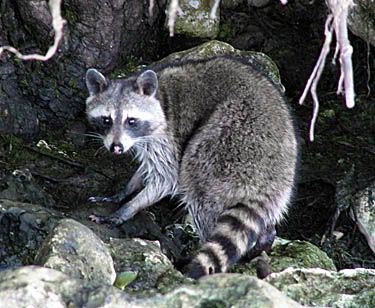 He (or she?) was not overly concerned about my presence and just kept on wandering across the rocks and wading into the water, looking up once in awhile to see if I was still there.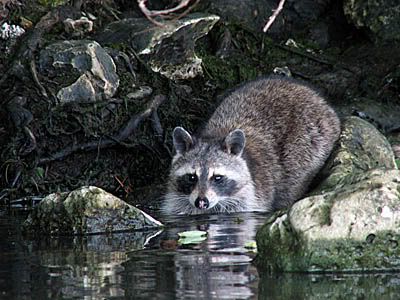 He/she did find something at one point that was of brief interest—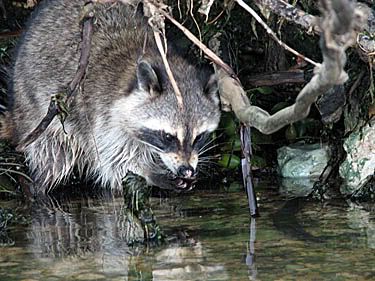 But that got tossed back in the water. I followed this raccoon for some distance, sometimes parking ahead of it to wait for it. Luckily the shoreline is rocky here and so the kayak didn't make that loud scraping sound of coming up on sand, but rather would just fit between two rocks and quietly bump around a bit.

It was a good paddling day and after finally leaving the raccoon in peace to finish foraging, I headed on back to the campground for some supper and reading time.

This morning was chilly, as fortunately they still are (extending the camping season a little further). I had my breakfast and did some very minimal packing up before heading out for another paddling trip. I was leaving today, but I had three hours and decided that while the lake was completely flat in wind-free conditions, I would paddle first, pack later.

This time I started by going to the left off the campground boat ramp area. This meant going under a small bridge. When I got to the bridge, I was dive-bombed by many, many swallows. I looked up as I passed below it, and saw that there were many nests, most of which had birds in them. I got a picture of this one perched on one of the nests.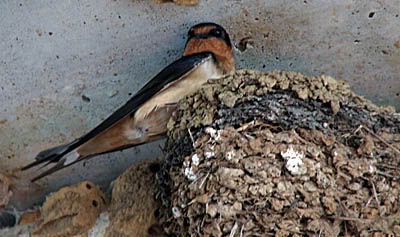 The area beyond the bridge turned out to be just another small part of the lake (I had expected this to lead to one of the rivers that gives this park its name). I paddled around there for awhile, enjoying the peace and quiet and the birds—lots of redwing blackbirds in the grasses along the side. Much of this area, unlike the part of the lake I had paddled the day before, was lined with blooming water lilies.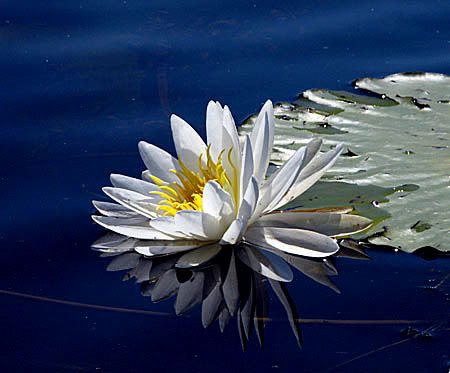 It was fun paddling that area, and I will most likely go back there next time I camp at Three Rivers (hopefully our weather will stay cool enough for at least one more trip there before fall!).

Since it wasn't the river, I had more time to spare, so I returned to the boat ramp and went off in the usual direction, as I had taken the day before.

So there I am, paddling long, just enjoying the warm sunny day, wishing I had more time. And what should appear in front of me but more Canada geese—with babies! What a treat!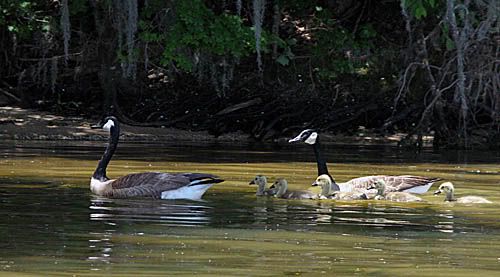 These parents were not thrilled to have me quite so close and they swam with some vigor to get past me. At one point one of the goslings stopped to duck its head below the surface to examine something (probably the troublemaker of the bunch, always causing the parents worry…) and ended up lagging behind the others.
And so I paddled on back to the boat ramp, packed up my stuff, and came on home. This was an excellent trip—lots of great new sightings and I discovered a new area of the lake. I hope I can get back here soon. In the meantime, more local trips await. Stand by.
A short post about the camping part of this trip, along with a couple more photos, can be found on
Camping Tent Tales
.