Once in awhile I like to go to this river on a sunny, warm Saturday just to see all the paddlers. And this was no exception. If it were always this crowded, I would not spend so much time here, but it's fun now and then to have so much company. Cuts down a lot on the bird sightings, of course.
I have never seen so many dogs in canoes and power boats before—seems every one had a dog in it. I have also never seen so many canoes being towed by power boats—actually, I don't know that I've ever seen even one canoe being towed before. However, there was a good reason for this. All the towing was going on in the downstream direction—which would normally make no sense since that's the easy direction. Not on this Saturday, though. I finally pulled the anemometer out of the deck bag—the wind was blowing upstream at a fairly steady 9.5 mph, which made paddling downstream a challenge. In contrast, all the paddlers going upstream were just sitting back and zooming along at a good clip. All in all, a different sort of paddling day.
I also enjoyed an easy trip upstream, greeting lots of fellow paddlers in a variety of canoe and kayak models.
Someone asked me awhile ago if I had ever gotten any pictures of swallow-tailed kites. Not only had I not gotten any pictures, I had never seen any. Until yesterday. About halfway up the river I saw two of them soaring overhead, swooping around. Too high and too fast to possibly get a picture, but a couple in a canoe and I just parked ourselves by the side to watch them. They were beautiful.
Two manatees were headed downstream.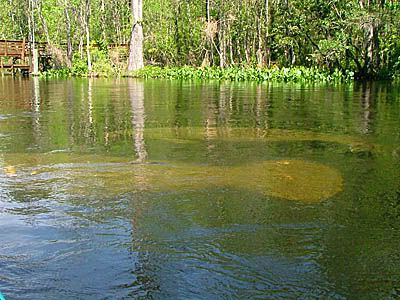 When I got to the upper ramp, it was crowded with other paddlers, as well as people who had gone there to swim. As always in summer weather, kids (young and old) were having a good time jumping from the bridge into the water.
He launches himself: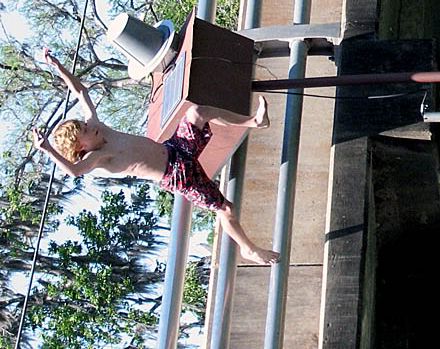 and gets ready to hit some cold spring water!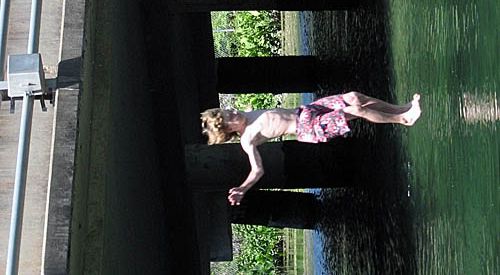 I stayed up there awhile and watched two golden retrievers swim around (photo got inadvertently deleted), and then decided to head into the wind downstream.
This little heron was fishing along the side. I suspect this is the same one pictured on an earlier trip to this river—it was in about the same place. This was on the somewhat round-about path to the upper bridge that fewer people take, which may have been why it was so close to the river and not frightened off by the crowds and noise.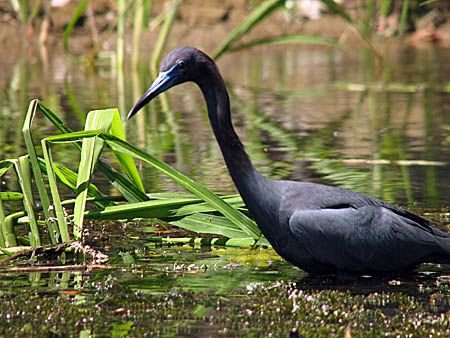 A little past that one I spotted this egret hiding out in the grasses.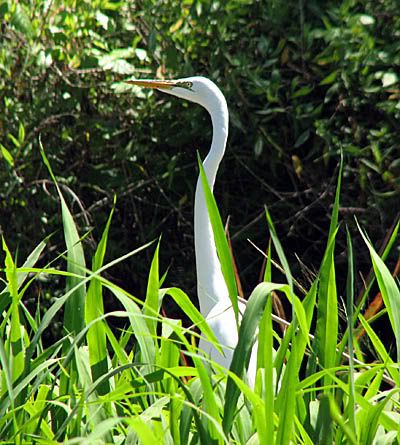 The alligators were also keeping their distance, for the most part. I did see two small ones, one on a bank and one swimming in another channel off the main river.
It was a fun day and great paddling exercise getting back downstream to the boat ramp. Speaking of which, if you plan to be visiting this river soon, there was a sign on the boat ramp that it will be closed from the 18th to the 25th. It seems possible that
T-n-T Hideaway
, the canoe/kayak place next door, might allow the use of their ramp, possibly for a fee, to people who were not aware of the closure (or maybe they won't; calling first might be a good idea). There are no other boat ramps mid-river, the other choices would be the ramp at the upper bridge or the ramp about 4 miles downstream near where the river joins the St. Marks River near the Gulf.
Stand by for the next report.