A beautiful day to go back to this river. The water was even clearer than usual and was a refreshing green color. It's very hot here these days.
I hadn't checked the tide table and lucked out getting there near high tide--always an easy time to paddle. I did have a bit of wind during the whole day, though.
In the early part of the river I spotted these two osprey tending to their nest high up in a tree: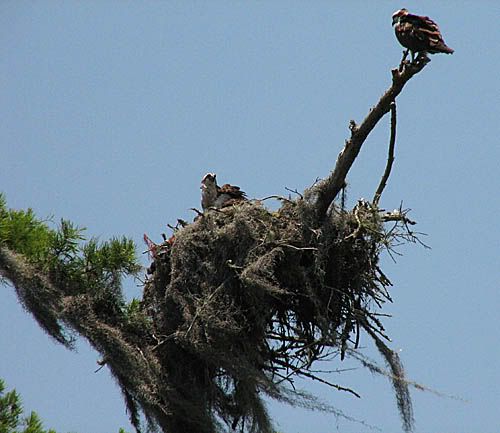 This must be that time of year for them as there were several pairs in nests all up and down the river.
The pickerel rushes are all in bloom, along with several other flowering plants along the shoreline. These white ones are very bright in the sunshine.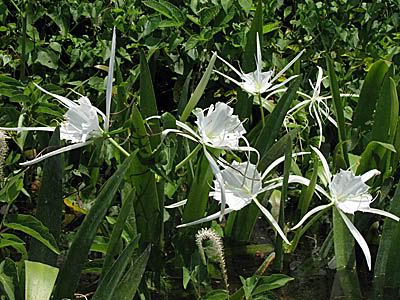 This was a fairly uneventful paddle--I didn't go looking for wood ducks or otters in the backwater areas, just enjoyed the main part of the river. Three manatees passed me going downstream while I was paddling upstream. They were moving at a good clip; must have had someplace they needed to be.
The usual egrets, this one on a dock:
I got to the upper bridge, where there was quite a crowd enjoying the cool water. It's a small ramp area that's made even smaller at high tide so it was a squeeze to get the Mystic parked. I wandered around in the water cooling off a little before heading back downstream.
This cormorant came in for a landing in front of me.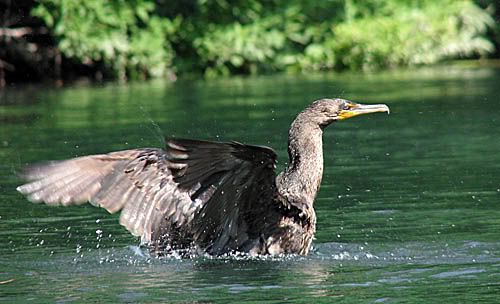 These birds aren't shy at all. It proceeded to swim by right next to me. They have very bright eyes.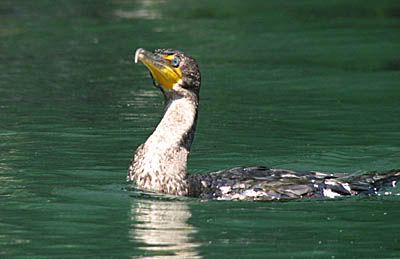 I was on the water just under 4 hours. For a brief period during my downstream paddling (which
did
require paddling as it was against the wind), thunder could be heard booming in the distance, but it moved on. We haven't had rain for quite awhile. Not good for plants but great for planning paddling trips!
When I got back to the boat ramp, I was HOT from all that time in the sun. That clear, cold water was just too hard to resist so I spent at least 15 minutes just standing in it a little more than waist-deep. The outgoing tide created a fairly strong current, which just made it even more refreshing. Ahhhhhhhh......
And speaking of planning paddling trips, I'm going to be in the Homosassa and Crystal River areas for a couple of days next week (with the Mystic, of course). I've never paddled either of those rivers or seen Homosassa Springs, so I'm looking forward to that! Hopefully there will be lots of wildlife to photograph. Stand by for that report.