Friday was forecast to have heavy wind so I did not go out as planned on Friday. (Turned out to be barely a breeze in the air all day...) When yesterday was predicted to have 15 mph winds, I ignored that and headed out for the Wakulla again, this time to get to the upper half, where all the best wildlife is.
Gorgeous day--cooler than we have had lately, with low humidity, and very little wind. The river was crowded, as happens on beautiful Saturdays. Many, many paddlers in canoes and kayaks. Also several power boats, many of them not complying with the "idle speed, no wake" rules on this river at this time of year--and no patrols in sight the entire 5 hours I was on the water. No manatee sightings by me or apparently anyone else during the time I was there (people tend to always inform others of sightings), so at least the yahoos racing their boats didn't do any serious damage.
When I was about 3/4 of the way up to the upper bridge, I passed a family of three in a bass boat. The little boy, about 5-ish, said to me "We didn't see any manatees, but we saw an otter!" I replied that that was even better (which prompted him to ask his mother why it was better). There were 4 kayakers behind me and the boy told them the same thing and they asked where the otter was. The father told them to turn off the main river at the next fork and take the little inlet. I knew where he meant but I figured if the 4 kayakers were going back there, chances are they would scare the otter away, so I didn't take that route.
I turned into the off-river area farther upstream.
And immediately encountered four otters playing.
I got a whole lot of fuzzy pictures (taking pictures of things at the water surface always makes focusing difficult) and two decent ones, including one of the otters spotting me:
and this otter, investigating a little driftwood before it knew I was there:
Right after I took that, the alarm was sounded by another otter and off they went.
I continued on to the upper bridge, got out, had a snack and stretched, then headed back downstream.
I decided to explore more of that off-river area and see if I could find the otters again. No luck seeing them but I did see this guy pass from right to left at some distance ahead of me.
Well, as you may know, I treasure opportunities to photograph male wood ducks, so that led to a full
hour
of exploring all the winding little inlets back there off the main river. This seems to be where lots of animals hang out (very little boat traffic back there). This turtle stayed on this fallen tree until I was next to it, and only then slid off into the water.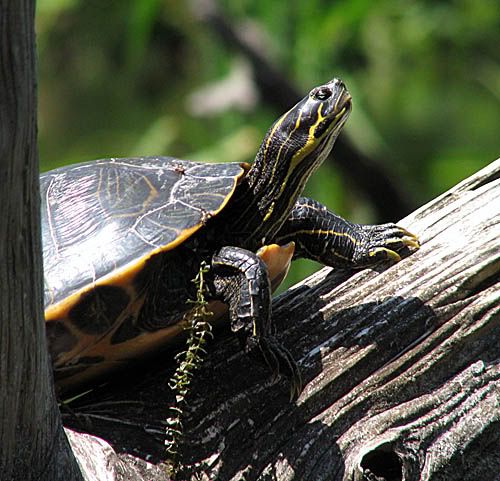 At one point I was trying to get myself into position to take a picture of an osprey in a tree without having to point the camera directly into the sun, and noticed to my surprise that I had drifted remarkably close to a great egret, who didn't seem at all perturbed by my presence. I was too close to get a picture of the entire bird without removing the zoom lens, so just took one of his upper half.
And then finally I saw these two at the end of one of the inlets.
After that, I decided I had been back there long enough, had gotten the picture I wanted, so I headed back to the main river by the most direct route. This had me passing through a narrow area between pickerel rush plants (which are in full bloom now--gorgeous!) and I let the paddle blades make noise as they brushed the plants on either side. Too bad--when I emerged, I was about 6 feet from another male wood duck. If I hadn't made so much noise passing between the plants, I could have gotten an excellent photo of him. Argh.
I plan to make that off-river area a regular part of paddling trips to the Wakulla, now that I know it's where the woodies are hanging out!
Stand by for the next trip report.