It was supposed to be rainy all week, at least until Friday. When this afternoon turned sunny while remaining cool and remarkably un-humid, I quickly headed out to the Wakulla. From about now until school starts back up, the Wakulla is preferable to the Wacissa, except for early morning trips, as kids really crowd up the boat ramp and springs area of the Wacissa from about 2 pm on, making it more difficult to come and go in a kayak.
I put in at 2:45, about 2 hours later than usual. It was extreme high tide--good timing!
Very few other boaters, other than these two in rented kayaks that I passed several times and that passed me occasionally as well.
Since time was short, I did not get very far into the upper half, which is unfortunately where all the birds usually are. Nonetheless, it was a great paddling day. The two kayakers told me that they had spotted a manatee--I missed it this time.
On the way back downstream I saw this egret standing along the side, its feathers being ruffled by the wind. I took this one when right next to it:
(these birds always look so odd when photographed head-on!). After passing it, I turned around in the boat and took this more classic egret picture:
As I got near the wide part of the river, not far from the boat ramp, I heard the very distinctive
uh-uh
-
WOW
sound of a great blue heron. I twisted around to look behind me and saw it flying toward me and then settling on a branch over the water behind me. It was getting late but how could I not turn around and try to get a picture? It sat nicely for me.
Too bad the wind had calmed, or there would also be ruffled chest feathers here.
A few yards farther downstream I came to this cormorant preening on a fallen tree branch.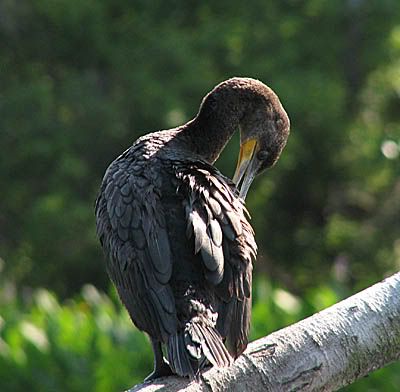 I was out only a wee bit over 2 hours, a short trip. On the drive home I passed by this somewhat pastoral scene, so of course I had to turn around and get a picture (this was my day for turning around to get pictures, evidently). It's not really a paddling picture but since it was still part of the trip, I am including it. I call it Black And White Cows In A Pond.
I don't know, maybe you had to be there. At any rate, if Friday's weather turns out as nice as predicted, I plan to get back to the Wakulla to get all the way to the upper ramp. Stand by.