That would be wood ducks... But I get ahead of myself (wouldn't that be an interesting perspective?)
Back to the Wakulla today. I wanted to explore those backwaters again. Well...as good as my timing was last time, it was a bit poor today. Very low tide. The paddle up the first half of the river, plus some, was of course wonderful and peaceful. One manatee went zipping by me on the way up, no chance for a picture (more manatees later).
When I got up to the area of inlets where the woodies were last time, I pulled in. Well, at low tide, it's largely mud. But the tide was coming in, so I hung out awhile; in fact, I actually just parked over on the side and had my muffin (my paddling snack of choice). No wood ducks meandered by while I was parked, so I went looking for them. I saw this one--and yes, this picture is remarkably similar to the one in the previous post, but each picture of these shy and elusive birds is important!
As usual, they saw me and darted away into the shoreline greenery. However, a little later I was able to get this one:
--much better! How can you not be impressed with the coloration of those males? This is most definitely where they hang out.
The current was swift in the main part of the river, due to some wind and the tide going out, so I was glad to spend some time back in the calmer parts off the main water. I saw this egret fishing. These birds can stretch out!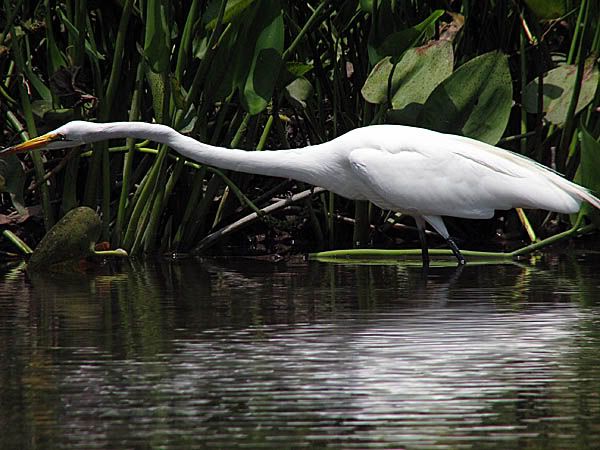 I watched it for awhile and got several nice pictures of it. If only wood ducks were this relaxed around paddlers!
While I was exploring this backwater area, I saw the otters again (see the previous post)! But I couldn't get to where they were--since it was low tide, there was just muck where there should have been water.
After awhile I gave up on seeing more woodies and decided to head downstream. I came to this tri-colored heron by the side of the river, also fairly unconcerned with my presence.
When I got most of the way back to the boat ramp, I came upon four manatees. I didn't know there were four.
Note to self
: When getting the boat in position to take a picture of a manatee, make sure
other
manatees aren't under the boat or nearly under the paddle when you take a forward stroke! I didn't see them there and came very close to putting my paddle on one.
When an animal this big swims under your boat, it can be a tad daunting.
And when they come up to breathe:
They are extremely cool and seem to be very aware of canoes and kayaks above them (still, it's daunting. Ok, scary). These are very, very big compared to the usual river residents.
A super paddling day--over four-and-a-half hours on the water this time. This river has so much to offer, particularly the top half. This is my favorite river in summer.
Stand by for the next paddling trip (which may or may not be to this same river).