I got to the Seagrass Resort (a somewhat overstated name) around 1:00 and they were kind enough to let me check into Villa (again somewhat overstated) #7, which was right next to the river. It was very nice, once it was aired out to remove the overwhelming fragrance of Lysol that lingered, since it had just been cleaned. Here's the outside of #7: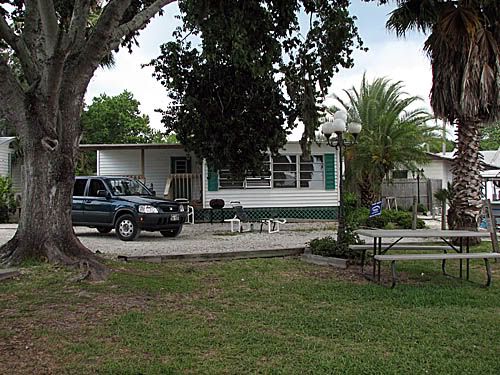 and the view from the dining room: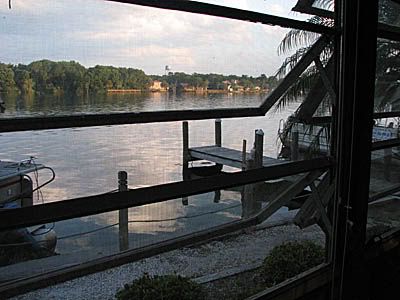 I unloaded the cooler and stocked the refrigerator and decided to leave the rest of the unpacking for later. There is a boat ramp on the property, which was a large part of why I decided to stay here.
I got the boat down to the ramp and as I was unloading it, a waitress at the Seagrass Pub, which is adjacent to the boat ramp, warned me that the ramp was slippery. I lifted one of my feet up to show her the rubber-bottomed shoes I had on, and she said "Oh, that doesn't matter! You could be wearing cleats and still slip. Most people fall." Ok, that's interesting. I finished unloading the boat and parked the car. When I got back to the ramp, an older gentleman somehow associated with the property warned me about how slippery it was. He also said that, however, many people launch kayaks and canoes from there.
I got the Mystic turned sideways and in very shallow water, to minimize the space between dry land and the boat. This ramp was, indeed, like
ice
. Very thick covering of algae, there was no way to get any traction at all on it. Well, except that I noticed that if I scuffed my shoe back and forth several times, I could get through it to the pavement below and my shoe easily got a grip on that. So getting in was really not a problem. I did, though, worry a bit during the entire paddle about getting
out
. It's one thing to carefully position your boat while on dry land, another to try to sidle up sideways to a ramp that's only a few feet wider than the boat is long. And could I do the scuffing trick from inside the kayak? I looked for nearby boat ramps that I might be able to use when I was done, but there were none.
Homosassa River is a spring-fed river. However, there had evidently been a lot of boat traffic over the holiday weekend. I went down a long channel that was very pretty and natural and unpopulated after the first quarter-mile or so, but the water was a murky, muddy brown color. While I was there I saw this green heron:
This particular channel started off going by a neighborhood of large RVs that may have been winter homes for people--they looked fairly permanent, with picket fences and so on. This great blue heron was perched on someone's dock, next to their bicycle.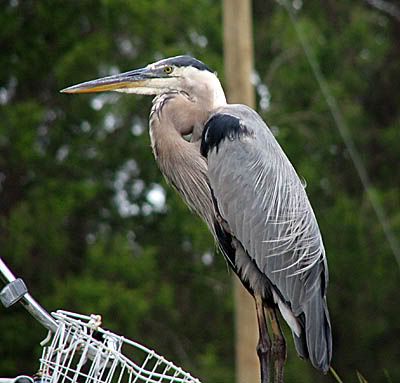 I encountered a guy fishing a little farther along this channel. I asked him where the channel went, and got some other general directions from him. He said that the water in that channel was normally crystal clear; he had gone there to get some crabs--he said he knew they were there but he couldn't see them through all the churned-up mud. Between the water being so densely brown, and my concern about the boat ramp situation, I decided to just go back to Seagrass and unpack and do some reading by the river--and go to Crystal River, about 6 miles north, the next day.
As often happens, my worries about the boat ramp were unfounded. The tide was out. I had no problem approaching from the far right and then coming up on the ramp on the far left, which let me maneuver the boat sideways. As it turned out, there was a crack in the pavement right where I needed to put my foot when getting out, and so there was a small step-like area, higher on the river side, which gave me something to brace my foot against to get out.
I do not understand how these people can be aware of this problem and not do something about it. If I could scuff the stuff away with a few passes of the bottom of my shoe, it seems that they could use an ordinary shop broom to clean the ramp every other day or so, making it far, far more paddler-friendly. And right there is why I think they don't bother. But right there is also why I won't be returning to Seagrass. They are missing out on a good thing by not appealing to paddlers--they are in an excellent location for paddling--go a few miles to the left and you get to Homosassa Springs; to the right leads to the Gulf. Too bad you could really hurt yourself getting in or out of your boat...
I had a pleasant night and enjoyed coffee outside the next morning. I was there two nights, and each morning the river was shrouded in heavy fog, which dissipated to mist as the morning progressed. This great blue heron landed on a docked boat's sun shade while I sat out there sipping and reading.
I had originally planned to rent a house in Crystal River for this trip, but I bagged that plan because the nightly rental on the house was very high and check-in time was very late in the day, which would cut seriously into my time. The guy renting the house had informed me that he had no boat ramp but I could put in at Plantation Inn, a mile away. I had passed the turn-off to the inn on my way south, so after breakfast I loaded the Mystic in the car and headed up there.
Plantation Inn is a
huge
, rambling, very posh-looking place. It has a dive shop next to the boat ramp. The boat ramp had a sign that it was for registered guests only. I went into the dive shop and found out that there was a $5 ramp fee for the public to use the ramp.
Their ramp was pristine--completely algae-free. It was well worth the $5 to launch from there.
Crystal River lived up to its name--the water was as clear as the Wakulla and Wacissa, though much deeper in parts. I was out about 4 hours. The area I paddled around was very lake-like--extremely broad, with many islands scattered throughout. While the shoreline was largely populated, the islands are all designated wildlife refuge areas. It was low tide and many of them had sandy beaches that were ideal for stretching or going for a dip in the water.
I saw many yellow-crowned night herons. I have only seen one on one occasion on the Wakulla, so this was fun. Here's what these birds looked like--
and elsewhere I came across this one: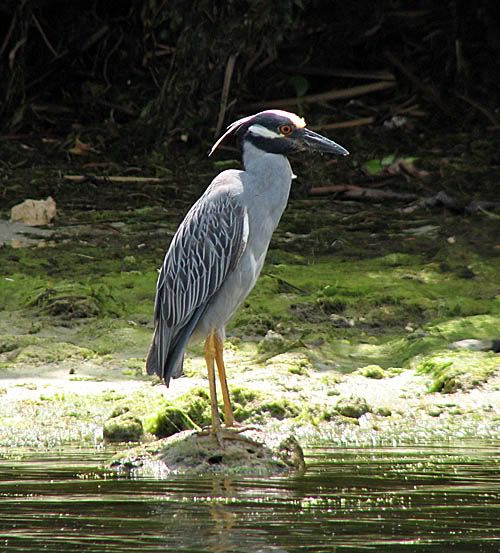 Great blue herons are also plentiful in this area. This one perched in a tree and watched me approach.
This tri-colored heron was fishing along the shoreline of one of the islands.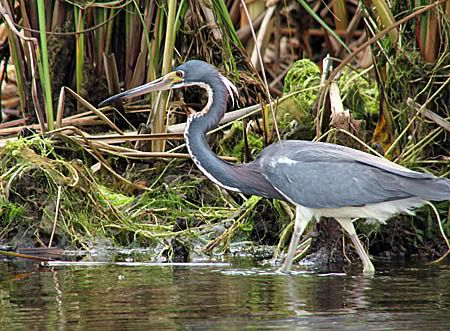 This river is home to manatees year 'round, and, like the Wakulla, has Idle Speed/No Wake signs posted in several places. Like the Wakulla, this is evidently not enforced. There were college-age kids water-skiing, and four young women in a Sea-Doo seemed determined to swamp every paddler in the area as they zoomed around. At one point they came around a bend near an island and passed within perhaps 20 feet of me, throwing off a huge wake. "Sorry!" one of them yelled over her shoulder, as they zoomed off and I bobbed around for awhile. They were on the water the entire time I was, and so locating the kids in the Sea-Doo became a priority before crossing any wide areas to get from one island to another, etc. I met a guy at one of the islands, another kayaker, who lives on the river 6 months of the year (he was going back to Connecticut the next day) and he confirmed my suspicion that paddling is much, much better in November and later, when the kids are gone. "Oh, you'll have it to yourself!" he said. Sounds good to me.
There is a huge marina called Pete's Pier in this area of the river--a great landmark if you get lost since it's visible from almost everywhere. I thought I would get out there and seek a restroom. Well, the slippery ramp business is apparently typical on rivers in this area. I had the same problem at Pete's. Actually, the real problem came with getting back in the boat, but there was a guy there who helped with that, which I appreciated (another paddler, of course!). Later I discovered that had I just overshot Pete's by a short distance, I would have come to a small park with a sandy beach area that I could have pulled up on. Good to know for next time.
On my way back to the boat ramp I got out at Parker Island to walk around. When I was back in the kayak heading out, a guy showed up with his dogs and played with them in the shallow water for awhile. This is Savannah bringing her ball back: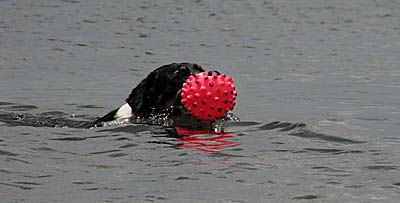 Here she is waiting for the next toss. How perfect is this dog?
Her friend Seven was also there, also looking perfect.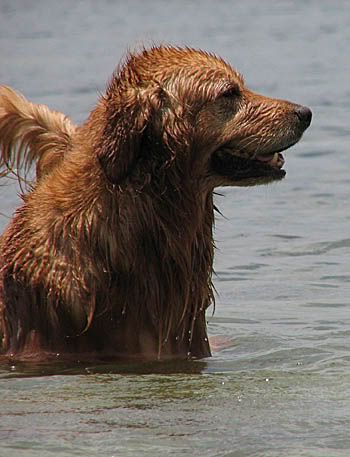 They were both happy-looking dogs.
Seven came over to say hi. As much as I love dogs, I'm pretty funny about not tipping over when I have the camera in the boat, so my apologies to Seven for not being more receptive to the greeting!
I wasn't quite ready to get out yet and so I explored a little inlet near the channel that led to the boat ramp. Must have been near a spring as the water was a little more aquamarine colored than elsewhere. I didn't realize I was paddling right over a manatee till I was directly above it. Whoops! Cleared it by at least a foot, but I will never be comfortable passing over something twice as wide as my kayak! Turned out there were two of them just hanging out there.
I went back to Seagrass and flopped down on the chair outside the unit. A flock of ibis flew overhead. I haven't seen an ibis for a long time! Later one of them showed up on the dock in front of me and proceeded to wander the grassy yard in front of the unit next to mine.
This ibis continued wandering around and ended up on the paved driveway leading into Seagrass, just walking around, looking back and forth, between the other units. Very odd looking.
I decided not to go out the next morning. Had the boat ramp been tended to, I'm sure I would have taken one last paddle on the river, but I didn't feel like risking a fall when everything had been going so well, so I passed on it. The plan is to stay someplace similar (cottages) in Crystal River near Plantation Inn next time, which, despite the summertime boat traffic, may be at the end of this month.
Meanwhile, I'll be heading out to one of my usual places next week.
My thanks to Darron at
http://www.outersports.blogspot.com/
for the link!
Stand by for the next report.