I decided to head to the Wacissa today--I wanted to get back to the Wakulla but the tide would have been all the way out when I got there, which makes for very mucky, muddy launching, so I changed plans.
When I launched a little before noon, there were a few cars in the lot, and one family had set up by the springs, the parents on lawn chairs and the child playing in the water. I encountered very few boats during the three hours I was out.
This great blue heron just stood on the shoreline and watched me pass by.
There was very little current near the top of the river today. I decided to go into the Blue Spring channel. I came to this ibis eating alongside the bank:
I heard voices coming from the actual spring area so I didn't go quite that far before turning around and going back to the main part of the river.
It was extremely hot today; the kind of day where just sitting still in the kayak and drifting downstream can make you sweat profusely. There was no wind. I was trying to decide whether to go all the way to Cedar Island or not when I came to this group—a little blue heron with turtles. Notice the turtle head sticking up out of the water on the right!
There is this type of bird that I have been encountering on several different rivers lately. I have been assuming that they are immature little blue herons, getting their adult color and switching from white to the blue-ish color of adults. But now I'm not so sure. For one thing, the new color is more gray and black. Also, it is in a very distinct pattern on the wings, rather than the sort of random bits that seem to accompany a maturation change in color. Still, can't find this bird in any book so I have no idea what it is. It's got to be in the heron or egret family…I think. Here's one I saw today near Blue Spring:
And here is one that I spotted later:
That coloring seems mottled on their back, but the color on the wings—which is really vivid when viewed while they are flying—looks permanent to me. At any rate, these are really attractive birds.
So how cute is this? I was paddling back upstream (having not gone as far as the island—I was concerned about fighting the increasing current (it gets stronger as you go downstream) in the increasing heat of the day to get myself back to the boat ramp) and I spotted this mother moorhen (ok, I'm guessing at the gender, but let's go with it) with a baby:
When I first took the pictures out of the camera to look at them, I couldn't figure out why the baby looked so fuzzy. Oh—because it
is
fuzzy! And something is very odd about its eyes. Here's another picture of them--
And then while I was sitting there watching them, here comes Dad moorhen!
And off they went.

And off I went as well, back to the boat ramp. I passed these female wood ducks (no males in sight, alas), who watched me go by somewhat warily.
Well, the boat ramp area was jumping when I got back—lots of people and two dogs running around having a great time (the dogs were running around, not the people). Several kids (and a few adults) were lined up at the little diving board over a spring area that is separate from the boat ramp area, so I had to take the camera over there. I didn't expect this girl to jump up quite so much when she left the board…she practically jumped out of the picture frame...
This one thought it would be fun to enter the water in a crossed-leg sitting pose. His face seems to convey possible concern that this might not have been such a great idea after all...
And this boy nailed his landing in a very straightforward way, nose firmly held.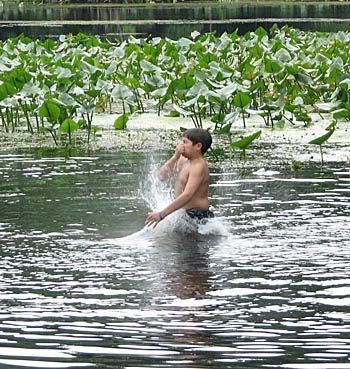 It was a good, if really hot, day on the river. My husband is on vacation next week and we have several activities planned, which may not include paddling. In any event, stand by for when I do get back out.