Headed out to the Wakulla today. Even though the Impex folks told me I could paddle the Mystic without the skeg (removed for replacement), I decided to dust off the Montauk and take it out for a spin. I haven't been in this kayak for several months now.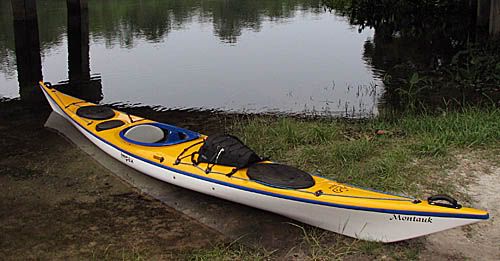 This is a
fine
boat. I had forgotten one of its best features, which is the fact that it glides
forever
. Nonetheless, at 16', I find that this is really too much kayak for this little part of this river. There was no way to go into the narrow backriver areas to explore, just not enough maneuverability. Still, what a nice boat!
I discovered about 5 minutes after leaving the boat ramp that I had once again feathered the paddle in the wrong direction. So I headed over toward the shore to correct that. This paddle is still new and so the two sections do not part easily and I wanted the stability of being parked to struggle to get them apart. As I progressed toward the edge, I was mostly thinking about why this keeps happening--it's not rocket science, why do I keep twisting it the wrong way when I connect the two parts? As a result of this pondering, I did not see the otter swimming along the shoreline till it popped up about 5 feet away and a little ahead of me. It just stuck its head out of the water and looked at me for a moment. No sound, just looked, and then ducked under to swim some more (clearly visible in the crystal clear water). The camera, of course, was not only not turned on, but the lens cap was still on it--I had just left the boat ramp and was still settling myself in to the somewhat unfamiliar kayak. So when it popped up right next to me, all I could do was look at it and say hi. It ducked again and swam away. I guess next time I shove off from the ramp I will ready the camera. Meanwhile, no pictures of it.
Ah, but shortly after that, I came to this osprey who was very busy rubbing its head against the branch in front of it and scratching it (its head) with a foot. I had to wait awhile till it finally picked its head up. You can see the roughed-up feathers on it from all the fluffing it had been doing (for whatever reason).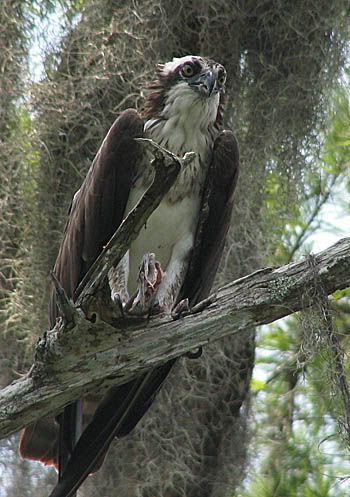 I paddled on upstream. Major, major current, even though the tide had hit low about an hour previously and should have been coming in.
It seems that at some point on almost every paddling trip, I take a picture that compels me think
ok, now you can't capsize and lose the camera because you have to get this picture home
. Here comes that picture for this trip. I was just going along, not expecting anything--I really was just out for a peaceful paddle today, no big photo plans--and I saw what I thought was an egret in a tree to my right. Well, egrets in trees can sometimes make for good pictures if the foliage pops out just right against the white feathers. So I slowly meandered over there; no hurry, egrets in trees are not that uncommon, so get it/don't get it, no big deal. Ok,
jump back
...that's not an egret. Something funky about the body color.
Oh.
A wood stork
. Pretty rare, and I have never seen one on this river, in fact I have only seen them once, last fall on a lake in Tallahassee. It suddenly became more important that this bird not fly away (and my experience was that they were shy). I got two pictures before it left, one terribly blurry because of bad focus, and this one.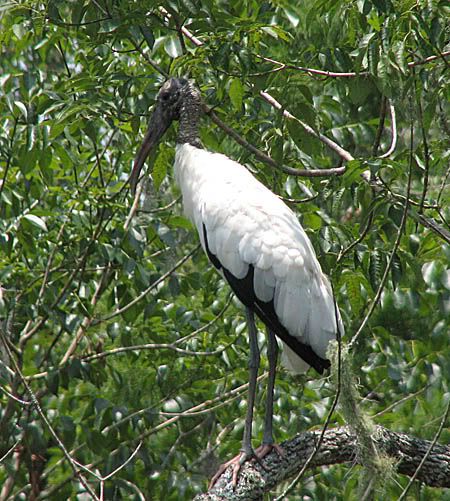 These birds have beautiful bodies and (o'sorry) ugly heads and necks. Worse than turkeys. Despite the head and neck problem, they are extremely impressive, better yet when they fly, which that one did as I got closer. I never saw it again on this trip. And capsizing was not an option after getting that picture.
In the last post, a trip to the Wacissa, I was rambling on about how we never see yellow crowned night herons around here. Well, shows what I know. This one was just standing there watching the world (or at least me) go by.
Did I mention the current? It was fierce. I found out why from a somewhat unlikely source. I got to the upper ramp. I have kind of a policy about arrival at the upper ramp. If there are only a couple or a few guys hanging out there, then, since I am alone, I will not stop to get out and stretch. It's a tad isolated and not visible from the road.
I got there and there was one guy, 50-ish maybe, in the water, drinking something from a can. There was another guy in the ramp area; he was about as redneckish-looking as they come, in a scuzzy t-shirt and jeans and drinking Busch from a can. I would normally turn around. But there was a boat on a trailer on the ramp, clearly not theirs. So I decided to pull up.
As soon as I got out, Scuzzy T-shirt looked at the Montauk and said "Boy, that's a high-end one!" Hmm, not good. I looked at the boat on the trailer and asked if they were coming or going. Scuzzy T-shirt said they were going. I was about to get back in the boat when a large family arrived to swim in the river, so I felt it was safe to stick around. Scuzzy T asked me about the skeg control and what it did, and asked if the hatches were waterproof to carry stuff in. The guy in the water mentioned the current, and I said that it seemed remarkably strong, given that the tide was coming in. So then here's Scuzzy T, and I have to stress that this did not appear to be a person knowledgeable about basically anything, explaining it and making perfect sense. Tropical rainstorm Alberto blew through here recently, dropping rain for 24 hours. Evidently after a heavy rain, the aquifers under the river fill up. When they fill up, the springs start spewing the water back out, and this causes the current to increase.
This makes perfect sense.
In fact, I had noticed all the way upstream that I was encountering lots and lots of spring evidence in patterns on the water surface. So there you go. Sometimes from the mouths of (apparent) rabid rednecks drinking Busch beer comes true wisdom (and, yeah yeah, don't judge a book...I get it). So I guess if I go to this river after a major rain that occurs after a major dry spell, particularly 'round about low tide, I'm going to encounter fierce current.
On the drift downstream (made less rapid by a new upstream breeze), I saw an ibis--and this one pure white, as I am used to seeing them.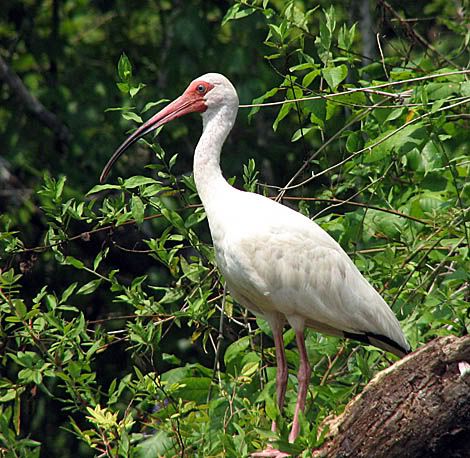 It was a wonderfully peaceful drift/paddle downstream. The sun went behind a thick white overcast and it became almost cool. Smelled good.
When I got to where the river widens around the boat ramp area, I started looking for that otter again. No luck seeing that, but this gator was stretched out on a tree that Dennis (the hurricane, not a landscaper) took down last year.

A great day on the river, and I enjoyed getting reacquainted with the Montauk. It's not the Mystic, but it's a really great kayak.
Weekend coming up and no paddling planned for it, but stand by for the next report.